Overview
Founded in 1760 and currently based in Greensboro, NC, USA, Lorillard (NYSE:LO) is a premier tobacco company trading at an inexpensive earnings multiple, with a strong dividend and significant growth opportunities ahead in the e-cigarette market. Known for its Newport and Maverick brands, the company often lives in the shadow of Altria's (NYSE:MO) Marlboro brand in the US. Lorillard and its brands are considered market leaders in the menthol cigarette category with more than 80% of the company's 2012 volume attributed to menthol cigarettes. Sporting a dividend yield north of 4.4% combined with a strong share repurchase program and a reasonable valuation of 14.1x 2014 analyst earnings estimates, Lorillard is attractive on a fundamental basis. In addition to these strong metrics, Lorillard is positioning itself strongly in the growing e-cigarette market, which should benefit the company in years ahead. However, investors remain concerned about potential regulatory changes to the sale of menthol cigarettes in the United States. While this issue has clouded the stock, I believe that the company is positioned to perform well over the long term, despite industry headwinds as a result of declining tobacco-smoking rates in developed countries, particularly in the United States.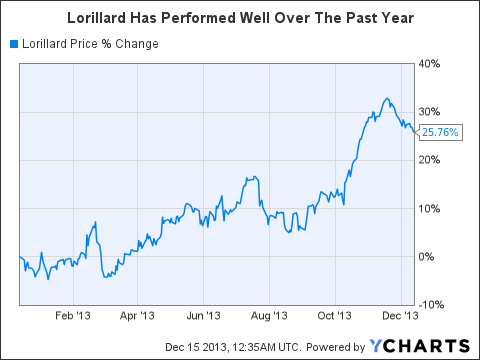 LO data by YCharts
Traditional Cigarette Business Provides Earnings While Lorillard Builds Its E-Cigarette Business
Industry wide sales of cigarettes in the United States have been pressured in recent years due to a change in consumer attitudes towards smoking. However, according to a 2012 report by the Centers for Disease Control and Prevention or CDC using data from 2011 National Health Interview Survey, approximately "19.0% of adults smoked cigarettes in 2011 and no statistically significant change in current adult smoking prevalence occurred from 2010 (19.3%) to 2011 (19.0%)." This is still a rather large portion of the adult population that smokes cigarettes and it is encouraging for the industry to see that this rate has somewhat stabilized. As for Lorillard, the company has been growing market share in recent years, recording company-wide US retail market share of 14.4% in 2012. The company has used the recent relative strength in its traditional tobacco cigarette business to return cash to shareholders as the company has increased the annualized dividend per share by 79% from Q3 2008 to Q1 2013, while decreasing the total shares outstanding by 27% from Q2 2008 to Q1 2013; both adjusted for the share split earlier this year. These programs have resulted in a significant amount of return for shareholders over their respective time periods. The share repurchase has supported EPS growth at a time when top line growth is troubled due to industry headwinds. Going forward, the company is targeting a strong dividend of 70-75% of earnings. Lorillard usually announces dividend increases in the month of February. According to the company's investor day presentation from earlier this year, they target EPS growth of 6-12% over the long term combined with a dividend of 4-5% to produce a total shareholder return of between 10 and 17% annually. The company, led by Chairman and CEO Murray S. Kessler, is clearly focused on producing long-term value to shareholders, despite troubles for the traditional cigarette business.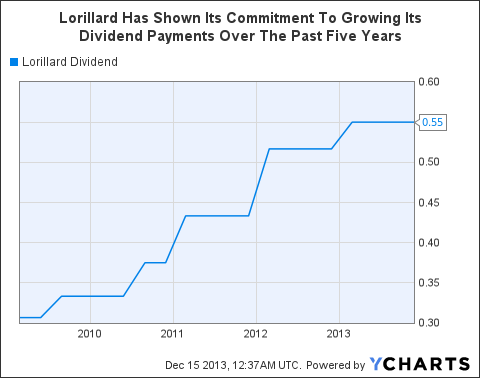 LO Dividend data by YCharts
E-Cigarettes Have Significant Growth Potential
Lorillard's significant commitment to shareholders is evidenced by their recent push into the relatively small but rapidly expanding electronic cigarette market. Lorillard took its first large step into the electronic cigarette or e-cigarette market with their 2012 acquisition of blu eCigs for $135 Million. The e-cigarette market is currently a very small market relative to the traditional cigarette market, however the growth potential for this new market is significant. For Lorillard, the company has experienced tremendous success with its blu brand. From Q2 2012 to Q1 2013, blu was able to grow its market share from around 11% to over 40%. During this time period, blu expanded its quarterly sales by over seven fold, arriving at $57 Million for Q1 2013. Lorillard has been able to take a very large market share of this new industry subsector very early in its growth trajectory and they should be able to profit from this handsomely for years to come. Furthermore, in October of this year Lorillard announced that it was acquiring the British e-cigarette company SKYCIG for 30 Million British Pounds with the possibility for further payment based upon future financial performance. This is another piece of evidence of Lorillard's commitment to the growing e-cigarette market and should give the company a strong foothold in Europe.
E-Cigarettes: Traditional Tobacco Companies Will Likely Dominate The Industry In The Future
Outside of blu's large market share and a few close competitors such as privately held NJOY, the current market for e-cigarettes is somewhat fragmented. This is a result of numerous factors including low barriers to entry, limited regulation, limited advertising and the fact that the industry remains in its infancy; all of these factors will likely change. Both Altria and Reynolds American (NYSE:RAI) are planning to become large players in this growing industry. Given the fact that the internet is a prime marketplace for e-cigarettes, it is easy for small enterprises to purchase e-cigarettes in quantity from overseas and sell them via their own website. There is a significant amount of competition in the online e-cigarette market and as a result, these small companies are having a hard time differentiating their product. Furthermore, the fact that there is very little regulation in the e-cigarette market in the United States at the moment makes it much easier for competition to exist, especially relative to the traditional tobacco market. As Lorillard seems to be the first major tobacco company to enter this growing market they have been able to achieve significant success leveraging their expertise as well as their significant assets in advertising and distribution. When other large traditional tobacco companies enter the market on a large scale, they will be able to compete much more efficiently than smaller companies. This will drive industry consolidation and enable the traditional tobacco companies to profit while creating the image that they are attempting to improve their consumers' health. I believe that Lorillard is best positioned to dominate this market going forward as they will continue to benefit from being an early large-scale mover in this industry, which is evidenced by blu's significant market share.
Lack Of Regulation Will Likely Be Short-Lived In E-Cigarette Market
While many have been enthused by the free market nature of the e-cigarette business in the United States to date, I would not be surprised if the industry is hit with regulation sooner rather than later. This can come in many forms including: advertising restrictions, flavoring rules, specialized taxes and the regulation of internet sales. While it seems unlikely that these regulations will reach the level that the traditional tobacco industry faces, it is not entirely out of the question. This remains a major uncertainty for the e-cigarette industry going forward and will be watched very closely. The likelihood of some of these regulations becoming enacted further the advantages that traditional tobacco companies will have. These traditional tobacco product producers have significant expertise in navigating regulatory hurdles that come their way and would likely be able to effectively navigate such new rules in the e-cigarette market in a way that the smaller companies would not be able to.
FDA Menthol Cigarette Regulation Uncertainty Is Weighing On Shares
Moving back towards Lorillard's traditional tobacco business, there is a real concern in the industry that the US Food and Drug Administration will move to restrict the sale of menthol cigarettes in the US. The Family Smoking Prevention and Tobacco Control Act that was signed into law in 2009 implemented a ban on the sale of flavored cigarettes with the exception of menthol, in addition to other new regulations relating to the sale of cigarettes. The menthol exception gave the FDA time to determine whether there should be a ban in place. On November 22 of this year, the public commenting period on the potential menthol cigarette regulation ended. It is unclear when or if the FDA will make an announcement regarding potential regulatory changes to menthol cigarettes. While the final outcome of this matter remains unclear, it seems unlikely that an outright ban on menthol cigarettes in the United States will occur, however it is a risk to Lorillard's business and will be closely watched accordingly.
Conclusion
Lorillard has significant growth opportunities ahead through its e-cigarette business. In addition to the potential growth, the company is currently trading at a relatively inexpensive valuation with a strong dividend yield. Positive news relating to potential FDA stance on menthol cigarettes could be a significant catalyst. While the company continues to build its e-cigarette business, the traditional cigarette operations will provide earnings for investors. Lorillard is well positioned for the long term and should produce strong returns for shareholders.
Disclosure: I am long LO. I wrote this article myself, and it expresses my own opinions. I am not receiving compensation for it (other than from Seeking Alpha). I have no business relationship with any company whose stock is mentioned in this article.