It was not that long ago that nearly every investor bemoaned the fact that Microsoft (NASDAQ:MSFT) had become a stumbling, bumbling giant with no clear focus. Even dividend investors thought the company was being too frugal with its horde of cash. Now that everyone has been put to sleep by Steve Ballmer and his crew, the buzz about having a new CEO has started folks taking another look, and the stock has been going up steadily.
As far as I am concerned, owning the shares of MSFT is far more than just having a brand name CEO, and more of the company getting its act together.
The company has gotten its act together and I feel it is time to own shares.
When We Least Expect It, The Company Starts Hitting On All Cylinders
While the decline in PC sales is well documented and does not appear to be slowing down, suddenly we find that MSFT has become a real player in the tablet and smartphone arena.
The new Surface Pro 2 doubles as a tablet as well as a laptop and by every review I have read, the product has been very well received.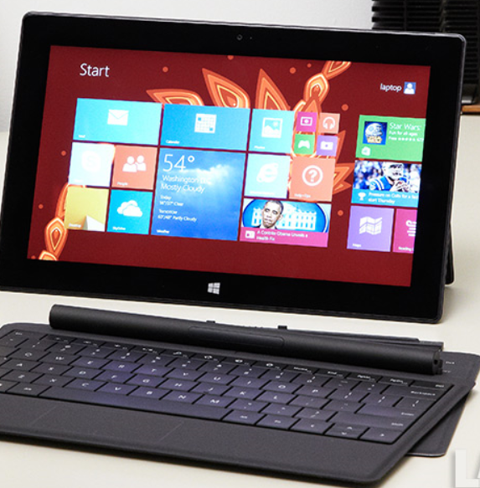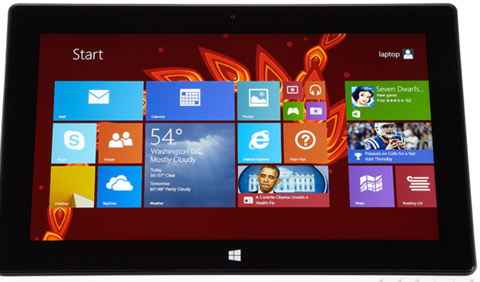 Per the review noted:
Pros: Attractive magnesium alloy design; Vivid and responsive 1080p touch screen; Improved active stylus; Loud and clear audio; Faster than similarly configured Ultrabooks; Long battery life

Cons: Keyboard not included; Cramped touchpad; Relatively heavy for a tablet; Limited tablet app selection; Poor camera quality

The Verdict: Thanks to its much-improved battery life and fast performance, the Microsoft Surface Pro 2 is a compelling tablet and laptop in one device.
Having both a laptop and a tablet should be appealing to a wide segment of the PC converts. While it does have a somewhat scaled down version of Microsoft's Office program, it has enough "guts" for people to actually work on it. At the same time it also has a good keyboard (extra) and stand, so that the look and feel of the product appeals to PC users.
For tablet users, MSFT has developed a product with the Windows operating system that just might have created a niche that can compete with the tablet market as well as making many laptop users satisfied. Once the company figures out a way to add more apps, who knows where it could go.
I do not believe that the "priceyness" of the product will hinder sales either, and the upgrade from the original Surface Pro is significant. Actually it might become a go to item for two sectors rather than one.
The original Microsoft Surface Pro promised to be a game-changer, offering all the power of a PC in the compact, lightweight form factor of a tablet. Unfortunately, Microsoft's first foray into the world of tablet computing proved to be half-baked. Although it was as speedy as many Ultrabooks, this slate was marred by a dismally short battery life. Now, the Surface Pro 2 has arrived, and with it an improved battery, faster performance and expanded storage. Is it finally time to say goodbye to your laptop?
This holiday season could be a true winner for MSFT and the Surface Pro 2 if product shortages are an indicator, as noted in this article:
A friend recently told me he was having a hard time finding the newest version of the Microsoft tablet, the Surface 2, in a store in Silicon Valley.......A scan of the Microsoft Store website Wednesday showed that the 32-gigabyte version of the Surface 2, which costs $449, and the 64-gigabyte version, $549, were sold out.
Even the New York Times chimed in:
The Microsoft tortoise has been playing a slow-and-steady strategy on mobile, largely because it was about 1,000 years late to the starting gate. But Microsoft's continued dominance with Windows and Office gave it time to develop a mobile strategy while maintaining a prominent place on desktops. That's the glass-half-full argument, at least.

While everyone was watching Apple's (NASDAQ:AAPL) can-you-top-this show and Android's flood-the-zone operation, Microsoft was grinding out mobile software that eventually reached Downright Lovely status.
Even the IDC stated as recently as last week, that AAPL will lose market share to MSFT in this category.
The data tracker predicts Apple operating systems will have 30.6% of the tablet market in 2017, down from an estimated 35.0% this year and 45.6% last year. Windows should have 10.2% of the market in 2017, up from 3.4% in 2013 and 0.9% last year....
That is called GROWTH folks, and not something we have seen from MSFT in about a decade or so. As far as I am concerned every percentage of growth that MSFT takes in the tablet market should make the stock price rise sharply on this product alone.
Tablets.... Check, What About Smartphones?
I'm glad you asked! It appears that MSFT is making significant strides in the smartphone arena as well. Back in 2011, MSFT began to make noise, but Apple was still thundering, and the Android operating system was just getting its wings. By the looks of the following chart, MSFT should become a very major player with its smartphone products.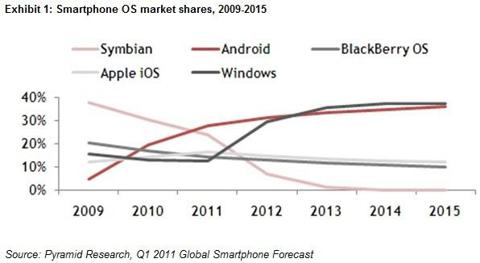 According to Pyramid Research, they foresee a steady decline in all other smartphone products EXCEPT for Android and Windows, with Windows eventually leapfrogging the Android system worldwide.
Stela Bokun of Pyramid stated this:
"While we acknowledge the momentum that Android is experiencing and will continue to experience in 2011 and 2012, we believe that Nokia and Microsoft are a very powerful tandem, and that will show in its full force by the end of 2013."
The truth lies in the numbers of course, and this report as of today (12/13/2013) shows some very surprising numbers: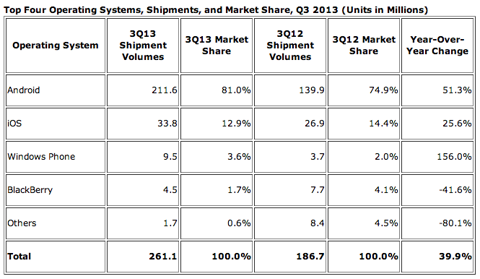 While volume is still low, it is obvious that MSFT is having an impact, and of course every percentage of growth means added revenues and greater earnings for the company.
While Microsoft's Windows Phone still lags behind operating systems from Apple and Google, its third-place success comes at the expense of BlackBerry, which last week failed to find a buyer willing to take the Canadian handset maker private, and ousted CEO Thorsten Heinz. For the Windows Phone, 93.2 percent of shipments came from Nokia, which Microsoft plans to acquire early in 2014.
Frankly, I don't care where the sales are coming from. The numbers are moving up, and with Nokia they are sure to show even stronger growth once under the MSFT umbrella.
Even The New Xbox Is Making Noise
Truth be told, the new Sony PlayStation is outselling the new Xbox, however, sales of the Xbox are not that far off as noted here.
Microsoft said sales of the new Xbox One video-game console reached more than 2 million in its first 18 days on the market, as the company vies to keep pace with Sony Corp.'s PlayStation 4 during the holiday season......Sony said on Dec. 3 that it had sold 2.1 million of its machines since they went on sale Nov. 15 in North America.
With all of the gaming apps available these days, the console gaming market has been shrinking, but it still carries weight in a $13 billion dollar market, especially with those professional "gamers" out there.
This article considers that with sales of console gaming declining, both Sony and Microsoft might just wind up with an equal share of the remaining business.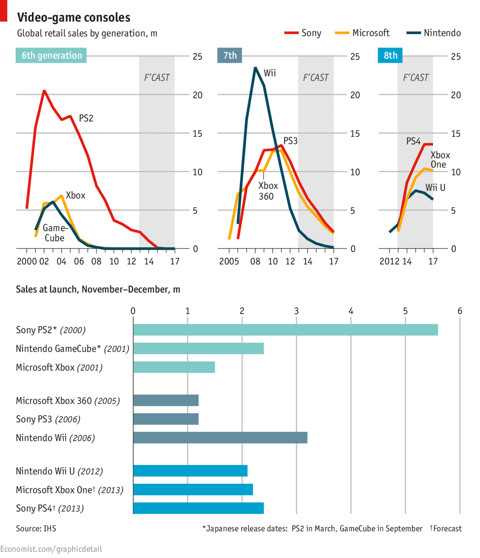 With a one-week head start and 1 million sales in a single day, Sony has a chance to win the holiday season with the PlayStation 4. The Economist has shared some video game console sales predictions from market-research firm IHS, which gives Sony a slight advantage over Microsoft during the launch months of November and December.
Interestingly, Microsoft has actually been increasing sales since 2001, while the others have dropped.
I am not about to claim that this business segment is going to set MSFT on fire, but as long as there is business out there, why not take as much ground as possible. To me it is a "gap filler" while we wait for MSFT to grow the tablet and smartphone business, which I am certain it will.
Keep In Mind That Microsoft Is Still An Enormous Company
Sometimes investors forget how huge MSFT actually is, and how strong its fundamentals actually are. Lets take a look at one chart that will give us a quick glance at some important metrics: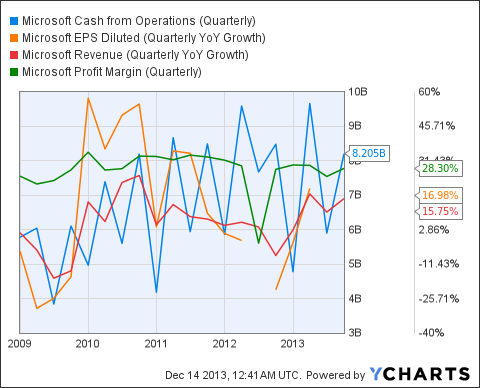 Cash, earnings, revenues, and margins are consistently strong, and with the new focus on growth, as noted in the previous paragraphs, this chart will look even stronger in 2014. As of right now, MSFT has a total of roughly $80 billion in cash with just $16 billion in debt. Imagine ramping up the cash another 15-20% conservatively, just by increasing revenues and profits from the new products.
Keep in mind that Microsoft has also been paying a very consistent dividend: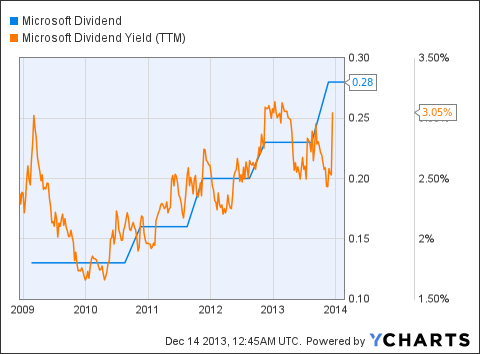 A 3% yield is actually quite strong for a renewed growth company. Investors have been holding shares for the dividend for the last 5 years, as a dividend growth investment. Now, MSFT could be in the rarefied air of Apple: Being both a growth stock for strong capital appreciation, as well as a dividend stock for income investors.
Microsoft Still Has The Highest Operating Margins Of Them All
Even with the decline of the PC business (in which I believe will morph into a new Windows based tablet/pc product anyway), Microsoft still has the highest operating margins in the Tech world.
We are used to thinking that Apple rakes in all the profits in mobile (and that's true), but what if we looked at the overall picture of company margins and compare the big four: Microsoft, Apple, Google and Samsung? An interesting graph shows how operating margins were almost never highest at Apple, it was Microsoft on the whole that scores the highest.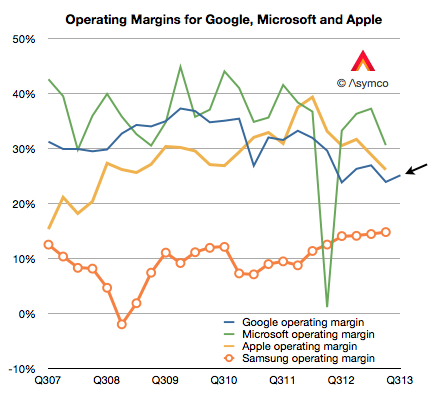 If the operating margins on Microsoft's legacy business continue to remain strong, then the added revenues and earnings will ONLY translate into greater earnings on the bottom line even if the operating margins get hit somewhat by the more competitive nature of the tablet/smartphone business.
Every dollar at a 30% margin will add $.30 to the bottom line of Microsoft, and by keeping margins steady on the Windows OS for PCs and laptops, the company will have the time and ability to ramp up this new growth area (for them) even though they are late to the party.
In my book, Microsoft is back as a growth company with a great dividend.
The Bottom Line
If I can own shares in a company that is now showing great signs of rising from the ashes, to becoming a growth behemoth once again, and get paid 3% while I wait for the share price to surge in 2014 and beyond, I want it, NOW.
This is a $300 billion company with a forward PE of just 12.61 (for 2015 by the way). As of the next trading day (Monday 12/15/2013), I will be buying shares for both the Team Alpha Retirement Portfolio, as well as the Team Alpha Growth And Income Portfolio.
What is my guesstimate for a share price in 2014? Remember, this is just a guess for now: $45/share at least.
Disclaimer: The opinions of the author are not recommendations to either buy or sell any security. Please remember to do your own research before making any investment decision.
Disclosure: I am long AAPL. I wrote this article myself, and it expresses my own opinions. I am not receiving compensation for it (other than from Seeking Alpha). I have no business relationship with any company whose stock is mentioned in this article.
Additional disclosure: I will be buying shares on Monday 12/16/2013