I like Ford (NYSE:F), and recently produced an article stating my reasoning for expecting Ford to plow through $25/share in the coming year. Incidentally, I'm also now bullish on General Motors (NYSE:GM) - and simply the U.S. auto sector turnaround. Additionally, I'm a firm believer that the European auto market has also bottomed, and will likely be a contributor to U.S. based company's coming success through 2014.
In October, I took the time to pen an article pleading that investors do not let the government shutdown scare them out of taking a long position in Ford.
I've also explored that Ford could potentially have the number one sedan in the U.S. for 2014, judging by the growing metrics that the Fusion continues to post to wrap up 2013.
Although Ford's stock has gotten knocked around the last few months - constantly ping-ponging back and forth between $16 and $17.75, news out of the company last week continues to allude to a blockbuster 2014 coming down the pipe.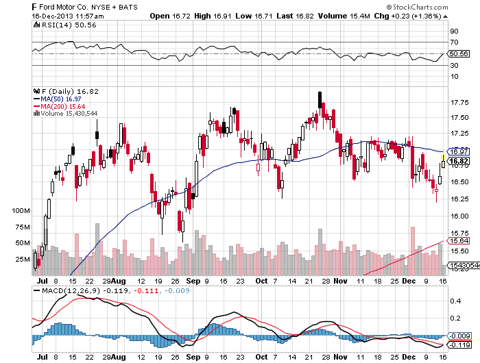 Click to enlarge
My Ford arguments continue to get validation - not only from third party sources, but through the company's own actions, as well. You can't find anymore proof of prosperity than aggressively expanding and hiring, and it was reported last week that is exactly what Ford is doing:
Ford Motor Co. says it will hire more than 11,000 people in the U.S. and Asia next year to support an aggressive rollout of new vehicles.

Joe Hinrichs, Ford's president of the Americas, said the company plans to hire 5,000 workers in the U.S. - including 3,300 white-collar staff, such as engineers - and 6,000 workers in Asia.

This will be the most people Ford has hired in one year since 2000. Many of those hires will work at two new plants opening in China.

Ford says 2014 will be the busiest product year in its 111-year history, with 23 vehicles being introduced around the world. Of those, 16 will be sold in the U.S., including a new Mustang sports car, Transit Connect van and Lincoln MKC small utility.
Folks, this says it all. You don't need a Harvard style QA review of this data. You don't even need a high school education - you just need to have your common sense skills sharp and your head screwed on straight. All you need to know are these two things:
The company is claiming that it's going to have its busiest production year in history.
The company is hiring more than 11,000 people, which is a clear sign that they have the potential buyers/business lined up for the new year.
This news comes on the heels of Ford's recently released news that it had its best November since 2004, with gains across the board:
Ford Motor Company U.S. sales increase 7 percent overall in November; retail sales up 9 percent for best November since 2004
Passenger cars led by Fusion sales increase of 51 percent and Fiesta sales increase of 26 percent, both setting records for November
F-Series tops 60,000 sales for the seventh straight month
All-new Lincoln MKZ sales increase 114 percent, Lincoln up 17 percent
Ford announces 2014 first quarter North American production plan of 770,000 vehicles
Additionally, more and more sources continue to report on the European auto market turnaround:
PARIS (Bloomberg) -- European car registrations rose 5 percent in October, marking the first back-to-back gains in monthly sales in two years, as a government scrappage program helped push a delivery surge in Spain.

Registrations advanced to 1.04 million new vehicles last month from 999,266 a year earlier, Brussels-based industry association ACEA said today in a statement. That narrowed the drop so far this year to 3 percent, for 10.4 million total deliveries. Sales in September rose 6 percent.
An argument that makes its way into every Ford article that I write (and is damn well going to make an appearance here), is the argument that I fully expect Ford's dividends to rise in 2014. Ford, GM, and Bank of America (NYSE:BAC) are my leading newly selected candidates for dividend raises in 2014 - alongside obvious staple stocks that always raise like Coca-Cola (NYSE:KO).
Here's Ford's dividend history: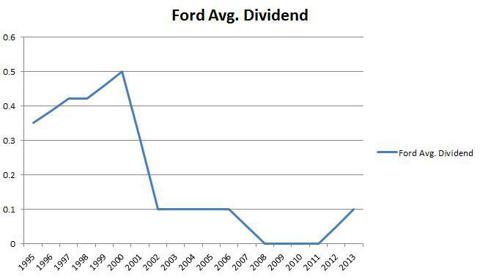 Click to enlarge
Ford is hitting all of the bases and setting itself up for a blockbuster 2014 - I'm predicting a blowout year for the company based on the following catalysts, all potentially occurring in 2014:
Busiest production year in history.
Turnaround of European auto market.
Increase in dividends and/or another shareholder incentive.
Fusion giving Camry a run for its money as best sedan for 2014.
Continued positive macro economic trends in the U.S.
As always, I wish all investors the best of luck.
Disclosure: I have no positions in any stocks mentioned, and no plans to initiate any positions within the next 72 hours. I wrote this article myself, and it expresses my own opinions. I am not receiving compensation for it (other than from Seeking Alpha). I have no business relationship with any company whose stock is mentioned in this article.