State Governors disagree with positive Wall Street Economists. The Housing Market is stabilizing, but is it sustainable? The Dow hones in on its annual pivot at 10,379, while stocks are not cheap.
State Governors and Wall Street Economists Disagree
The National Governors Association was generally downbeat on the US economic outlook at a weekend meeting reflecting the view that the worst is yet to come.
In total, States budget deficits will total $134 billion over the next three years. Tax collections are declining while costs such as Medicaid soar. High unemployment persists on Main Street, USA.
Most States are required to balance their budgets and shortfalls must be covered by higher local taxes, or cutting services, which means more layoffs ahead.
While State Governors worry about Main Street, Wall Street economists say that the US economic recovery will continue for the next two years, but with slow job growth.
It will be difficult to have a healthy recovery with unemployment above 9%, sluggish consumer spending, and with Main Street trying to get out of debt.
I disagree with the National Association of Business Economists (NABE) with regard to the housing market, which they say will continue to rebound.
I am looking for a Double-Dip led by housing and the building book of bad loans on and off the balance sheets of community and regional banks.
The Housing Index (HGX) has a positive daily chart with the 21-day and 50-day simple moving averages as supports are 103.46 and 103.75. My monthly resistance is 110.63.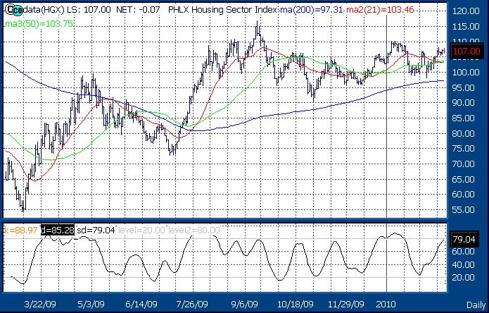 Click to enlarge
Chart Courtesy of Thomson / Reuters
The National Association of Home Builders Housing Market Index peaked at 80 in 2005 when I first warned that the home builders were vulnerable in a RealMoney.com column I wrote in June 2005.
I predicted a summer peak for the builders citing extreme overvalued readings according to ValuEngine with some stocks more than 40% overvalued. I also noted that builder CEOs were touting the housing market as the best they have ever seen.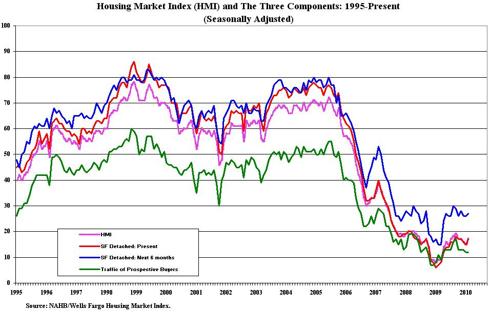 Click to enlarge
My column received many emails in disagreement, which has always an indication that my contrarian view would be correct. Notice the peak for the builders at the end of July 2005 on the weekly chart.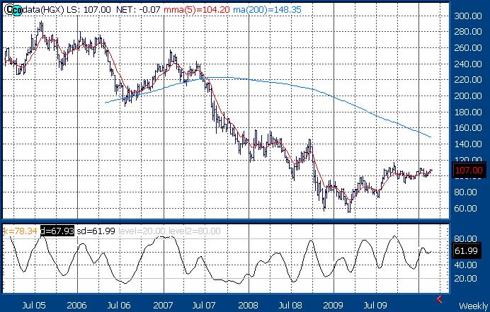 Click to enlarge
Chart Courtesy of Thomson / Reuters
Now with the NAHB HMI trying to rebound from below 20, the builder stocks have rebounded as well with a positive weekly chart. The homebuilders may be 13.9% undervalued as an Industry but the P/E ratio at 30.3 times is much higher than in June 2005. In addition, most homebuilders were trading below book value in March 2009 and today some are 1.5 to 2.0 times book value.
The Dow has returned to my annual pivot at 10,379 but the weekly chart is neutral, not positive.
With declining MOJO on the weekly chart a close this week below the five-week modified moving average at 10,280 will shift the chart to negative. Weekly closes above 10,370 indicates a potential re-test of the January 19th high of 10,729. Weekly support is 10,105 with today's resistance at 10,480.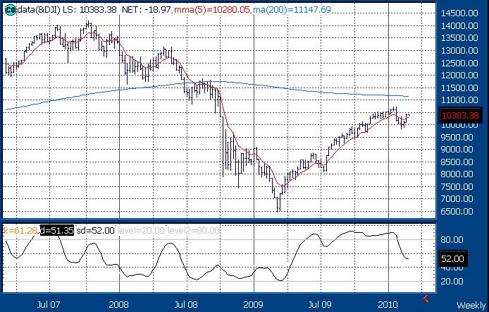 Click to enlarge
Chart Courtesy of Thomson / Reuters
Sector Valuations are not cheap according to ValuEngine with Basic Industries, Consumer Durables and Energy overvalued by more than 10%. The only sector undervalued by more than 5% is Health Care.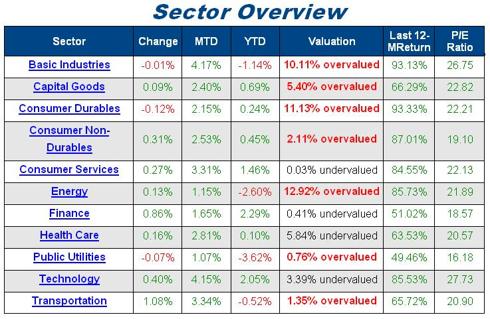 Click to enlarge
Disclosure: No Positions