Schlumberger (NYSE:SLB) has confirmed reports that it intends to acquire Smith International (SII) in an all-stock transaction that values Smith at approximately $11 billion. This equates to a premium of 37.5% over Smith's closing share price less than a week earlier and 114.0% above its share price one year ago.
The two companies, which have been rumored to have been in on-again off-again discussions regarding a merger for several quarters, are far from strangers. Not only are they the inclusive joint-owners of M-I SWACO, the industries' largest provider of drilling and completion fluids services, Smith's CEO and CFO were both Schlumberger executives in past lives (click on the following to read more from EnergyPoint regarding: Schlumberger, Smith and M-I SWACO).
In general, we'd characterize the deal as an opportunistic acquisition of one of the oilfield supply sector's most highly regarded players at what appears to a be a nice premium for shareholders.
From a competitive-pressure standpoint, we doubt the recent Baker Hughes (NYSE:BHI) – BJ Services (BJS) merger was much of a factor in this deal materializing. Nonetheless, it may very well be that the deals happened for similar reasons: the belief on the seller's part that it needs to be part of a larger organization that has both the ability to bundle its products and services with a host of other offerings and a larger geographic footprint over which to distribute such; and the belief on the purchaser's part that the deal fills a meaningful hole in its portfolio of offerings –- in this case, drill bits.
A Leader in Drill Bits & Fluids
Strategically, it's clear that Schlumberger sees considerable value in Smith's drill bits business, particularly when it comes to the kind of technology that it refers to as "engineered drilling systems that optimize all the components of the drillstring." As EnergyPoint wrote about in 2009 (click here to read), we believe Schlumberger is fully on target in its assessment, as these kinds of integrated downhole solutions –- particularly Smith's IDEAS (Integrated Dynamic Engineering Analysis System) and i-DRILL technologies –- are clearly seen by customers as adding considerable value.
Baker Hughes, Halliburton (NYSE:HAL) and National Oilwell Varco (NYSE:NOV) offer similar simulation-based bit solutions. However, Smith's success in selling its particular bit technology has been, at least in part, predicated on its willingness to recommend whatever equipment is shown to optimize results for customers -- even if the optimal equipment is that of a competitor. The question for customers going forward is whether this same supplier-agnostic approach will be continued under Schlumberger. It seems doubtful that it will, at least to the degree it has under Smith, given the deal's price tag and Schlumberger's readily available portfolio of downhole drilling and related equipment. If this is the case, the benefits customers enjoyed with IDEAS and i-DRILL in the past could be in question going forward.
Smith's other crown jewel is the company's 60% ownership of M-I SWACO (Schlumberger owns the remaining 40%). To be clear, M-I SWACO, which is operated by Smith, is no small catch. The company ranked number one overall in customer satisfaction in EnergyPoint's latest oilfield customer satisfaction survey (read more here). In addition, it placed first in numerous global regions, as well as in offshore, high-pressure high temperature (HPHT) and non-vertical applications.
Although Schlumberger might be tempted to roll M-I SWACO into its own organization (as we expect it will do with all or most of Smith's other units, except Wilson Supply and PathFinder), given M-I SWACO's strong standing with customers, the best move for Schlumberger might be to simply leave M-I SWACO well enough alone.
There's relatively little overlap between the two companies in terms of the products and services they offer. Schlumberger does not currently compete in the category of drill bits, which is Smith's highest-profile product line. In terms of various and sundry other products, there is some overlap, but not in a big way. In M-I SWACO, Smith owns the 60% that Schlumberger does not own. In time, we believe Schlumberger will jettison Wilson Supply, which is too low-margin of a business for Schlumberger's long-term tastes.
In some ways, the lack of overlap between Smith and Schlumberger conflicts a bit with Schlumberger's projections for what seems to be significant cost savings resulting from the deal. Our take is that Schlumberger might be planning a pretty serious dismantling of the Smith organization. This could introduce execution risk given that Smith's culture and way of doing business are so highly regarded by customers.
Opportunities & Challenges
Schlumberger's contention that Smith gives it greater exposure to U.S. shale plays does make sense, at least to some degree. Smith is involved at the earliest stages of planning wells, which is attractive from a market intelligence standpoint. And through its leadership position in bits and operatorship of M-I SWACO, Smith has considerable knowledge of what works and does not work when drilling shale wells. For Schlumberger to gain access to this body of knowledge and expertise clearly has value.
That said, we note that Schlumberger is not exactly in the dark currently in terms of what it knows about U.S. shale. It's a large player in North America in its own right, offering services in both the drilling and completion phases of wells.
On balance, we believe Schlumberger's strong technology bent could in fact assist in the future development and strengthening of the IDEAS and i-Drill platforms; however, given the already-high ratings Smith receives for these offerings, there is also the chance that adding Schlumberger's hand to things could upset the apple cart. In the end, only time will tell.
Regular readers of EnergyPoint's reports are already aware that, when it comes to their impact on customers, we are not normally enthusiastic about these kinds of mergers. We've just seen too many ratings and read too many accounts from customers of highly rated suppliers like Smith that indicate the existing culture, personal relationships and product and service quality are not fully appreciated, and thus not maintained, by purchasers with lower customer satisfaction ratings (see chart below comparing Smith and Schlumberger's customer satisfaction ratings across various attributes). The situation is often made worse by the deep cost cuts and steep price hikes that are often instituted at the purchased company to justify the deal financially.
The purchase premium, targeted cost savings of $320 million by 2012, and Schlumberger's reputation for pushing the upward bounds on pricing causes us to believe this transaction runs the risk of estranging at least some of Smith's long-time and more loyal customers. Accordingly, Schlumberger would be wise to embrace, rather than replace, what it can in terms of Smith's operations, culture and personnel.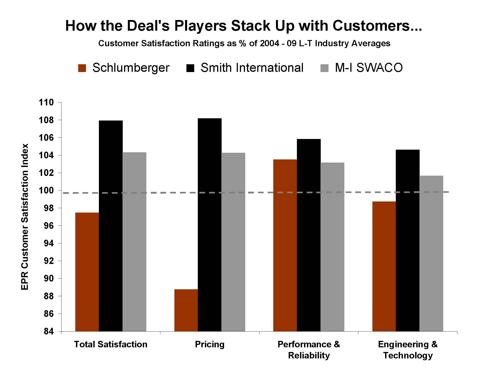 Click on the following to read other EnergyPoint notes concerning other recent acquisitions/mergers in the oilfield: ExxonMobil – XTO; Baker Hughes – BJ Services; Precision Drilling – Grey Wolf; Grey Wolf – Basic Energy Services; Halliburton – Expro, and; National Oilwell Varco – GrantPrideco.
Disclosure: No Positions