Energy as a sector is cyclical. It tends to outperform during late stages of a recession and early stages of a recovery in anticipation of an environment of declining risk aversion and growth. But energy is also a late cycle outperformer. It tends to outperform during the mature or late stage of an expansion. At present, the economy is without doubt not one that is rightly classified as "late stage recession" or "early recovery". However, the US yield curve remains steep, with potential for flattening with the terrible taper. This is consistent with an expectation of continuance of US economic growth. And leading indicators suggest that the US will hold growth momentum. At the same time it looks like Europe and developing markets are stabilizing and/or making bottoms. On a global level, I sense that the US is entering or has entered the mature phase of its economic cycle. Europe and developing markets have lagged, and with continued stability in US, they can be expected to enter a phase of more pronounced growth. This bodes well for the energy sector.
Catalysts beyond the economic cycle
The economic cycle is an important catalyst. But at this point in time we have additional short and long term catalysts.
Short-term catalysts
Whether weather matters is an important short term consideration for the energy sector. Do hurricanes and snow really matter?
During the hurricane season, the energy markets response is very storm specific. If there is a storm threat to oil and gas facilities, supply side concerns ratchet up and the energy sector rises. Though there is often a stock specific decline on an entity whose facilities come under threat. The 2013 hurricane season is behind us. And it's been an extraordinarily quiet season. In fact this year, the hurricane season was particularly meek. You can read an interesting article about how quite the hurricane season has been here.
And it snowed in New York over the weekend. One can't help thinking that all the big investment bankers will be thinking of heat and the demand for energy as they trudge into work come Monday. This is a tiny catalyst for the energy sector as we enter the winter months.
Long-term catalysts
But there is a bigger catalyst out there. And one with a more enduring impact on growth for the energy sector. Last week saw two very important developments. The first was the passage of the budget deal reported on Bloomberg, which includes a provision which allows deepwater oil and gas exploration to proceed in the western Gulf of Mexico. To an extent, opening up the Gulf of Mexico to deepwater drilling was expected, but it occurred sooner than I expected and the simple fact that it has occurred is positive. The second was the passage of the oil bill in Mexico also reported on Bloomberg, which ends the era of state oil monopoly and allows private and foreign capital to invest in Mexico. Given the disappointment of the Chicontepec auction earlier this year, the passage of the oil bill is not a surprise, but it remains a positive. These two developments are very positive for the energy sector. In fact it is likely to be very good for growth in general, especially in Mexico.
Make no mistake about it, the global demographic is expanding. And with it expands the demand for energy. Energy security and energy independence will remain critical considerations, gaining in importance in the coming decades. Energy independence comes with having domestic supplies which satisfy national needs. Energy security comes from either reducing national needs, for example by shifting demand from fossil fuels to alternative energy sources like solar energy, or by improved energy efficiency, or by replacing a foreign supplier from an unfriendly jurisdiction (e.g. Venezuela) to one from a friendly jurisdiction (e.g. Canada). These two developments we saw over the course of the past week are energy independence plays. These developments got me motivated to have a closer look at the energy sector. Since the biggest beneficiaries are those involved in the deepwater business, it is where I decided to focus.
Where is the gain potential?
Production growth potential is always a positive. But since deepwater is a high marginal cost source of oil, it is unlikely to be where the biggest profitable opportunities for investors will arise. The best returns will likely be found amongst the offshore drillers and perhaps the oilfield service providers as well.
Drillers & Ancillary Service Contractors
Presented below is a list of drilling and ancillary service contractors. If we are in a mature stage of the economic cycle, it is worth avoiding over-leveraged companies. And it is worth avoiding high beta, particularly when the estimated return expectation is at a level where the risk associated with beta is not fully priced. While I like Seadrill (NYSE:SDRL), at this stage of the economic cycle I would avoid it on account of the leverage employed. I'd drop Nabors (NYSE:NBR) because the focus for the company is land drilling, while the catalysts being contemplated are primarily related to deepwater (offshore) drilling.
The remaining five, Diamond Offshore (NYSE:DO), Ensco (NYSE:ESV), Helmerich & Payne (NYSE:HP), Noble (NYSE:NE) and Transocean (NYSE:RIG) are all attractive. After considering value, growth, quality and momentum indicators, Helmerich & Payne followed by Ensco are the best picks. In terms of long term return potential Ensco, Noble, Transocean are the top three.
A special mention for the low yielding Diamond Offshore is a must. Diamond Offshore has been in a downtrend since late July 2013. Some of it is due to the planned retirement of its CEO Lawrence Dickerson, who has led the company for over thirty years. Leadership transition can be a stressful period. In addition, while the company has a very healthy backlog, there is some concern on expected escalation in operating costs and rising downtime. And there is also some fear as a result of reclassification of four cold stacked rigs from "cold stacked" to "held for resale".
Diamond Offshore is a subsidiary of Loews (NYSE:L). Loews is primarily in the business of commercial property and casualty insurance. Generally, I do not like owning companies where the groups top management focus is not primarily on the company. The risk of too less key top management attention creating problems is high. Specifically investment in growth opportunities tend to be compromised. But in the case of Diamond Offshore, I make an exception. The focus is visibly on return of shareholder value, together with sensible capital allocation. Since 2000, Diamond Offshore built five ultra-deepwater rigs using mid-water hulls. They also acquired two new-build ultra-deepwater semi-submersible rigs and ordered three new ultra-deepwater drillships. In 2011, they ordered three ultra-deepwater drillships. In 2012, two additional deepwater semi-submersibles were ordered together with another ultra-deepwater drillship. In 2013 an ultra-deepwater harsh environment semisubmersible rig was ordered. And through this period, the company has continued to return shareholder value through regular and special dividends and buybacks. As far as the assets are concerned, once the full fleet is operational, there will be a nice mix between drillships and semisubmersible rigs to meet needs and preferences of different clients and environments. As far as growth is concerned, there are seven new assets, which will facilitate earnings growth over the 2014 to 2016 and beyond timeframe.
Diamond Offshore's yield displays at 0.89% because that is based on its regular dividend of $0.125 per quarter. In addition to the regular dividend, the company has a long history of paying a special dividend each quarter. A $0.75 quarterly special dividend has been paid out during recent years. The dividend yield after taking the stable special dividend into consideration is a generous 6.23%. This stock has the lowest beta (0.98) from amongst all the mentioned companies. It carries no leverage. This makes this stock attractive for the present stage of the economic cycle.
Great value, together with potential for positive deepwater catalysts to reverse adverse momentum trends makes Diamond Offshore my top pick at this point in time.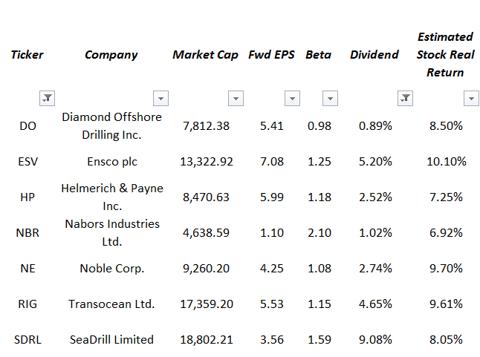 Oilfield Services
Presented below is a list of oilfield service providers. If we are in a mature stage of the economic cycle, it is worth avoiding over-leveraged companies. And it is worth avoiding high beta, particularly when the estimated return expectation is at a level where the risk associated with beta is not fully priced. Included on this list are Core Laboratories (NYSE:CLB) and Exterran Partners (EXLP) which I eliminate straight off because the leverage employed is somewhat over levels I am comfortable with. Unfortunately, these are also the only two low beta plays on the list.
On this list I like Schlumberger (NYSE:SLB), National Oilwell Varco (NYSE:NOV) and Halliburton (NYSE:HAL) in that order after considering value, growth, quality and momentum indicators. Using beta adjusted return potential as a basis to review the value proposition I'd rank these stocks exactly the reverse i.e. Halliburton, National Oilwell Varco and Schlumberger in that order. I feel sure there is short term (3 to 6 month) upside to be had from each. But I see all of them as being on the expensive side after considering their respective betas. Tidewater (NYSE:TDW) and Gulfmark Offshore (NYSE:GLF) have both been technically weak since late October 2013. Both are testing their 200 day moving averages. And they offer the best value and return potential, if the catalysts referred to earlier in the post set off a positive trend for the energy sector. Another way to play the catalysts would be to consider an exchange traded fund such as Oil Services HOLDRs (NYSEARCA:OIH) or SPDR S&P Oil & Gas Equipment & Svcs (NYSEARCA:XES).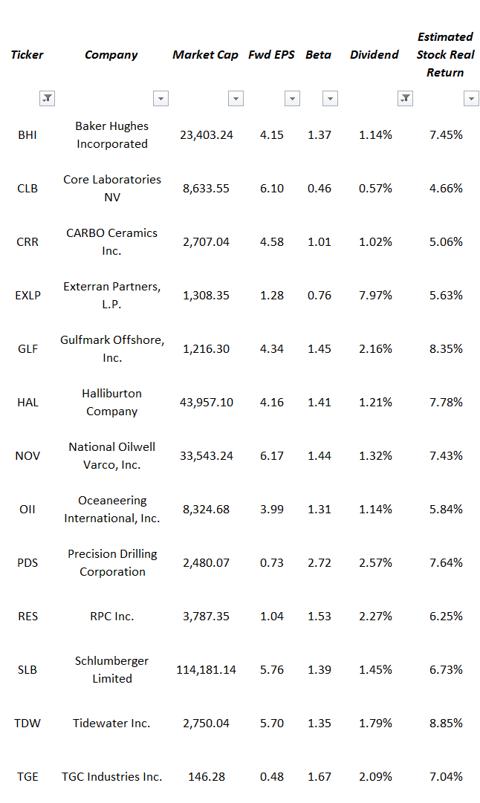 Disclosure: I am long RIG. I wrote this article myself, and it expresses my own opinions. I am not receiving compensation for it (other than from Seeking Alpha). I have no business relationship with any company whose stock is mentioned in this article.