Shares of Facebook (NASDAQ:FB) are near all-time highs after S&P announced that the company will be added to S&P 500 and S&P 100 indexes. The stock has performed very well since its June lows, driven primarily by strong growth of mobile monetization. In this article, I will provide a CAN SLIM analysis of Facebook, which will show that the prospects of the company are very bright, and that we are in the early innings of the share price appreciation.
What is CAN SLIM?
CAN SLIM refers to the mnemonic publicized by the American newspaper Investor's Business Daily, which claims to be a checklist of the characteristics performing stocks tend to share before their biggest gains. It was developed by Investor's Business Daily founder William O'Neil who has reportedly made several hundreds of millions of dollars by consistently using its approach. I will go over the seven parts of the CAN SLIM checklist and analyze if Facebook fits the criteria. I will use the criteria from William O'Neil's book "How To Make Money In Stocks", but will rate it based on my own judgment, with grades A to E (A being the best, and E being the worst, and A+ if the company exceeds the criteria by a wide margin or A- if there is a slight alteration).
C - Current earnings. The latest quarterly earnings per share growth should be above 25%. Accelerating earnings growth is regarded as a very positive sign. Facebook has reported accelerating earnings and revenue growth in the last two quarters. Adjusted earnings per share increased 58% and 108% in Q2 and Q3, which is a significant increase over 0% growth in Q1. Revenue growth has also increased, from 38% in Q1 to 53% and 60% respectively in Q2 and Q3. Facebook has also posted Q2 and Q3 earnings and revenue above analyst consensus estimates, and analysts have been raising Q4 and FY 2014 estimates in the last 90 days. Facebook's recent earnings and revenue numbers rank far above the necessary criteria, and receive an added bonus for accelerating growth, which amounts to an A+ rating.
A - Annual earnings. Facebook's GAAP earnings per share rose 180% in 2010 and 64% in 2011, while they decreased significantly to $0.01 in 2012. However, on an adjusted basis 2012 earnings were $0.53, a 6% increase over 2011. Analysts expect this year's earnings to rise 56% and 35% in 2014. Although the annual earnings growth does not fit the criteria technically, the company is still in its early stage of growth, and needs to invest heavily to fuel growth. On the other hand, revenue growth has been outstanding in prior years, with a 154% increase in 2010, 88% in 2011 and 37% in 2012. Investors were concerned with the substantial growth slowdown, which has caused the share price to drop significantly after the company went public in 2012. Those fears have abated in the last six months, with strong acceleration in both earnings and revenue growth in the last two quarters. I would grade the annual earnings category by A-, because of lackluster earnings growth and slower revenue growth in 2012.
N - New product and/or service, new company, new management, new highs. Facebook is on the forefront of innovation, together with other companies in the social media group, and is a rather young company. Facebook is constantly improving its products and services, and has ramped up mobile monetization. This is in fact the crucial "new" for the company in recent months. Mobile monetization has increased significantly since it was introduced, and has reached 41% and 49% of total revenue in Q2 and Q3 respectively. Ads revenue grew 66% in Q3, ahead of total revenue growth. The company saw strong growth across all geographies and types of marketers. The primary drivers of ad revenue growth were an increase in the number of News Feed ads and an increase in the number of marketers using Facebook along with increased demand. Facebook is investing the most in its News Feed, and management believes it to be a large long-term opportunity, and will put further efforts to improve the quality and relevance of News Feed ads.
In April 2012, Facebook bought the mobile photo sharing app Instagram for $1 billion in cash and stock. Instagram presents another growth opportunity for the company, since it has over 150 million users, and it has just started to show ads in the app two months ago. Given the excellent results from recent monetization efforts by Facebook, particularly in mobile, Instagram could easily follow suit, and deliver more growth for Facebook in the next couple of years. Last week, Instagram launched a private photo/video-messaging service called Instagram Direct, which allows users to privately send photos and videos to up to 15 users. This new service is compared to Snapchat, which Facebook reportedly tried (and failed) to buy for more than $3 billion, and is also the company's response to mobile messaging platforms such as Viber, WhatsApp. Twitter's recent update of its apps to support private photo-sharing is also threatening Facebook's mobile engagement. Instagram's number of users has soared more than 5 times to 150 million since Facebook took over the company, and it is coming closer to Twitter's 232 million at the end of Q3. Instagram could be a big revenue contributor for Facebook in two to three years.
There are also new products in the pipeline. At the beginning of the year, the company announced the first beta version of Graph Search. This version of the service is on desktop and has indexed more than 1 trillion connections between people in this segment. In Q3, the company started testing the search of all the unstructured text and posts that people ever made on Facebook, which added about 1.2 trillion more posts. Although it is still early, the company's founder and CEO Mark Zuckerberg is "really excited" about Graph Search, which might become another important tool in Facebook's ad monetization arsenal.
Facebook gets an A+ rating for new products and services.
S - Supply and demand. William O'Neil notes in his book that it takes big demand to lift shares higher, and that you have a better chance of big price increases when there is a small amount of shares outstanding. Although Facebook does not have a small number of shares outstanding, there is strong demand for its shares, as evidenced in the increase of institutional sponsorship (more about that later). You can also see the demand when you look at the chart where there are more up days on increased volume compared to down days on increased volume (the same can be seen on the weekly chart, with small volume bars on down weeks, and higher volume bars on up weeks, indicating overwhelming buying demand). Big spikes in volume on up days are an indication that there is strong demand for shares of Facebook, and it gets an A rating in this category.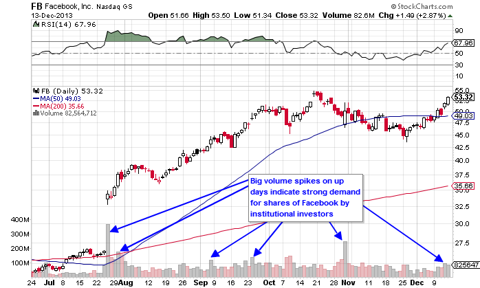 Click to enlarge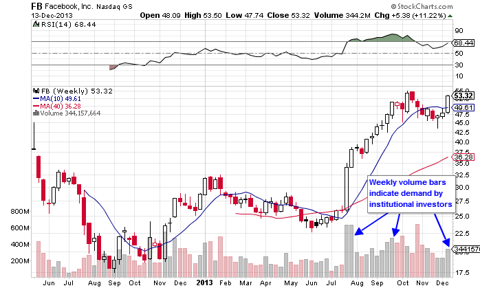 Click to enlarge
Source: Stockcharts.com
L - Leader or laggard. You should buy leading stocks in leading industry groups, and avoid laggards. Facebook is among the top stocks in the Internet Content industry group, which is among the highest ranking groups according to Investor's Business Daily. Other leading stocks in the group include LinkedIn (NYSE:LNKD), Baidu (NASDAQ:BIDU), Qihoo 360 (NYSE:QIHU), while the new issue Twitter (NYSE:TWTR) is not currently among the leaders based on IBD's criteria because it is still not profitable, while the company is clearly among the leaders of the industry based on the criteria such as revenue and user growth. Twitter is currently in the earlier stage of growth, where profitability comes second after revenue growth and as the company makes major investments to capture market share and grow the business. On the table below, we can compare some of the fundamentals of the mentioned stocks. Facebook and Qihoo enjoy the best earnings and revenue growth momentum, as their growth rates accelerated in recent quarters, as opposed to LinkedIn, as its earnings and revenue growth decelerated in recent quarters. Based on the criteria (the ratings are my own, based on the principles presented in O'Neil's book "How To Make Money In Stocks"), Facebook is among the leading stocks in the group, and gets an A rating in this category.

Click to enlarge

Click to enlarge

Click to enlarge
Source: Investors.com, Yahoo! Finance, Investor relations of the covered companies
I - Institutional sponsorship. It takes big demand to push prices up, and institutional investors such as mutual funds, pension funds, insurance companies and hedge funds are by far the biggest participants in the market. You should see increased demand by institutions for shares of the company you are analyzing, and increased number of funds owning the stock. Facebook's institutional sponsorship has increased in four consecutive quarters. Institutional investors held 1.14 billion shares of Facebook at the end of third quarter, an increase of 261 million shares over the second quarter. As the company is added to S&P 500 and S&P 100 indexes last week, institutional sponsorship will most certainly increase in the fourth quarter. However, the stock should not be "over-owned" by institutions, and Facebook is still not over-owned, with 61% of its shares being owned by institutions, so there is still room for further demand by institutional investors. Facebook gets an A+ rating in this category.
M - Market Direction. General market should be in an uptrend, because if the market is going down, the majority of stocks will suffer, including the market leaders. Although a simple look at the charts of major market indexes clearly signals that the market is in an uptrend, Investor's Business Daily has its methodology of determining the state of the market. The trend is up when one of the major indexes has a "follow through" day, or if an index simply reaches a new 52-week high, while a downtrend is determined by the number of distribution days in the last five weeks. Since we are seeing an increasing number of distribution days in the last couple of weeks, and the fact that the indexes are near 52-week highs, this is not a clear uptrend, and IBD's current market outlook is "uptrend under pressure". This is not ideal, but there are still more positive than negative factors, given that there was only one meaningful distribution day, while the rest of distribution days were in the form of minor losses of the indexes on increased volume.
Conclusion
Facebook is a true CAN SLIM stock, and is meeting all of the criteria that are needed to make it a true CAN SLIM stock. Facebook has the best possible rating in six out of seven categories, and a not so clear situation with the market uptrend (no grade for Facebook there). The stock is near all-time highs, it is showing strength in face of a weaker market in the last two weeks, and the fundamentals are going in the right direction, with earnings and revenue growth accelerating. The only cause for concern here should be state of the general market, as it could become more unstable with the expected tapering of the FED's quantitative easing program, which could induce volatility in the market, which in turn might pressure the share price of Facebook, as well as the prices of other leading stocks.
Disclosure: I am long FB, BIDU. I wrote this article myself, and it expresses my own opinions. I am not receiving compensation for it (other than from Seeking Alpha). I have no business relationship with any company whose stock is mentioned in this article.
Additional disclosure: I am in no way affiliated with Investor's Business Daily or William O'Neil. The analysis provided here is my own, and is for informational purposes only, and should not be regarded as investment advice.