By David Russell
Foot Locker has been ripping higher since the start of last week, and the bulls are betting that it still has room to run.
optionMONSTER's Heat Seeker tracking program detected the purchase of 2,148 April 15 calls for $0.15 to $0.20 against no existing open interest. Some 2,000 March 12.50 calls were also bought for $0.85 and $0.93 against open interest of 1,598 contracts.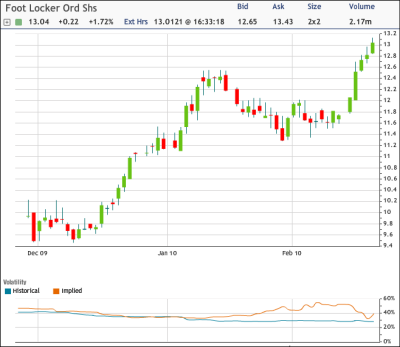 FL rose 1.72 percent to $13.04 yesterday and is up 11 percent in the last six sessions. The stock started climbing after the bears were unable to push it below $11.30 earlier this month, and it found support on its 30-day moving average.
After struggling to break convincingly above $12 all of last year, FL made a new 52-week high in yesterday's session. Its next likely area of resistance is around $14.75, the level where it peaked in November 2008.
Yesterday's call buyers are apparently looking to profit from a push to the upside. FL must climb 17 percent by expiration for the April 15 calls to turn a profit, while the March contracts only require a gain of 3 percent or more.
The next scheduled event that could serve as a potential catalyst for the shares is the release of fourth-quarter results before the market opens on March 4.
Overall options volume in FL was 13 times greater than average, with calls outnumbering puts by a bullish 95 to 1, according to Heat Seeker.
(Chart courtesy of tradeMONSTER)