Intel (NASDAQ:INTC) incurred a 3.1% decline in its share's price in extended trading after a Bloomberg article published on December 12 hinted that Google (NASDAQ:GOOG) is thinking of creating an ARM-based customer processor for the search giant's data center needs. The article has since been picked up by other websites and the rumor has been blown up to greater proportions.
Rumor or not, this development is a clear and present danger to Intel's extremely profitable enterprise server business. As of this year, Intel holds a monopoly-like 95% share of the server market. The company's Xeon and Atom processors have been the processors of choice for OEM server manufacturers. Since 2007, Intel has managed to greatly reduce its rival Advanced Micro Devices' (NYSE:AMD) market share to just 5% of total server processor sales by end of 2012.
The steady six - year growth in its server business has been Intel's saving grace from the decline in traditional PC sales. The threat of Google abandoning Intel to create its own processor is a serious concern for all holders of INTC stocks. Intel's repeated failure in penetrating the smartphone CPU market has already raised doubts about its future viability.
According to Bloomberg's supply chain analysis, Google is Intel's fifth largest customer for processors. The search giant accounts for almost 4.3% of Intel processor sales and Intel's future revenue health will certainly suffer should Google decide to push thru with its plan.
Google needs to buy millions of processors for its global network of data centers. The billions of dollars of lost revenue that Google can contribute to Intel's bottom line is a grave jeopardy - but I know how Intel's management can avert this disaster.
The Atom C2000 is Powerful and More Energy-Efficient than ARM-based Server CPU
Google's main reason why they are seriously mulling a custom server processor based on the ARM architecture is they need to reduce their expenses in running millions of servers. Intel's previous x86 Xeon and Atom processors are not known for their energy-efficiency. However, the new Atom C2000-series of processors which Intel unveiled last September is different. It's the company's flagship line of products designed from the ground up for high density compute solutions. Here's a picture of it.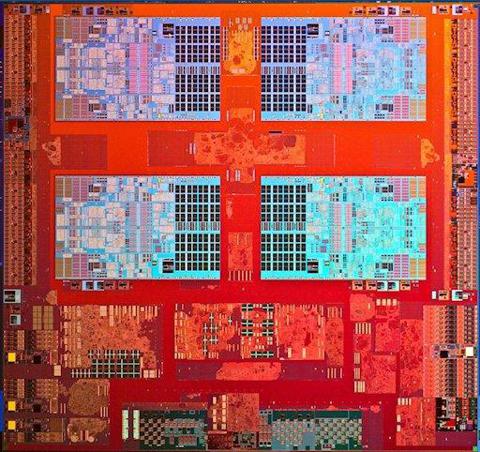 Intel's management can avert Google's plan if they can demonstrate just how powerful and energy-efficient its 2nd Generation 64-bit Atom C2000-series of processors are. Based on Intel's Avoton and Rangeley design, each Atom C2000-series promises to deliver up to 700% faster performance and 600% better performance/watt energy efficiency than the older Atom S1200 family of processors.
Based on the chart below, the Atom C2000-series models will have a TDP range of 6W to 20W. Avoton and Rangeley models will either have four cores or eight cores of processors with speeds of 1.6GHZ to 2.6GHz. All models from the Atom C2000-series will have support for Error Correcting Code (NYSE:ECC) Memory of up to 64 GB RAM and Intel's Virtualization Technology.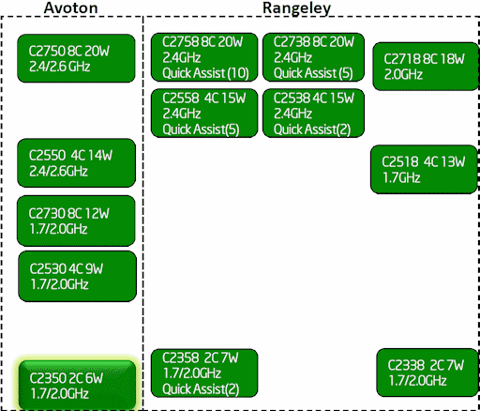 The Avoton and Rangeley designs are true SoC solutions. They are based on the Silvermont micro architecture which Intel announced last May. The Atom C2000 offers extensive integration in a small footprint that's the size of a credit card including memory and I/O connectivity. Silvermont's best feature is that emphasizes per-thread performance. Intel dropped the old symmetric multithreading used in previous Atom processors. Silvermont now uses out-of-order execution to extract instruction level parallelism.
Avoton has four modules of Silvermont cores which are grouped into dual-core modules that have 1MB of shared L2 cache. The Silvermont System Agent allows each of the four modules to link with each other, allowing a multi-core SoC like Atom C2000 to maximize its compute power by coordinating the four modules' L2 cache, sustaining coherency, and routing requests.
The Silvermont micro architecture is also modular - it can be scaled up or down depending on what the client needs. Intel can build a micro server for Google with up to 1000 Atom C2000 processors inside it. Deploying such servers offers higher computing capacity and better energy efficiency than Intel's conventional Xeon-based servers.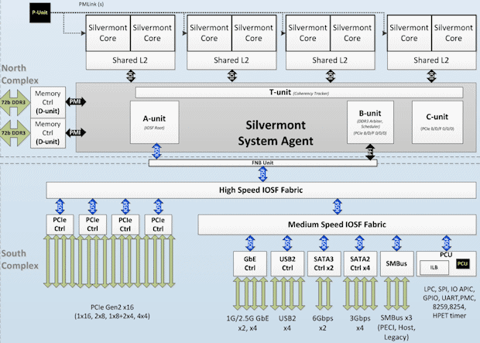 Conclusion
The long term survival of Intel is highly affected by its enterprise server business. It is a paramount requirement that they convince Google to drop their future plans of going into processor design. The new Atom C2000-series of low-power server processors are Intel's best demo products to keep Google in its fold. A custom version of this processor can be tailored to meet whatever Google wants.
Intel should also point out that the Atom C2000 processors are 100% compatible with Google's existing x86 server configuration. A seamless transition can be done without the risks that entails from migrating old servers to new 64-Bit ARM-based processors. Google can save itself from a lot of headaches and money by just retaining Intel as its main processor supplier.
Don't sell your current INTC holdings now. Intel has the right answer to Google and other companies' need for low-power server CPU. The Intel x86 server architecture has already proven itself for its reliability in providing mission-critical enterprise compute services for over a decade. Reliability is the word, hold INTC.
Disclosure: I have no positions in any stocks mentioned, and no plans to initiate any positions within the next 72 hours. I wrote this article myself, and it expresses my own opinions. I am not receiving compensation for it (other than from Seeking Alpha). I have no business relationship with any company whose stock is mentioned in this article.