With nearly ~250 of the 400 plus technology companies that Gridstone Research covers reporting their Dec09 (or corresponding quarter) numbers, it would be a good time to take stock of Tech sector topline and bottomline growth. Yes. Growth is back in the real sense, though skeptics might question if it is sustainable.

In my roundup on Tech earnings after the Sep09 quarter results were announced, I had concluded that Tech sector has seen a return to normalcy in the Sep09 quarter and return to the growth phase in Dec09 quarter was imminent.

Dec09 Quarter: Revenue Grows, Profit Zooms

(Click on image for enlarged view)





Source: Gridstone Research

Compared to a 9% YOY revenue decline for ~292 companies when I had done the Sep09 round-up, the Dec09 quarter has shown a 6.5% increase in revenues for the 254 companies whose results have been collated this quarter. One main reason for this big swing is that while Sep08 quarter was not bad for Tech sector, Dec08 was extremely bad. So on a YOY basis, Dec09 comes out shining thanks to the favorable comps. I have reproduced the data collated for the Sep09 quarter below for easy reference( Read Full article here).
For profits, the numbers get skewed due to some large write-downs taken in the Dec08 quarter( Ex: SYMC-Symantec alone took a ~$6B goodwill impairment charge and Alcatel Lucent took a ~$5B charge). Based on some known figures like this and some rough calculations, nearly $14-15B of the $47 profit increase on a YOY basis is due to such one-offs. So excluding such charges, profits have increased by ~250% with operating margins(50/315B) of ~16% probably being at near record levels for the sector as a whole. Since tech sector has relatively lesser debt levels, net profits and EPS should have also improved manifold on a YOY basis thanks to better operational leverage, more than anything else.

Sep09 Quarter: Revenue Declined But Profits Were Marginally Down

(Click on image for enlarged view)





Source: Gridstone Research

While I had expected the semiconductor group to outperform in profits thanks to the favorable comps, the hardware group has also performed beyond expectations. I feel that this group would have seen the biggest earnings surprises( compared to analyst estimates) in the Dec09 quarter, and that is also reflected by its superlative performance here. Strong sales of smartphones and PC's have been a big boost for this group in terms of profitability and also for the semiconductor majors having exposure to these two verticals. The catch is that the sales momentum is these two categories cannot sustain this growth rate even over 2010 and so large-scale corporate spending for enterprise equipment should br back in full force to compensate for it. The cautiously optimistic outlook of companies like Cisco, HP and Dell suggests that corporate IT spending will indeed pick up in 2010.


Revenue And Profits By Industry Group: Dec09

(Click on image for enlarged view)





Source: Gridstone Research

Another interesting fact is that most of the top contributors of this net profit change(in $M below) have not been due to revenue growth but better operational efficiency and performance. Symantec(SYMC) and Alcatel Lucent(ALU) are at the top of the turnaround list thanks to the huge write-offs they took in Dec08. Excluding that, their performance is nothing spectacular. Microsoft (NASDAQ:MSFT) is clearly the standout performer, and Windows 7 has probably played a significant part in that. Companies like AMD (NYSE:AMD) and Cadence (NASDAQ:CDNS) have overcome a tough one year, and hopefully they will see better days ahead. So profit growth from Dec09 will not be easy, and has to be primairly supported by strong revenue growth going forward.

Top 15 Companies By YOY Profit Change($M)

(Click on image for enlarged view)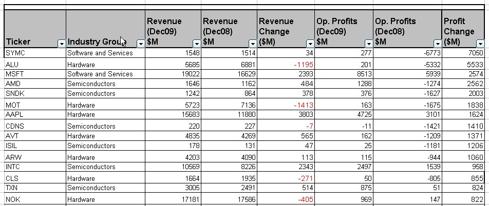 Source: Gridstone Research

In terms of revenue $ contribution to sector growth, Apple (NASDAQ:AAPL) and Microsoft lead the way. The top 5 - Apple, Microsoft, HP (NYSE:HPQ), Intel (NASDAQ:INTC) and Dell (NASDAQ:DELL) have been aided by strong PC or Smartphone growth or both(in Apple's case). The top 15 have added an incremental $19B of revenues in Dec09 compared to the Dec08 quarter and that's pretty much the total incremental revenue for the Sector in Dec09( $19.3B).

Top 15 Companies By YOY Revenue Change($M)

(Click on image for enlarged view)





Source: Gridstone Research

It would be safe to conclude that probably going down the list to the top 30-40 would be sufficient to understand the IT spending trends as these companies represent a huge portion of IT spending and also the different components of IT spending.

Large Deals In Tech Could Be Back

In summary, the IT biggies always bounce back strong thanks to their diversified revenue streams and lesser leverage. This is probably the reason why many Tech large-caps attempt to diversify their product portfolio beyond a certain size as horizontal expansion(increased addressable market) makes sense than vertical expansion(increased marketshare). Recent deals like Dell's acquisition of Perot Systems (PER) and Xerox's (NYSE:XRX) acquisition of ACS (Affiliated Computer Services) are proof of this strategy. 2010 should probably seem many such deals despite valuations being expensive as the commensurate risk reduction(of a diversified portfolio) is attractive enough for the top management.

Author's Disclosure: No positions