By David Urani
The Federal Reserve's reading on monthly industrial production was encouraging this morning, posting a 1.1% increase for November versus the consensus estimate calling for a 0.6% gain. Not only that, but it was the best monthly gain in a year and also finally surpassed the 2007 pre-recession record high at an index reading of 101.3.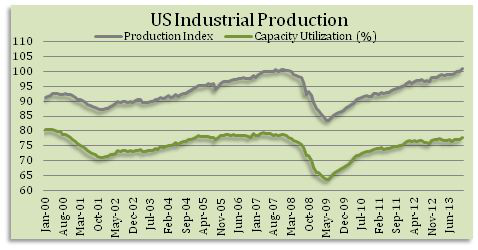 Manufacturing, which accounts for about three quarters of industrial production, posted a modest 0.6% gain. The index was boosted by the utilities industry, which showed a 3.9% increase helped by the unusually cold weather this winter. There was also a 3.3% bounce in auto production, along with a 2.6% increase in home electronics.
So perhaps there was some seasonal benefit from the cold weather and auto industry volatility but one can't help but to be encouraged by the new highs being set by US industrial activity.