By Eric Dutram
With a strong consumer, rising business confidence and stable oil prices, it should come as no surprise that the airline sector has been performing extremely well this year. In fact, many companies in this segment have more than tripled the market's return from a YTD look, with gains in excess of 80% not uncommon.

The surge has been pretty widespread too, with both so-called legacy carriers and discount airlines seeing strong performances. One company in the legacy space that has been especially impressive and a great example of this incredible trend is undoubtedly Delta Air Lines (NYSE:DAL).

Delta in Focus

Delta is, following the merger between American (NASDAQ:AAL) and US Airways, the second biggest airline in the world. The firm is probably most famous for its hub at Hartsfield-Jackson airport in Atlanta, though it has a big presence in Detroit, Minneapolis, and New York City as well.

The stock was cleared for takeoff at the start of 2013, and it really hasn't looked back besides some minor turbulence in April. DAL has actually more than doubled so far this year, putting up a 130% gain YTD, including a 50% move higher in the past six months alone.

This is obviously a huge move, and especially so for a company in a pretty cut-throat industry, but there is plenty of reason to believe that this can continue as we head into 2014 if you look at the company's profit and growth outlook for the coming year.

Delta Earnings Outlook

Thanks to the strong industry outlook and the pressure that is currently on oil prices, many analysts are looking for DAL to continue to grow earnings in the months ahead. Current estimates peg this quarter's earnings growth (yoy) at 121%, while current year growth is expected to be in the high double digits, hitting 70% year-over-year.

These figures also represent how bullish analysts have become on DAL's earnings prospects in just the past few months. Estimates for the current quarter have surged from 50 cents a share 90 days ago to 62 cents a share today, while current year estimates have jumped by 11% over the same time period.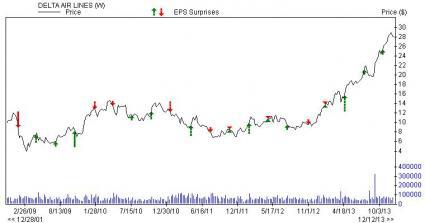 While this increased expectation might be troubling to some, DAL does have a pretty good track record in earnings season. This includes a pretty solid history of earnings beats—three straight beats and only one miss in the last eight reports—so there is plenty of reason to believe that DAL will have no trouble matching estimates once again next year.

Thanks to these factors and the impressive trend in the economy, DAL has earned itself a Zacks Rank #1 (Strong Buy). And since DAL was just added to the #1 Rank group on Friday December 13th, investors shouldn't worry that they have missed their flight to profits with this impressive stock.

Bottom Line

The economy is humming along and cyclical sectors have been a prime beneficiary from this surge in sentiment. One segment that has really been a winner from a stock perspective is the airline industry.

And with some of the other factors at play in the economy—such as surging consumer confidence and lower oil prices—a play in this sector seems like a no-brainer. This is particularly true when you consider that the Zacks Industry Rank for the airlines is 27 out of 260, putting it within the top 10%.

Yet, while a broad play on the airline space could be a very interesting idea, a look to DAL could be even better. This has been one of the best performing airlines so far in 2013, and with its strong competitive position and huge scale, this could be a big winner—and top pick—for 2014 too.

DELTA AIR LINES (DAL): Free Stock Analysis Report (email registration required)