By Eric Dutram
Thanks to a pretty healthy construction market, many companies involved in this segment have soared so far in 2013. However, with the high probability of the Fed tapering sooner rather than later and sluggish earnings, some companies have been seeing choppier trading as of late, and could be facing significant headwinds in the months ahead.

A perfect example of this trend is Mobile Mini (NASDAQ:MINI), a company that provides mobile storage solutions in the U.S., Canada, and parts of Western Europe. MINI is up over 70% so far in 2013, but thanks to a recent earnings miss and a poor outlook for this space, it may be best to move on from this name and focus on others in the broader construction world.

MINI in Focus

At the last earnings report, MINI reported EPS of 28 cents a share, missing the estimate of 32 cents a share. This follows another miss for MINI, as the firm reported earnings of 25 cents a share compared to a 27 cent/share estimate.

Thanks to this miss and some concerns about the construction market with the likely higher rates, analysts have been reevaluating their position on MINI. Not a single estimate has gone higher in the past quarter for the company, pushing the consensus estimate sharply lower.

In fact, MINI is now expected to earn just 31 cents a share for the current quarter, down from 35 cents a share for the quarter 60 days ago. And for the current year, estimates have slumped from $1.19/share to $1.11/share today, suggesting analysts are feeling less optimistic about both the short and the long term in this small cap.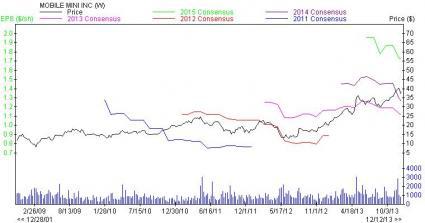 Thanks to this sluggish earnings outlook, MINI has earned itself a Zacks Rank #5 (Strong Sell), so a big slide might be in this company's future. This is particularly true if you consider that the company is also in a terrible industry, as it is approaching the bottom 10%, and not a single company has a Rank better than #3 (Hold) either in this segment.

And if this wasn't enough, it is also important to note that MINI isn't exactly a value at these levels following its huge run earlier in the year, as the forward PE is over 33. Plus, with sliding margins and the broad concerns over construction, this isn't exactly shaping up to be a top business to own in the near term.

Other Picks

Since the Containers-Metal/Glass segment is ranked 236 out of 260 from a Zacks Industry Rank perspective, it might be best to look to other sectors for exposure at this time. In particular, the paper and packaging segment could be an interesting choice, as its Zacks Industry Rank squeaks into the top 25%.

Some interesting companies in this segment include the Packaging Corporation of America (NYSE:PKG) and the Sealed Air Corporation (NYSE:SEE). Both of these stocks saw a positive EPS surprise last quarter, and best of all, have seen their Zacks Ranks move from a #3 to a #2 in the past week, suggesting that either of these might be better selections than the suddenly in-trouble MINI.

MOBILE MINI INC (MINI): Free Stock Analysis Report (email registration required)