Merck (MRCG.DE), the world's largest maker of liquid crystals used in TVs, tablet and smartphone screens, agreed to buy Britain's AZ Electronic Materials for $2.6 billion to expand its range of specialist chemicals for hi-tech gadgets, on December 5, 2013.
On November 1, 2013, ATMI Inc. (NASDAQ:ATMI), facing a shrinking customer list for its semiconductor and display materials businesses, hired Barclays Capital to explore strategic options, according to an article in Bloomberg Technology.
ATMI sells chemicals and materials to high-tech industries as well as the packaging and equipment to move these chemicals to the production line. As a result, it competes with several companies offering similar concepts-formulated performance materials and advanced delivery systems. ATMI's primary competitors in the Microelectronics business include Air Products and Chemicals (Electronics Division) (NYSE:APD), DuPont Electronic Technologies (NYSE:DD), Dow Chemical Company (NYSE:DOW), BASF (ETR:BAS), and Air Liquide (EPA:AI) as well as several smaller companies that specialize in niche markets, according to ATMI's 10-K
In addition, Bloomberg Technology noted that "other companies producing solutions and materials for circuit boards and flat panels include Aurora, Illinois,-based Cabot Microelectronics Corp. (NASDAQ:CCMP), with a market value of about $950 million, and AZ Electronic Materials SA (AZEM), currently worth 1.08 billion euros ($1.46 billion)
With the acquisition of AZEM, is ATMI next? What about CCMP?
There are similarities among the three companies, but differences. All three companies made minimal acquisitions in the past 10 years. However, CCMP is the leader in the CMP slurry business with a dominating position in oxide and metal slurry and a strong share in the copper slurry sector, according to the report "CMP Technology: Competition, Products, Markets" published by The Information Network. ATMI and AZEM do not dominate their markets.
According to financial statements for the past four quarters, CCMO has been able to increase net income while ATMI's and AZEM's have dropped.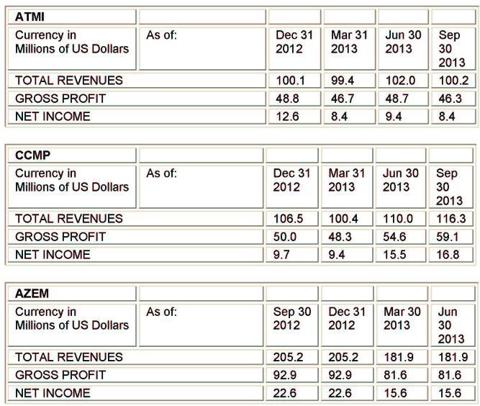 So what about ATMI?
Revenue
ATMI revenues come from LifeSciences, Microelectronics, and eVOLV. For 2012, according to their 10-K:
LifeSciences: Revenues for 2012 of $41.6 million were up 8.7 percent compared to 2011 with major contributions from higher consumables sales and stronger sales of iCELLis™ systems. The 2011 results included $2.4 million of licensing revenues that related to intellectual property settlements for periods prior to 2011.
Microelectronics: Revenues for 2012 were $365.5 million, an increase of 4.0 percent compared to 2011, driven primarily by incremental revenues from the SDS Direct transaction and a $2.6 million one-time royalty partially offset by weaker demand for other products as lower wafer starts were coupled with our customers' efforts to manage inventories in the second half of the year.
With respect to the SDS Direct transaction, in October 2011 ATMI announced it took control of, and responsibility for, worldwide distribution of ATMI's proprietary Safe Delivery Source, or SDS, gas storage and delivery system and related technologies from Matheson Tri-Gas, Inc. The two companies signed an agreement that terminates Matheson's license, manufacturing and distribution agreement in exchange for a $95 million cash payment.
Acquisitions by ATMI
ATMI states in its 10-K that: "We believe that our future success will depend, in part, upon our ability to anticipate rapidly changing technologies and market trends, to enhance our existing products and processes, to develop and commercialize new products and processes, and to expand through selected acquisitions of technologies or businesses or other strategic alliances."
"We seek to grow, in part, through strategic business combinations and asset acquisitions. In the past several years, we have made certain acquisitions intended to complement and expand our business, and may continue to do so in the future."
.
In the Microelectronics sector, which ATMI is complaining about with respect to a "shrinking customer list" according to the Bloomberg article, there were only 2 acquisitions in the past 10 years:
1. In 2005, ATMI acquired a 30 percent interest in Anji Microelectronics Co., Ltd., with operations in Shanghai, China, and entered into a joint development agreement with it to engage in development and marketing efforts around copper CMP and other advanced materials.
2. In 2010, ATMI announced a minority equity investment in Lake LED Materials, Co., LTD ("Lake LED"), a South Korean company focused on providing metal organic precursors to the light emitting diode ("LED") market for customers outside of Asia.
In addition to an acquisition, in 2003, ATMI purchased the exclusive worldwide selling and distribution rights to Enthone's copper ECD products, including its ViaForm products, for a period of ten years, subject to automatic renewal upon satisfaction of certain conditions. Under the terms of the agreement, Enthone continues to manufacture the ViaForm products for ATMI.
On the other hand, ATMI was more active in acquisitions of non-microelectronics technology in the past 10 years:
*In 2007, ATMI acquired a minority interest in ATMI Austar Lifesciences, Ltd., an early stage enterprise whose purpose is to manufacture high density polyethylene and Tyvek bags and other pharmaceutical components for the Asian life sciences industry.
*On January 4, 2008, ATMI acquired LevTech, Inc. ("LevTech"), a market-leading provider of disposable mixing technologies to the biotechnology and pharmaceutical industries
*In November 2010, ATMI acquired the Belgian biotechnology firm Artelis S.A., an innovator in the area of highly-efficient bioprocesses and technologies for cell culture research and manufacturing scale-up.
*In October 2012, ATMI acquired additional commercial rights to customers and exclusive intellectual property rights related to its eVOLV™ recycling technology in exchange for cash consideration and the return of our equity interest in Green Lyon Group, Inc. The ATMI/Greene Lyon process is designed specifically to recover precious metals and components from printed circuit boards.
There are several hundred companies in the supply chain to semiconductor manufacturers. Yes the semiconductor base is shrinking and companies at the top control most of the purchases. According to the chart below, the top 10 semiconductor manufacturers spent 80% of all capital equipment in 2013, up from 66% in 2010.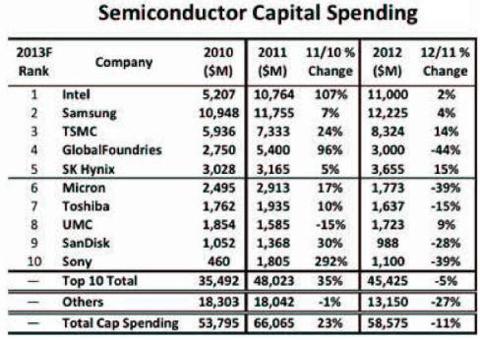 The conservative approach by ATMI management, which goes against its statement in its 10-K, which I highlighted above, is responsible for its slow growth.
Another example is lack of traction in getting into other areas by being too conservative. ATMI had the opportunity to license NanoCoat technology from privately-held New Tripoli, PA,-based SolarPA for solar cell efficiency improvement in July 2011. Two and a half years later, even based on positive efficiency increase results from SolarWorld, they are still waiting to make a decision on licensing NanoCoat.
Barclays Capital was hired by ATMI to explore strategic options. My take (and I just saved ATMI a lot of money) - Applied Materials (NASDAQ:AMAT). ATMI sells into every area as Applied Materials, with its merger with Tokyo Electron earlier this year. Applied has made some really bad acquisitions in the past decade, which I've discussed in previous Seeking Alpha articles, but this one could be a winner. And my sources have been telling me that Applied is trying to live up to its namesake and get into the "Materials" business. This would do it.
Disclosure: I have no positions in any stocks mentioned, and no plans to initiate any positions within the next 72 hours. I wrote this article myself, and it expresses my own opinions. I am not receiving compensation for it (other than from Seeking Alpha). I have no business relationship with any company whose stock is mentioned in this article.