By Chris McKhann
Shares of Lam Research (NASDAQ:LRCX) are falling fast this morning, and the puts are active along with the stock.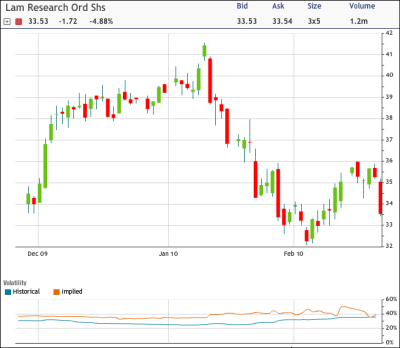 (Click to enlarge)
The semiconductor company is down 4.88 percent, trading at $33.74 after encountering resistance again at $36. LRCX rallied to that resistance from support at $32 after falling from the 52-week high of $41.56 on Jan. 11.
This morning the March 35 puts are active as more than 5,700 have changed hands against open interest of 1,407 contracts. The majority appears to have been sold, with the biggest block of 2,337 going for $1.35.
If this is put selling, it indicates that these traders are willing to buy shares at that $35 level but at an effective price of $33.65, which is now just $0.10 out-of the-money.
Lam is scheduled to participate tomorrow morning in the Goldman Sachs (NYSE:GS) Technology and Internet Conference. Its next earnings results will be released on April 19 (see transcript here upon availability).

Disclosure: No positions