I'm recommending a long position in Two Harbors Investment Corp. (NYSE:TWO) January 2015 LEAPs and Annaly Capital Management (NYSE:NLY) Class A preferred, as the mortgage REITs (mREITs) have become oversold on fear of rising interest rates.
Macro View
A substantial fear premium is priced into mREIT shares ahead of the December Fed meeting, and I expect this to disappear after the meeting. Most investors already anticipate the Fed will begin to exit the market, and this expectation is likely built into the current yield curve.
We know the Fed will keep the short rate anchored at zero for the next one to two years (and likely longer than that), which ensures mREIT funding costs remain low. On the long end, if you look past Fed speculation, U.S. rates actually offer relative value compared to German or Japanese 10-year paper trading at 1.83% and 0.69%, respectively. Thus, I expect rates to hold steady within a 50bps range around the 3% on the 10 and 4% on the 30. This creates a fairly steep yield curve, which ought to be a profitable environment for mREITs once stabilized.
A stable yield curve spread is the key to this thesis, so I will add a little color here: The CBOT Commitment of Traders report shows that small speculators have pushed bearish bets against long bonds to one of the highest levels in many years (see below, courtesy of Tiho at SSOL). Yet I do not see the next catalyst for higher rates. U.S. GDP growth has rebounded modestly, but longer term the deleveraging cycle ought to hold GDP growth under 3%. Wage-price inflation is non-existent and will remain non-existent as long as money velocity continues to fall. Most importantly, higher long rates pose a substantial risk to economic growth, and under Yellen I believe the Fed will prefer increases in its QE program than risk another economic contraction.
Click to enlarge images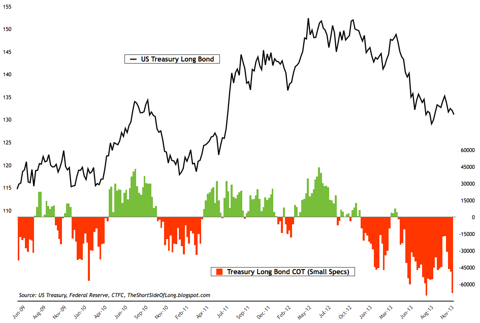 Click to enlarge
Fundamental View
The recent backup in rates caused a sharp reduction in the NAVs of most mREITs. Stock prices declined in tandem but have now pushed below NAV. The discount to NAV is likely due to the high number of retail shareholders who purchased mREITs for their high dividend yields and have been burned by stock declines. Both NLY and TWO are repurchasing shares at these levels.
NLY is primarily focused on agency MBS and commercial mortgages. They have reduced leverage to 5.4x and hedged 75% of their book. Q3 NAV is $12.7/share, which is a 27% premium over the Dec. 14th close of $9.94, and core earnings are $0.25-$0.30 per quarter, which is an annual yield of 10%-12% on Friday's close. If long rates stabilize, NLY can quickly relever, which will add 1-1.5 points of ROE for each turn of leverage.
Notably, NLY's CEO Wellington Denahan has purchased almost $3 million worth of NLY stock in the open market over the past three months. This is equivalent to an entire year of her pre-tax salary and is a decent increase to her $20 million in total stock holding reported in the last proxy. This is a substantial insider buy and historically NLY has performed very well for anyone who bought at a discount to NAV.
TWO, however, is my preferred way to play the mREIT rebound. It is a hybrid REIT founded in 2009 by Pine River to buy up distressed mortgage bonds. It has a traditional agency MBS portfolio combined with several non-traditional residential mortgage operations, including Mortgage Servicing Rights (MSRs) and a jumbo loan securitization platform. TWO is more akin to a hedge fund combined with an mREIT.
TWO's Q3 NAV is $10.35, which is a 14% premium to the Dec. 14th close of $9.11. Core earnings are $0.20-$0.25 per share, which yields 9%-11%. Most importantly, leverage is only 3.0x, providing substantial room to lever up and add ROE in a stable rate environment. TWO also has revenue growth opportunities from both securitization and MSRs. MSRs are particularly attractive because they increase in value as rates rise and offer current unlevered returns in the high single to low double digits.
Trade Recommendations
Rather than directly purchasing stock, I recommend using a levered position in Annaly Class A preferred and a synthetic long position in TWO using January 2015 $10 LEAPs.
NLY.A: For income investors this offers a compelling risk/reward opportunity. The A shares pay an 8.4% coupon on the Dec. 14th close of $23.45. Preferred shares must be paid before common stock and NLY's quarterly obligation on the A shares is $3.5 million. NLY's economic net interest income per quarter is a bit more than $300 million, which is almost 100x the income required to make their Class A dividends.
I recommend investors use margin financing of 2.0x-3.0x, which levers the yield on NLY.A to 15%-22% (assuming you can get a 1.5% margin rate -- if you can't, consider switching brokers). This is a much better risk/reward ratio than purchasing the common. Please research and understand how margin works before implementing this strategy.
TWO LEAPs: There is a significant fear premium built into mREIT puts right now. For TWO, I recommend selling the January 2015 $10 put at $2.2 and buying twice as many January 2015 calls for $0.3. This will earn you a net premium of $1.6 or 19% per share, plus twice the upside if TWO's share price rebounds. Also, with a $1.6 premium, your cost basis on TWO shares is $8.4, which is an attractive 80% discount to today's NAV. You can implement a similar trade with NLY LEAPs (even out to 2016) which are more liquid.
Disclosure: I am long TWO, NLY. I wrote this article myself, and it expresses my own opinions. I am not receiving compensation for it (other than from Seeking Alpha). I have no business relationship with any company whose stock is mentioned in this article.