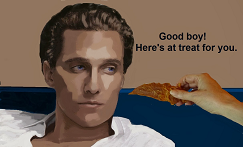 Almost exactly a month ago we suggested a trade that has worked like a treat for us so far and hopefully also for some of our readers.
We had noted that sentiment towards gold (NYSEARCA:GLD) (NYSEARCA:PHYS) and silver (NYSEARCA:SLV) had turned decidedly bearish and suggested that a move to the downside was imminent. We also noted that gold miners (NYSEARCA:GDX) had not quite taken the cue from the underlying metal and had budged the down trend at the time. We suspected that a possible move to the downside by the SPDR Gold Trust ETF would be amplified for the miners represented by the Market Vectors Gold Miners ETF should it happen. We suggested a trigger to initiate a position in the Direxion Daily Gold Miners Bear 3x Shares ETF (NYSEARCA:DUST) and duly followed our own advice when support broke a couple of sessions later.
The chart below shows the performance of GLD and GDX since the start of November. And the chart below again shows the same chart plus the performance of DUST superimposed.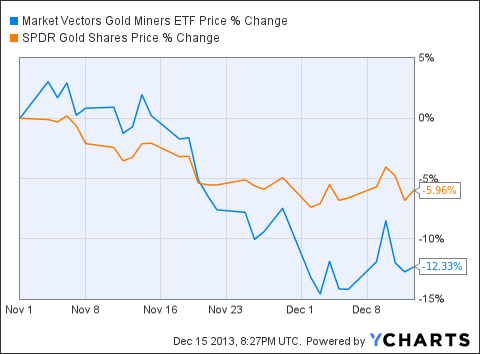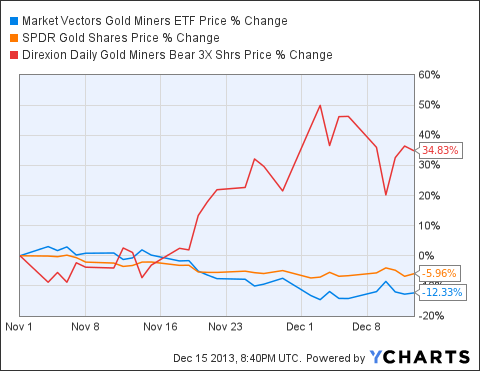 One month later we are sitting on a 30%-plus unrealized profit and have decided to take the trade off the table before Wednesday of this week. Here is why.
Sentiment for GLD and by implication sentiment for the miners of the yellow metal, or GDX, is teetering without a clear short-term bias at the moment as far as we can tell. GLD has been trading range bound and could break either way in the short-term.
There is yet another FOMC meeting taking place on Tuesday and Wednesday which should provide us with a dip in GLD (and consequently with a spike in DUST) due to jittery markets in the lead-up. If it occurs, then we will sell into it.
Comments at the conclusion of the meeting might drive gold prices either way. By taking our handsome profits off the table beforehand we might miss out on additional profits, but we also protect what we have gained so far. Since we are more than 30% ahead so far we'd rather be safe than sorry.
You know that Silly-Season has arrived when Peter Hug of kitco.com goes public with head gear as shown to the right to be interviewed by Daniela Cambone. (In this context we are looking forward to seeing Daniela come on the kitco news show dressed up as the Easter bunny in due time.) Silly-Season (aka. Christmas) will lead to thin trading which could potentially increase volatility even further. Too much for us to stomach.
We have no intentions of carrying our DUST position over the holiday season into the New Year. There are simply too many days of not being able to sell should a sudden event make this necessary.
We respectfully suggest that readers who have chosen a strategy similar to the one suggested in our article in mid-November consider our arguments for selling out early in the coming week.
As we move into 2014 we expect gold price volatility to continue, but our sentiment-o-meter is sensing signs of a bottom that is fast approaching. The bears currently seem to have almost free reign in most media commentary and even the perma-bulls are keeping very quiet.
However, if the mood is at its darkest, contrarians become gleeful in anticipation of some light at the end of the tunnel and this is how we interpret sentiment going into 2014.
To be clear: we are still not ruling out another test of the $1,180/oz support in the short-term, but we see a rally eventuating that could take us well beyond $1,400/oz in the first quarter of 2014. With this optimistic prognosis in mind we will abandon DUST for now and hope to be able to pick up some Direxion Daily Gold Miners Bull ETF (NYSEARCA:NUGT) soon.
Disclosure: I am long DUST. I wrote this article myself, and it expresses my own opinions. I am not receiving compensation for it (other than from Seeking Alpha). I have no business relationship with any company whose stock is mentioned in this article.