There does not appear to be any upside in Thompson Creek Metals. (TC) I enjoy writing about mining, but I do not like telling the shareholders of Thompson Creek Metals that TD Securities continues to say that their stock in Thompson Creek Metals may fall to 50 cents a share. It closed at 2.13 today, and the company's market cap is now under $400 Million. If there is an opportunity here, it is in a short position.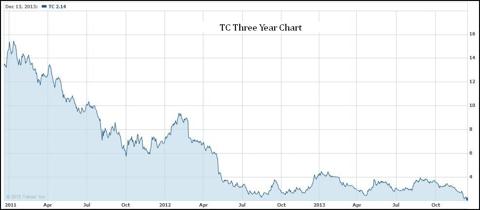 Click to enlarge
Solvency is the Concern
TD Securities today reiterated their Reduce recommendation on Thompson Creek Metals. This follows their earlier downgrade from Hold to Reduce. They again called for the stock to drop from current price levels. The firm has multiple issues, and the target price is set at C $0.50 on this stock that closed at $2.13 today, just up from its annual low. The 52 week range is 2.01 - 4.55.
"Based on our forecasts, we expect that the company will not be able to generate sufficient cash to repay approximately $1B n in debt maturities between 2017 and 2019, assuming $1,300/oz Au and $3.00/lb Cu."
The company just started production in late November at its Mt. Milligan copper and gold development site in north central BC, Canada. No matter how well the ramp up of production at the new mine goes, TD Securities believes they are still in trouble. The copper and gold prices are too low for the mine to operate profitably. A $4.00/lb price of copper in 2014 would be required. The spot price today was at $3.31/lb, gold closed at $1239.
Molybdenum Mines are No Help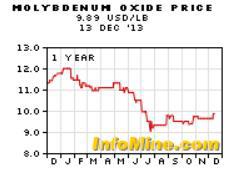 Copper and gold prices are not the only issues. The firm is a major producer of molybdenum products in the United States and Canada. This year the price of moly has fallen to under $10 for the first time since 2009. Six years ago it was selling at over $20.
The next shipment of ore concentrate from Mt. Milligan is not scheduled until January. This may be in part because of the extreme winter weather in northern BC, or it may be that production, scheduled to begin in August but delayed until November, is not yet at commercial levels.
I have long been a critic of this mine, suspecting it was ill conceived from the start. I made several comments on a Seeking Alpha Article, which gave a glowing overview of the firm. A concern I had was that per pound cost estimates were not included in the article, and perhaps not available, from the firm. I found it inconceivable that they would omit such a key fact from investor presentations. Of course, the level of copper in the ore is only one facet of cost figures, so the below does not indicate a low production cost. My comments on the article included,
One number I cannot find in the comparisons, cost per pound of copper, is alluded to here, "The Mt. Milligan Mine has an excellent strip ratio of 0.84:1, meaning that one cubic meter of ore will require mining only 0.84 cubic meters of waste rock, making TC one of lowest-cost copper producers." Would you please tell us the projected cost per pound, compared to FCX and SCCO? Their numbers, calculated by a uniform method, are in their annual reports. I could not find the projected number for TC.
I also saw expensive logistics issues due to the remote location and distance from rail or seaport shipping facilities and asked, How does one get the product from northern BC to market? RIO Tinto trucks its copper directly to China from its mine in Mongolia, Southern Copper loads material on its own railroad in Mexico to ship to El Paso, Texas. A remote northern Canada location is not a benefit.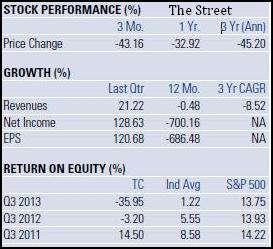 Analysts are quick to point out the increasingly negative ROE numbers, and the 3-year CAGR of -8.52. The company brought on-board a new CEO, Jacques Perron, in late October. He has 25 years of credible experience in mining and a very difficult assignment.
Disclosure: I have no positions in any stocks mentioned, and no plans to initiate any positions within the next 72 hours. I wrote this article myself, and it expresses my own opinions. I am not receiving compensation for it (other than from Seeking Alpha). I have no business relationship with any company whose stock is mentioned in this article.