A few weeks ago I wrote an article titled 3 Healthcare REITs To Buy When Others Are Despondently Selling. In that article I explained that several of the Health Care REITs "appear to be trading at a more desirable entry point that could produce more favorable results." As all intelligent investors know, buying stocks when they are cheap reap the highest returns.
However, I wish I could predict with certainty that REIT shares have hit bottom; but I can't. Alternatively, I can help steer you away from the real danger of being out of the market when the big moves occur. As value investors know, you must endure some temporary declines to get to your final destination.
As I glance over the daily comments from many Seeking Alpha readers it has become clear to me that there are fewer "true value investors" than there are market timers. As the legendary investor, Christopher Browne, explains "predicting short-tem stock market direction is a fool's game" and "there is no way to accurately and consistently time short-term market movements." I found a specific quote from Browne in his book (The Little Book of Value Investing) that I found interesting, especially given the sector-wide sell-off in REITs.
Most investors head for the hills during periods of market declines, thinking the decline will go on indefinitely, Once the market has rebounded, they return, having missed the best part of the rebound.
Big or Small, Short or Tall?
Over a year ago I wrote that "one of the keys to Warren Buffett's financial success is his belief in the circle of competence. The circle of competence is simply the theory that an investor should choose one particular area in which to focus his efforts." Why is that important?
According to Buffett, a successful investor does not need to have a large circle of competence; he merely needs to know when he is operating outside his area of expertise. Most REITs today operate in a targeted "circle of competence". For example, one can invest in Data Sector REITs, Campus Housing REITs, Mall REITs, and a number of "pure play" REITs with one targeted asset class.
However, in Health Care, there are 3 large diversified REITs that control over 70% of the sector (based on market cap) and all of the others. As mentioned above, the market sell-off has created some attractive entry opportunities for many large cap diversified Health Care REITs - like Ventas, Inc. (NYSE:VTR), HCP, Inc. (NYSE:HCP), and Health Care REIT (NYSE:HCN) - so is it still worth it to own the "pure play" ones? In other words, could an investor benefit from the same diversification fundamentals with properties managed by Health Care operators within a core circle of competence?

What makes it more compelling is that valuations have fallen so significantly over the last few months and today I wonder if I should even own shares in the smaller and mid-cap Health Care REITs. The dividend yields for the larger diversified REITs have increased to such a point that they are competitive with the smaller peers. The average dividend yield for the small "pure play" REITs is 6.17% compared with 5.65% for the diversified Health Care REITs.

Arguably the large-cap Health Care REITs have all moved into safer valuation ranges and while nobody debated the best diversified REIT to own back in May, it seems that the internet is getting more traffic these days. Seeking Alpha writer Factoid made his case in a recent article by explaining that "VTR (appears) to be the most under-valued Healthcare REIT - followed by DOC, HCP, HTA and HCN." In yet another article Morgan Myrmo stated that "HCP may be viewed as a better current investment. For investors who believe VTR will continue to outpace HCP in growth, VTR may be seen as a better long-term investment."
Personally, I like VTR as the best Health Care REIT to own today. In an article (Ventas Is 'Pound For Pound' One Of The Best REITs Around) I wrote just a few months ago I explained by bullish thoughts:
I believe that growth is a key component and Ventas has shown that it can not only pay dividends, but grow them. That translates into superior performance and that is simply the reason that Debra Cafaro and her team have "won me over". The score card is impressive and there is little doubt that I will continue to hold onto the shares of the "blue chip" champion.
It's great to see a working plan develop as Ventas had two significant announcements recently:
On December 9th the Board of Directors increased the company's fourth quarter 2013 dividend by 8% to $0.725 per share. Including the fourth quarter dividend, the 2013 per share dividend of $2.735 represents a 10.3% increase over its 2012 dividend. For the past 10 years, the compound annual growth rate in the company's dividend has been 10%.
One December 10th Ventas said that it had closed on a new $3 billion unsecured credit facility comprised of a $2 billion revolving credit facility initially priced at 100 basis points over LIBOR, and a $200 million four-year term loan and an $800 million five-year term loan, each initially priced at 105 basis points over LIBOR.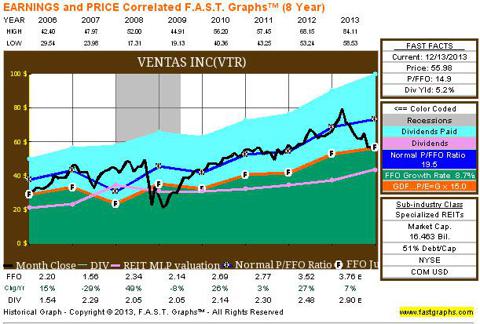 So since Mr. Market has improved the margin of safety for Ventas (as well as the other large cap Health Care REITs) should I still own the others? After all, REITs are driven by underlying earnings and it would seem that owning "pure play" REITs could also "move the earnings needle" higher and provide me with outsized returns. As much as I like Ventas, a prudent investor should not have all of his eggs in one basket. So which baskets should I own today?
Basket 1
Yesterday I wrote an article on Medical Property Trust (NYSE:MPW). You can view the detailed analysis here. As I mentioned in that article, "MPW recently announced its first dividend increase since in 6 years. In early November the Board of Directors declared a regular quarterly cash dividend of $0.21 per share of common stock to be paid on January 7, 2014, to stockholders of record on December 3, 2013. This increase (5%) was welcome news."
MPW's "core of competence" is hospitals and by successfully differentiating its investment platform the company has been able to generate steady and now growing dividends. In 2009 when MPW was much smaller, the company did suffer a dividend cut that was brought on by an untimely capital raise (of around $100 million). To weather the storms, MPW cut its dividend from $1.010 to $.8000. With the recent dividend announcement MPW will generate at least $.960 in 2014 and possibly more.
Moody's recently assigned a Ba1 rating to MPW and the rating company said that the "pure play" hospital REIT was "executing its strategic growth plan, while maintaining leverage within its stated targets (net debt between 40% and 45% of gross assets). Moody's added that MPW's "acquisitions will improve the company's tenant concentrations, with its top two tenants expected to comprise 24% and 17% of gross assets on a pro forma basis (down from 29% and 18% as of 2Q13, respectively)."
As I concluded, I believe MPW's price today of $12.02 is compelling and given the recently announced dividend increase, I would put this "pure play" on your targeted BUY list.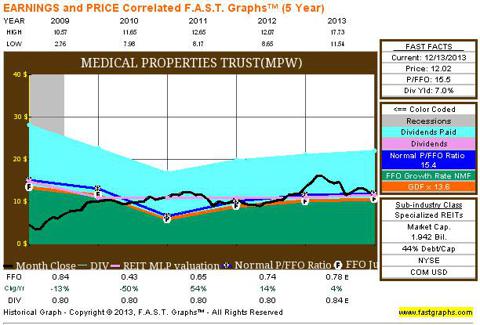 Basket 2
Healthcare Trust of America (NYSE:HTA) is one of two publicly traded REITs that specialize in medical office buildings (MOBS). Medical office buildings are the least risky of all of the healthcare asset sectors and should provide stable and growing income over the next decade. This is especially true of MOBs that are located on leading health system campuses that HTA owns.
While the recent rollout of the Affordable Care Act has added some noise to the space - this short term hiccup does not change any of the solid macroeconomic trends facing this space. At today's pricing, HTA sports a healthy 5.8% dividend yield - significant for a sector that has the growth without all of the risk of hospitals or senior care.
Despite its positioning, HTA has sold off along with the rest of the healthcare REIT peer group. What is interesting to note is at the same time that HTA has sold off, private institutional investors have made a splash with several large investments in the MOB space at going in yields that make HTA look like a bargain today. In Wall Street terms, HTA is selling below its Net Asset Value indicating significant opportunity for savvy REIT investors. This is the opposite of what is happening today in the Skilled Nursing Facility sector, where private investors can buy assets considerably cheaper than buying the SNF focused REITs.
This recent interest in the sector from outside investors makes some question the prospects for growth. However, medical office is a very fragmented space, with considerable opportunities for owners to invest and consolidate over the next 5 to 10 years. This is especially true for national owners with large platforms that can operate these buildings - a significant advantage when dealing with tenants who demand the service and quality that physicians and health systems do.
HTA has only been a publicly traded REIT since June 2012, so intelligent REIT investors must look to all of its growth characteristics to judge its track record. In particular, I have focused on HTA's ability to grow funds from operations and its asset base over the last 5 years. These both serve as proxy for management's ability to grow the company and its cash flows over the next 5 years.
Here, HTA has proven its mettle in executing on its plan to grow shareholder value. Since 2009, HTA has grown its Normalized FFO per share by almost 70% - an average of 17% per year. It has also more than doubled its portfolio over this same time period, demonstrating its ability to find and source acquisitions and establish relationships in these markets.
These are positive trends looking backwards. Of more importance is HTA's ability to grow going forward. Here, I see three areas that will allow HTA to grow in 2014. First, HTA has demonstrated an ability to grow its same store portfolio by more than 3% in 2013. I expect it to do the same next year. Second, I expect HTA to continue to grow through acquisitions, similar to what they have done in the last 2 years. This could provide an additional 3 to 4% of earnings expansion. Third, HTA has reduced its leverage through 2014 while the capital markets have been healthy. They have one of the best balance sheets in the sector and ended 3Q with significant room to run - $82mm of cash in the bank and an unused $650 million line of credit. Put this all together and you get the 7-10% earnings growth that analysts are expecting for 2014.

Basket 3
The last "pure play" Health Care REIT to consider is Omega Healthcare Investors (NYSE:OHI). Back in October I wrote an article in which I explained that "I didn't believe the risk and return fundamentals merit an entry price at $33.74 a share." However, I went on to say that I was targeting a buy price "under $30." That day is here.
Omega closed today at $29.79 a share placing the skilled nursing landlord within my targeted buy range. I have written several articles (here, here, and here) explaining my desire to own OHI and up until now I was not prepared to "pull the trigger".
As evidenced by the FAST Graph below you can see that OHI is not a "screaming bargain", yet the dividend history (shaded aqua blue area) is very stable. In addition, the reliability of the REIT's earnings history has given me a stress free outlook and although I wouldn't call OHI a "blue chip" REIT, I am highly attracted to the fact that the company survived the Great Recession without cutting its dividend.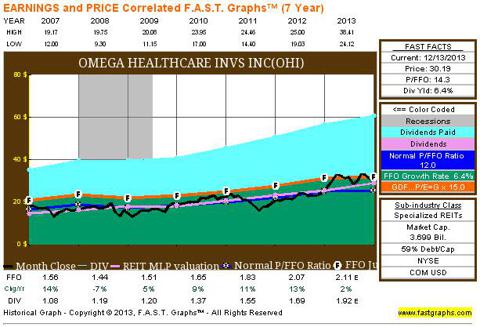 It's important to acknowledge also that OHI's business model has more risk that MPW and HTA. For example, OHI is a nursing home operator and accordingly there is a much higher credit risk profile. Nursing homes are not typically located in core institutionalized areas (like MPW and HTA) and the cap rates (net income divided by purchase price) are around 200 basis points or so higher (especially for MOBs).
I am also encouraged by the strength of the OHI's improved debt metrics (low leverage, high fixed-charge coverage, stable cash flows and exceptional liquidity due to no near-term maturities), which offset the largest credit concern - the focus on skilled nursing.
The high percentage of government reimbursement and the corresponding regulatory risk to operators of these facilities may place pressure on operator earnings. However, I see no short term concerns and I believe that OHI's conservative financial profile is a key strength given the potential earnings volatility it could experience from its strategically-aimed health care investments.
Another Principle of Margin of Safety is Diversification
It's true, REITs are becoming more attractive to own today. Why? Getting in at the bottom produces better returns. I'm not calling this the bottom and although I'm sure some pundits will argue with me that market time is predictable, I believe that value investors, by and large, seem to always avoid the missteps that result in painful losses (by the market timers).
And while the above 3 "pure play" Health Care REITs are trading at "sound value", investors should also consider diversification. As Ben Graham once said, that (diversification) is the cheapest way to obtain a "margin of safety". The benefits of owning these smaller and nimbler REITs are quite clear: the shares should advance higher over time. How much diversification? That depends on your tolerance level for risk.
I like how Christopher Browne explained diversification in his book (The Little Book of Value Investing):
In any given year, every stock portfolio will hold winner and losers, and it's virtually impossible to sidestep every loser. The point is to hold more winners than losers. The concept is a bit like being in the insurance business. Insurance companies try very hard to identify potential risks, but also realize they can never be 100% correct.
Neither can I. That's why I own VTR, HTA, HCN, and MPW. As noted, I'm considering OHI (as of the date of this article I do not own). Invest for the Long-Term and Protect Your Principal AT ALL COSTS. Happy Holidays.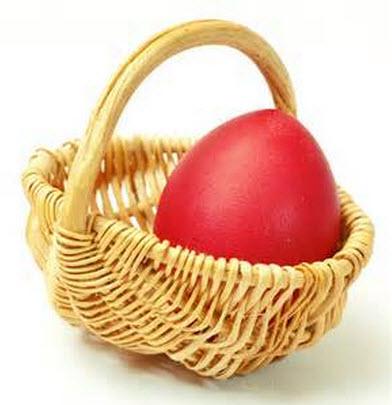 Check out my monthly newsletter (The Intelligent REIT Investor) and my NEW 3D (durable disciplined dividends) portfolio.
Source: SNL Financial and FAST Graphs.
REITs mentioned: (NYSE:SNH), (NYSE:HR), (NYSE:NHI), (NYSE:LTC). (NASDAQ:SBRA), (NYSE:AVIV), (NYSE:UHT), and (NYSE:DOC).
Disclaimer: This article is intended to provide information to interested parties. As I have no knowledge of individual investor circumstances, goals, and/or portfolio concentration or diversification, readers are expected to complete their own due diligence before purchasing any stocks mentioned or recommended.
Disclosure: I am long O, ARCP, HTA, VTR, HCN, CSG, DLR, STAG, ROIC, CBL, UMH. I wrote this article myself, and it expresses my own opinions. I am not receiving compensation for it (other than from Seeking Alpha). I have no business relationship with any company whose stock is mentioned in this article.