Belviq, the anti-obesity pill from Arena Pharmaceuticals (NASDAQ:ARNA) now has 6 months of sales under its belt. The product, thus far is only available in the United States, and marketing partner Eisai (OTCPK:ESALY) is responsible for the sales performance of the drug.
Prior to launch there were lofty sales expectations associated with Belviq. For the most part the expectation level has now been tempered, and the equity seems to have settled into a groove of sorts.
Sales data is reported weekly by IMS Health and Symphony Health. These companies report script sales through a collection of actual data and a series of assumptions to capture segments of the market that do not report numbers. When I assess script sales I work in an adjustment to cover things such as multiple month scripts filled in one pharmacy visit. It is important to bear in mind that IMS and Symphony numbers reflect consumer purchases and not sales to a distributor or warehouse. It is also important to understand that Arena is counting revenue on what is essentially the wholesale level and not the retail level. In other words, the shelves have bottles of pills that Arena has booked revenue on though these bottles have not yet been bought by consumers.
At the 6 month point I have sales to consumers at just under $24 million. This number is arrived at by using the price per bottle of $199.50. There are various discount programs in effect, but the essence of how the accounting works is that these discounts are taken after the fact in much the same way a rebate is accounted for. What we have is sales of about 120,300 bottles of Belviq to consumers in 6 months using my adjustments on the IMS numbers.
On average, sales to date equates to an average of about 5,000 bottles per week. This is not bad, but not a home run yet either. The current pace is that sales for the year (2013) will come in at about $30 million. This is well below what some expected, but that information is essentially built into the stock price now.
If we assume that the Eisai goal was between $150 million and $200 million before March 31st, then we need to see sales of $120 to $170 million over the next 16 weeks to hit low and high end of those goals. For perspective, that would require an average of 37,600 bottles sold to consumers per week to hit the low end, and 53,300 per week to hit the high end. Realistically speaking, this is not likely going to happen.
The good news is that the street seems to have tempered expectations to a point where it is possible to see traction in the equity. The low end of $150 million by March 31st of 2014 would represent total bottle sales of about 752,000 since launch, a number the street seems to have now dismissed. In my opinion, the street is now looking for a number more along the lines of 300,000 bottles. That would mean a balance of about 180,000 bottles in the next 16 weeks, or an average of 11,250. If this were to happen, gross sales from launch until March 31st of 2014 would be about $60 million.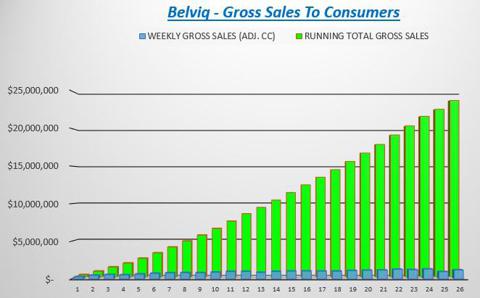 In essence, the weekly script numbers vs. the expectations should now be more closely aligned. Thus, weekly rises by about 5% should be received relatively neutrally, while a pop of 10% might be taken as compelling traction. Investors should bear in mind that the week over week percentage gains are expected to be higher at this point relative to where the drug is in its launch. Over time, the week over week percentage gains should begin to flatten out.
In fairness to Eisai, their projections from May of 2013 could be hampered by the fact that despite application in Mexico and Canada, the drug has not been approved there yet. Application in Brazil has not happened yet, but the common thinking is that the Brazilian alignment with Swiss Medic may mean that they want progress in Switzerland prior to filing an application in Brazil. It appears that we will close out 2013 with the United States as the only market where Belviq is sold.
Investors can have various strategies. There are existing investors, traders, and those on the sidelines. With a new year, I see real potential that sales traction can begin to have a meaningful impact toward the end of January and beginning of February. If Eisai ramps up advertising, and perhaps begins a television campaign, we could see some great week over week results that are high enough to compel those on the sidelines to hop in.
Summary
In my opinion, the street expectations are now more in line with reality. Should the weekly sales pace point to an ability to exceed $60 million, the equity will respond nicely in a positive manner. There are many dynamics at play, and investors also need to consider the speed and size of any move in the equity as the weeks pass. Bold moves up or down will oft see a correction that gets back to a realistic assessment of time-frames. If another country adds approval, the sales figures will be a welcomed addition to getting to desired goals. Essentially, the initial Eisai projections may have been too aggressive in timing rather than simply too aggressive. I feel that there is a lot that can transpire in the second half of 2014 to get Eisai on a track that begins to see the numbers of the initial projections. Stay Tuned!
Disclosure: I am long ARNA. I wrote this article myself, and it expresses my own opinions. I am not receiving compensation for it (other than from Seeking Alpha). I have no business relationship with any company whose stock is mentioned in this article.
Additional disclosure: I have no position in Eisai