Just last week, I mentioned that Apple's (NASDAQ:AAPL) estimates were on the rise. My article was about tempering expectations with a stock that has rallied tremendously in recent months, and that investors should be careful if estimates got too high. Well, we are now just a day or so away from what most expect to be an Apple-China Mobile (NYSE:CHL) deal. Today, I'll explain why this deal continues to be priced into the stock more and more, and how investors need to look at Apple over the next month or so.
Let's look at the current quarter first:
As I mentioned above, Apple's estimates are on the rise. The following table shows how fiscal Q1 estimates have risen tremendously in recent months, and they've increased even more in the past week. Apple's stock has risen in stride, until a small pullback last week.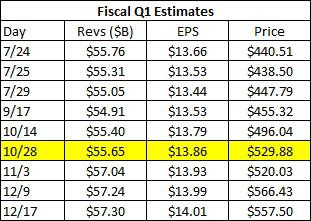 Just in the past week, the average revenue estimate is up by $60 million and the earnings per share average has climbed by two cents. That doesn't seem like much, but we're still about a month or so from Apple actually reporting fiscal Q1. Continue the increases at the last week's rate and by the time Apple reports, the average estimate would be up $300 million on the revenue side and a dime for EPS (estimating 5 weeks till earnings). Current estimates call for $57.30 billion in revenues and $14.01 in earnings per share. To really grasp where these numbers are, let's first revisit Apple's guidance for fiscal Q1.
revenue between $55 billion and $58 billion
gross margin between 36.5 percent and 37.5 percent
operating expenses between $4.4 billion and $4.5 billion
other income/(expense) of $200 million
tax rate of 26.25 percent
So let's take a look at how these numbers would all play out. In the following table, I've created three scenarios. The low end assumes the low end of the revenue and gross margin forecast, along with the high end of the operating expense forecast. The midpoint forecast assumes midpoints of all three ranges. The high end forecast assumes the high end of the revenue forecast, the high end of the gross margin forecast, and the low end of the operating expense forecast. Other income and the tax rate for all three scenarios are the specific number given above. Here's how the quarter would play out.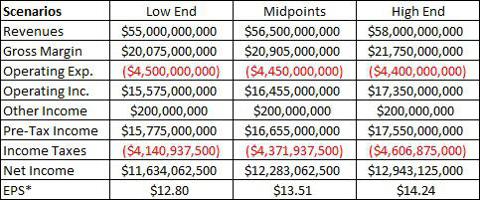 *EPS number based on diluted share count of 909.131 million from fiscal Q4. I'll expand on this later.
I did this table to give you a basic idea of what analysts are looking for at $57.30 billion in revenues and $14.01 in earnings per share. Analysts are looking for a strong quarter from Apple, but estimates are still low enough where Apple has enough room for a decent beat. Additionally, earnings per share will most likely be helped from a lower share count, but I'm not ready to speculate on that number. We don't know if and how much stock Apple has bought back. That buyback alone could end up boosting earnings by another nickel, dime, quarter, or more.
The overall point I'm making is that every time you see estimates rise like this, it reduces the chance that Apple will beat, and it reduces the size of a potential beat. I'm not calling for Apple to miss, but as I said in my previous article, be careful with Apple stock if estimates get too high. A China Mobile deal could send estimates even higher, but don't forget that Apple's fiscal quarter ends next Saturday, December 28th. It's not like a China Mobile deal will provide sales for a month or two of this quarter.
The future is brighter too:
Obviously, a China Mobile deal would have a larger impact on fiscal Q2 and the remainder of the fiscal year for Apple than it would on fiscal Q1. So in this section, I'll look at forward looking estimates, which have also risen a bit since last week.
For fiscal Q2, analysts last week were looking for revenues of $45.47 billion, or growth of 4.3% from the year ago period. Analysts last week were also looking for earnings per share of $10.76. Like fiscal Q1, the average earnings estimate has come up by two cents in the past week. The revenue number is the big mover though. Current estimates for fiscal Q2 revenues stand at $45.56 billion, or growth of 4.5%. That's a $90 million increase in revenue estimates.
I don't think Q2 estimates are done going higher either. The low estimate on the street for revenues is $42.56 billion, meaning one analyst thinks Apple's revenues in fiscal Q2 will decline by a billion dollars plus over the year ago period. But that may not be the most shocking number. The low estimate on the street for earnings per share is $8.95, well below the $10.09 Apple produced in last year's period. In fiscal Q2 last year, Apple's diluted share count was 946 million. Even putting the share count around 900 million would be a roughly 5% reduction in the share count, and thus EPS would be boosted quite a bit. So these bottom of the barrel forecasts appear to be way out of line. Just this one analyst moving their EPS forecast to the current average would boost the overall Apple average estimate by about 4 cents.
The full fiscal year numbers have risen as well. The average revenue estimate for fiscal 2014 (ending September 2014) has risen from $184.09 billion to $184.12 billion in the past week. Now you may ask why that number hasn't risen as much as the two quarterly numbers have. Well, there are a couple of items. First, an analyst could have taken down their Q3 and Q4 numbers. Second, there are more analysts covering the full year numbers than the quarterly ones. So an increase in the quarterly numbers is more spread out over the full year average. Finally, an extra analyst has come in for the Q2 and full year numbers. If that analyst came in lower than the full year average, it would hurt the full year number. Additionally, the average earnings per share estimate for the year has risen from $43.47 to $43.55. The following table shows fiscal 2014 estimates throughout 2013. Yellow lines are days where Apple reported quarterly results.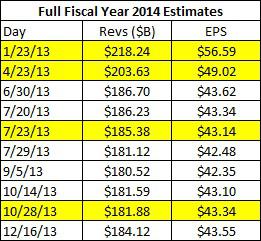 For fiscal 2015 (ending September 2015), estimates are also on the rise. Over the past week, the average revenue estimate has increased from $195.41 billion to $196.01 billion. Currently, that estimate is for 6.5% revenue growth next year on top of the 7.7% growth expected this year. The average earnings per share estimate has risen from $47.56 to $47.68.
When looking at Apple estimates, keep in mind that this is a quarter to quarter company. Apple does not provide full year guidance currently. The company only provides guidance for one quarter at a time. So when Apple provides better than expected guidance, like it did for Q1, analysts will start to raise all future estimates. This is especially true when you have the expectation for a China Mobile deal that will add more to revenues and earnings.
Where Apple stands now:
Those that have read my latest tech sector articles know I pit five names up against each other: Apple, Google (NASDAQ:GOOG), Microsoft (NASDAQ:MSFT), Intel (NASDAQ:INTC), and Cisco Systems (NASDAQ:CSCO). These are the five tech names that I feel are the most important to this market, and yes they also are some competitors to Apple. The following table shows some growth and valuation comparisons among these names.

*Non-GAAP numbers for EPS growth and P/E.
When looking for growth in large cap tech land, Apple still is a decent bet. Apple does trail Google, but Google doesn't offer a dividend or buyback, and Google trades at a substantial premium. Microsoft is a close second to Apple for expected revenue growth, although the expectation gap between the two has widened a little lately. That gap could widen even more after the expected China Mobile deal is announced. Apple still trades at a discount to Microsoft, which doesn't make complete sense to me, but that's what the market thinks. The bigger injustice, if you want to use that term, is that Intel gets a similar valuation to Apple. Intel has had two disappointing years in a row, with declining revenues and plunging earnings. Intel has guided to a third disappointing year in 2014. Cisco has also recently announced a huge warning, which is why Apple can do what it does and watch others flop. You would think Apple would get more love, but it doesn't.
Updating my "price target":
In my last Apple article, I updated my Apple "price target", which is basically the fair value estimate I have on Apple given a certain level of earnings. I didn't put my valuation table into that article because I wanted to keep the article brief, so I figured I'd throw it in to my next article. So here's the table, and a quick reminder on how it works. I give Apple a certain valuation number based on a level of earnings, and what that earnings growth/decline is. If you want to know what my target is on a specific day, look at the average estimate for the fiscal year and plug it into the table.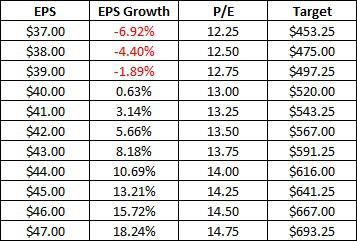 Analysts currently expect $43.55 in this fiscal year, which gives me a price target or fair value of about $605 for Apple. As discussed above, I do expect Apple estimates to rise over the next month, so that target could go a bit higher from here. I adjusted the P/E value in my last article to account for the China Mobile deal, so I will not adjust the P/E value again until after Apple's report in January. I also mentioned in my last article that the average and median price targets among wall street analysts were $585 and $597, respectively. Currently, those numbers are up to $589 and $600.
A note on short interest:
For those that have followed my writing, I used to do a series on updates in short interest. I don't do the twice a month updates anymore, but I focus on noteworthy short interest moves in single name articles. So in this Apple article, it's time to look at Apple short interest, because a significant move was made in the latest update, as you can see in the chart below.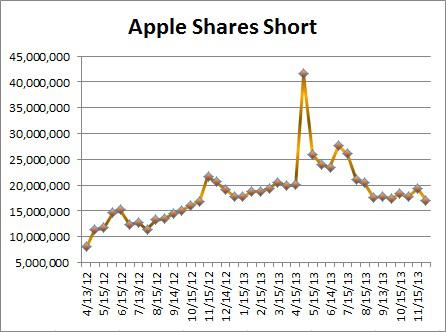 That small spike lower at the end of November reversed the pop we saw in short interest from the beginning of November. This end of month update was more significant though. At the end of November, roughly 17.04 million shares of Apple were short, which is a little higher (percentage wise) than the other names discussed in this article except for Intel. You can see how Apple's short interest stacks up against others in this article. But the importance was that Apple's short interest, in terms of total shares short, is at its lowest point since the end of October 2012 update. That's a 13-month low for Apple's short interest, which may not be surprising given the stock's recent rally. However, we have seen a sentiment shift regarding Apple, and that is something I need to point out. Should we get some more covering in December, Apple's short interest will look to cross below 15 million shares, a number not seen since September 2012.
Final thoughts:
With a China Mobile deal expected in the next few days, analysts have started to increase their estimates for Apple. Fiscal Q1 and Q2 numbers are going higher, along with the full year numbers for fiscal 2014 and 2015. There is still room for Apple to beat in fiscal Q1, although rising estimates could reduce the chance or size of a beat. Investors will need to pay close attention to estimates as we get closer to earnings.
Overall, Apple provides a decent amount of growth going forward, along with a decent dividend and tremendous buyback. Apple's valuation is also a little low when compared to the pack, and my price target reflects decent upside from here. Short interest is also moving lower, as some Apple bears have apparently given up. I'd be careful with Apple shares over the next few days between the Fed meeting and potential China Mobile deal, but I believe this is a stock that goes higher over the longer term. Investors might actually want a short term pullback in Apple shares right now, just so they can pick up more Apple stock at a lower price and higher dividend yield point. With a month or so until Apple's next report, and a China Mobile deal on the horizon, the process of rising estimates has begun. I expect it to continue.
Disclosure: I have no positions in any stocks mentioned, and no plans to initiate any positions within the next 72 hours. I wrote this article myself, and it expresses my own opinions. I am not receiving compensation for it (other than from Seeking Alpha). I have no business relationship with any company whose stock is mentioned in this article.
Additional disclosure: Investors are always reminded that before making any investment, you should do your own proper due diligence on any name directly or indirectly mentioned in this article. Investors should also consider seeking advice from a broker or financial adviser before making any investment decisions. Any material in this article should be considered general information, and not relied on as a formal investment recommendation.