Waste Management, Inc. (NYSE:WM) has had quite a solid third quarter this year. Q3 2013 revenues came in at $3.62 billion vs. $3.46 billion in Q3 2012. Net income for the same period stood at $291 million compared to $214 million in Q3 2012 (an increase of 36%). Diluted EPS jumped from $0.46 in Q3 2012 to $0.62 in Q3 2013 (a plus of 35%). While I acknowledge the good results that Waste Management achieved during 2013, I think that shares are now more than fairly valued. Consequently, I see limited upside potential as the company already trades at rich earnings and free cash flow multiples.
Share performance
Shares of Waste Management are up 30% over the last twelve months and currently stay just below the 52 week High of $46.38. A break of the 52 week High could create further momentum for Waste Management in the short run.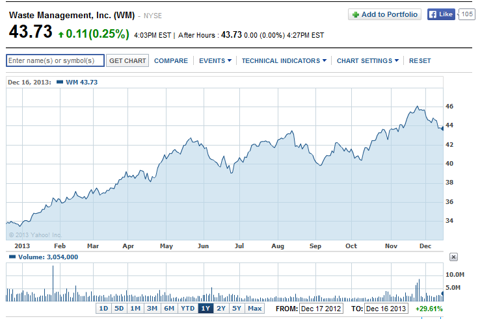 Click to enlarge
Over the last five years Waste Management shares have returned 40% and have been lagging all competitors in the field. Republic Services (NYSE:RSG) gained 44%, Clean Harbors (NYSE:CLH) 85%, Progressive Waste Solutions (BIN) and Waste Connections (NYSE:WCN) 116% each and Stericycle (NASDAQ:SRCL) 118%.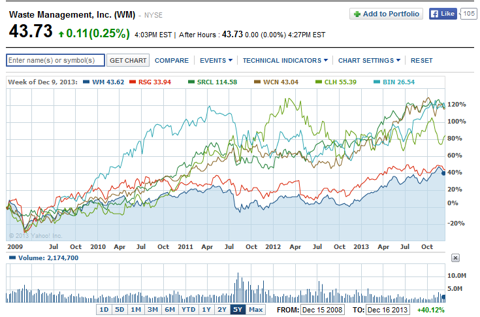 Click to enlarge
Free cash flow valuation
Waste Management is a business with fairly stable revenues and cash flows. The following table depicts WM's cash flows from operating and investing activities as well as cash flows stemming from new borrowings and debt repayments. All cash flows are consolidated in the free cash flow to equity figure.
I estimate that Waste Management can grow operating cash flow by 8% in 2014 which is in line with historical growth. Investing cash flows as well as net borrowing pretty much stay on the same level than in previous years. As a result, I estimate that Waste Management can earn $957 million in free cash flow to equity in 2014 which translates into $2.03 of FCFE per share. The resulting forward P/FCFE ratio stands at 21.54 which is a fairly rich multiple and the free cash flow yield stands at 4.64%.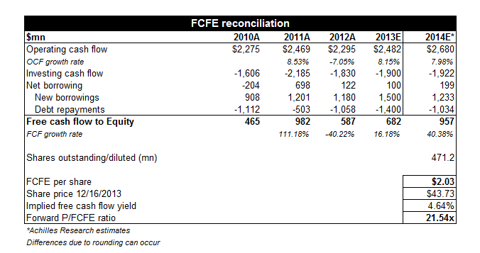 Click to enlarge
Waste Management trades at one of the lowest P/E ratios in the waste management sector. However, investors shouldn't get fooled here: A P/E ratio of 18.21, which is the P/E ratio for Waste Management, is already incorporating rich growth expectations. The fact that other companies in the peer group trade at an average of 21 times forward earnings does not make Waste Management a more attractive Buy candidate. Shares already reflect a substantial growth premium and are overpriced in my opinion.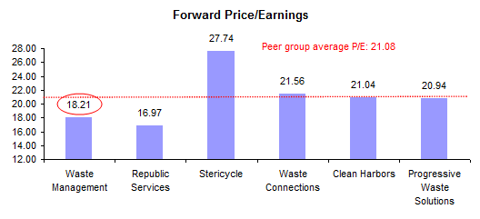 Click to enlarge
WM has one of the highest yields in the waste management sector. The company pays a quarterly dividend of $0.365 per share which translates into an annual payment of $1.46 per share. At a current share price of $43.73 this equates to a dividend yield of 3.34%. Waste Management's yield is only rivaled by the 3.07% which is being paid by Republic Services. The peer group average stands at 2.41%.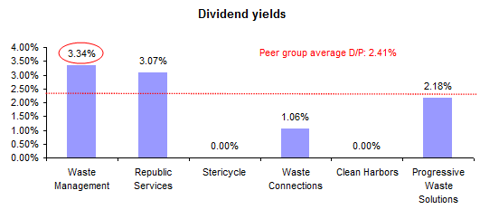 Click to enlarge
A summary table with respect to P/E, P/S and D/P ratios for the waste management sector is presented below:

Click to enlarge
Conclusion
The free cash flow valuation model from above indicates that Waste Management already trades at a rich multiple. With nearly 22 times forward free cash flow to equity and 18 times forward earnings the company is everything else but a bargain. While YTD results were clearly impressive, investors need to be aware that they are required to pay a substantial growth premium upfront. Given the high valuation on both earnings and free cash flow measures, Waste Management's lagging performance as well as mediocre return over the last five years, I would suggest for investors to look to other sectors in the marketplace where risk/reward ratios are much more attractive. Deere & Company (NYSE:DE), for instance, is a highly free cash flow positive company that is lowly valued, has an outstanding shareholder remuneration record and might be an interesting alternative for investors who look for capital appreciation potential and dividends (article here).
Disclosure: I have no positions in any stocks mentioned, and no plans to initiate any positions within the next 72 hours. I wrote this article myself, and it expresses my own opinions. I am not receiving compensation for it (other than from Seeking Alpha). I have no business relationship with any company whose stock is mentioned in this article.