As an investor I have a long-term perspective, and dividend stocks are a key basis for my portfolio. However, I do not per definition look for stocks which generate the highest dividend rates. If so, I would have bought shares of Windstream Holdings (NASDAQ:WIN) years ago. This company pays $1.00 in dividends on an annual basis since 2006. Considering that the shares closed at $7.96 on Friday, the current dividend yield is 12.50%. I did not consider an investment in Windstream Holdings, because such dividend yield is (in most cases) not sustainable in the long run. Recently I read this article in which the author qualified Windstream Holdings as a buy for long-term investors. This made me curious and I looked into the company's financials. Despite the high dividend yield, I did not find any positive arguments that justify an investment in Windstream Holdings. In this article, I discuss why Windstream Holdings is not a good investment for long-term investors.
Windstream Holdings engages in telecom services, cloud computing and data solutions. As a result the company spent a lot of money to build data centers. The company has currently 23 data centers within the United States and has to invest even more in order to be able to be competitive and support growth in the future. In the worst possible scenario, a company cuts investments in order to pay dividends to its investors. In that case, management has only a narrow short-term view and abandons a healthy growth strategy. Windstream Holdings is on a breaking point, whether to cut capital expenditure or to invest in future growth. The capital expenditure in 2011, 2012 and 2013 is presented in the graph below. In the third quarter of this year, the total capital expenditure decreased to the same level as in the third quarter of 2011. The total capital expenditure decreased every single quarter this year, from $233 million to $184.4 million. I believe Windstream Holdings will cut investments even further to meet its own capital expenditure target of 11-13% of total revenues.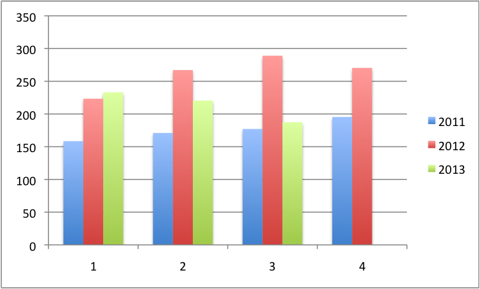 Since the third quarter of 2012, Windstream lowered its capital expenditure four quarters in a row. It is interesting to see whether Windstream Holdings will further decrease capital expenditure in the fourth quarter. Another decrease of the capital expenditure should be alarming for investors. For example: Royal KPN (OTCPK:KKPNY) cancelled its entire dividend after it put important investments on hold for several years in favor of high dividend payments. Instead of paying dividends to investors, KPN started an new investment program to keep up with competitors (see graph below).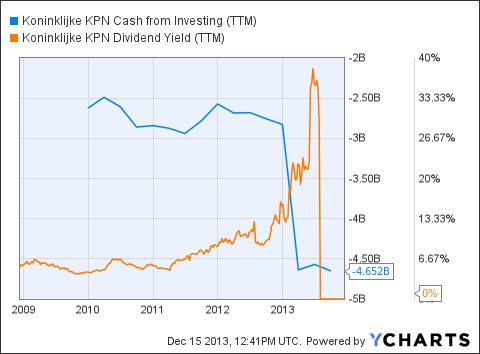 KKPNY Cash from Investing (TTM) data by YCharts
A similar scenario is likely for Windstream Holdings, because the gap between the company's capital expenditure and the annual depreciation & amortization becomes larger every quarter (see graph below). Windstream invests less than its main assets decrease in value. The fixed assets have a technical and economical life cycle. At the end of that cycle, a company needs to replace the aged assets for new assets in order to prevent revenues and earnings to decline. The replacement of assets is not an immediate threat to the company's financial position, because depreciation and amortization expenses do not result in an immediate cash outflow. However, it is not a sustainable situation in the long run when a company will not be able to save or borrow the money necessary to replace aged assets.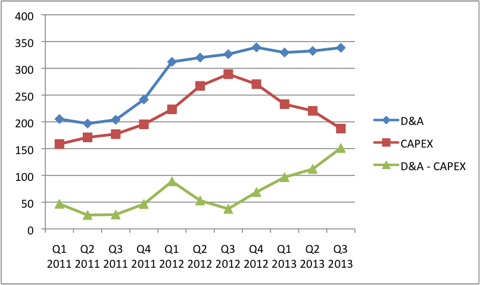 I doubt that Windstream Holdings will be able to save or borrow money for the necessary capital expenditures in the future. The company is extremely leveraged. According to the third quarter earnings report, the company's solvency ratio is 6.3%. At the end of 2012, the company's solvency ratio was 7.90%. Further, Windstream Holdings does not make enough net profit to pay dividends out of the retained earnings reserve. In fact, the company issues new shares from time to time and pays most of the dividends out of the additional paid-in capital. Therefore, it is likely that the solvency ratio will decline even further in the upcoming quarters.
Conclusion
It is very likely that Windstream Holdings needs to cut and/or cancel its dividend payments in the future. Similar to KPN, Windstream Holdings invests not enough to maintain the value of its assets. At some point the company will face a situation in which it has to invest a lot of money in order to support its ongoing business. Windstream Holdings does not have the financial power to come up with the necessary cash itself, nor has a strong balance sheet to borrow money. The two options left are not very attractive for shareholders. First, the company could cancel the dividend payments. Second, the company could raise capital on the stock market and issue new shares.
I find Windstream Holdings not a good investment and long-term investors should not be blinded by a very attractive dividend yield. Proponents will argue that the company paid the dividend for eight years in a row and that 'the dividends pay for the initial investment in the stock'. I would like to point out that the share price is down $7 (nearly 50%) compared to the initial IPO price in 2005. So, the total return on investments over the period 2005-2013 was not that good after all. Further, I expect the share price to decline in 2014 in anticipation of the likely scenario that Windstream Holdings needs to cut or cancel its dividend payments.
Disclosure: I have no positions in any stocks mentioned, and no plans to initiate any positions within the next 72 hours. I wrote this article myself, and it expresses my own opinions. I am not receiving compensation for it (other than from Seeking Alpha). I have no business relationship with any company whose stock is mentioned in this article.