Microsoft's (NASDAQ:MSFT) Surface RT and Surface 2 tablets often get a bad rap on SA. The recent article by Ashraf Eassa, one of the most prolific and followed SA authors, is a good example. Ashraf pans the device on many fronts, essentially saying that other than running a version of MS Office the device has no real value.
In my opinion, and with a high degree of respect for Ashraf who is one of SA's best authors, he could not be more wrong.
The first criticism of Windows RT is usually the lack of applications. That is worth a bit of review. There is no question that the Windows Store has fewer apps than Google Play or the Apple app store.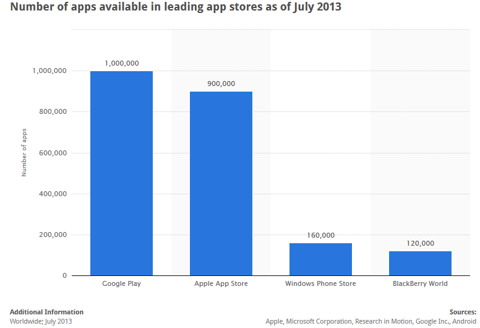 Click to enlarge
Applications have often been seen as the driver of tablet sales, with users spending a lot of time connecting with friends on Facebook, searching the web with Google or watching a streaming movie on Netflix.

Click to enlarge
The average smart device user does not use 1 million apps, however. Worldwide, the average smartphone user downloads 26 apps and while I have no data on the average for tablet users I would expect them to be similar.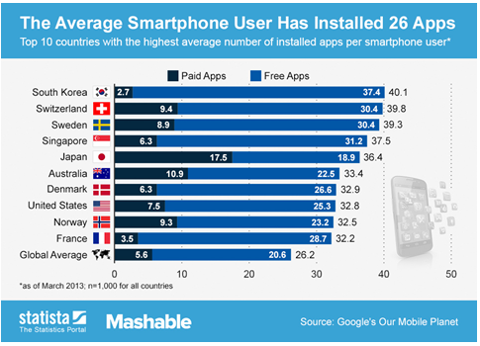 Click to enlarge
The most popular apps are well known names.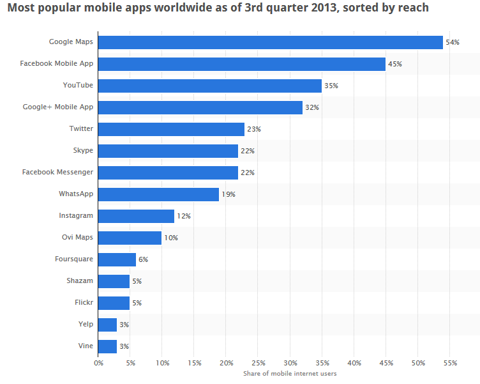 Click to enlarge
Windows 8 phone supports all of these apps and Windows RT most of them. Microsoft seems intent on unifying Windows 8 phone and Windows RT in the near future, eliminating any gaps that may exist today.
In addition to Netflix, the Surface comes preloaded with Twitter, Kindle and Skype applications . . .
. . . And recently added up and coming Flipboard and fast growing Instagram to its portfolio of apps.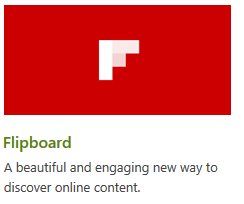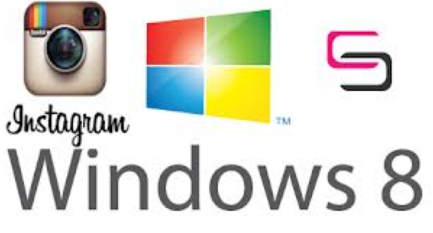 It is an error to underestimate the value of having a full version of Microsoft Office on a tablet.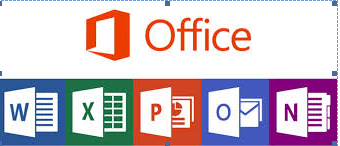 Office is the standard for corporate productivity and a standalone version has a value of at least $100. That makes the Surface RT and Surface 2 compelling value compared to an iPad which has limited third party support for Office applications and cumbersome third party interfaces for reading or editing Office documents.
Ashraf Eassa also criticizes the Surface as having inadequate storage for watching movies or TV shows. That simply ignores two key facts. First, the Surface integration with SkyDrive makes it possible to keep less content on the device. Second, the device can be expanded with a Micro SD card and a full size USB port. Getting real value from the external storage on a Surface requires a few setting changes but they are well within the capabilities of most users.
I have a 64GB Surface and I have no issues with storage. The screen quality is excellent and the device is a joy for watching a late night movie on Netflix or a downloaded TV episode.
PC Magazine does a head-to-head comparison of the Surface 2 and the iPad Air, and the Surface 2 looks pretty good.
Microsoft may have chosen a different marketing approach for the Surface RT and Surface Pro tablets. Calling both "Surface" has confused users since they really serve different markets. Surface RT and Surface 2 tablets are consumer products aimed at younger users who want the convenience and fun of a tablet for consuming content combined with the utility of MS Office for things like schoolwork. Surface Pro tablets are really aimed at enterprise road warriors.
Regardless, Surface tablets are gaining traction in the marketplace and Microsoft is backing them for the long haul.
I am bullish on Microsoft stock but currently hold no position.
Disclosure: I have no positions in any stocks mentioned, and no plans to initiate any positions within the next 72 hours. I wrote this article myself, and it expresses my own opinions. I am not receiving compensation for it (other than from Seeking Alpha). I have no business relationship with any company whose stock is mentioned in this article.