Traditionally I like to look for value stocks to invest in. I believe these provide investors with minimal downside risk when compared to other types of stocks. While researching W.W. Grainger (NYSE:GWW) as a potential value play, I came across Fastenal Company (NASDAQ:FAST). At first glance, Fastenal does not seem to meet the requirements of a value stock - shares appear rather expensive. But after looking further at the company's growth prospects and fundamentals, and when comparing the two against one another, I determined FAST to be the better company to invest in for a turnaround in the industrials sector. I believe Fastenal is still undervalued, growing fast and pays a better dividend that is also growing quickly.
Introduction and Recent Results
Fastenal Company operates in the industrial machinery and equipment wholesale industry. It sells industrial and construction supplies grouped into eleven product lines. The traditional Fastenal product line consists of threaded fasteners and other miscellaneous supplies. Fastenal also sells in its other ten product lines: tools, metal cutting tool blades and blade resharpening services, fluid transfer components and accessories for hydraulic and pneumatic power, material handling and storage products, janitorial and paper products, electrical supplies, welding supplies, safety supplies, and raw materials. It distributes its products through over 2,600 company-owned stores to customers in the manufacturing and construction markets. (source: Reuters)
A look at some basic stats for shares of FAST:
| | | |
| --- | --- | --- |
| Ticker: | | FAST |
| Latest Close (12/13) | | $46.24 |
| Market Cap | | $13.72B |
| Avg. Volume (10 day) | | 1.92M |
| Shares Outstanding | | 296.74M |
| Dividend (Qtr) / Yield | | $0.25 / 2.16% |
Shares of FAST have been actually been relatively disappointing thus far this year - down 0.88% as of article submission. Shares of their close competitor GWW have performed quite well - up 27.4%. A look at the five year chart for both shows they've done well for shareholders, outpacing both the Dow Jones Industrial Average and the S&P 500 Index. They practically mirror one another until this year where GWW has had the advantage.
(click to enlarge) (source: Google Finance)

Fastenal's most recent quarterly results were impressive. Sales, profit, and EPS were all up Year-over-Year and bettered the previous quarter. No surprises there as those results have come to be expected from FAST. The company noted that it had added 44 new stores, bringing the total to 2686 as of Sept. 2013. What's really worth noting is that they've invested tremendous capital into growing their "FAST Solutions" vending operations. Over 11,000 new machines were installed, increasing the total by 59% vs. December 2012. These vending machines which dispense Fastenal's variety of products are changing the way business is done in the manufacturing, construction, and utility industries. These solutions save companies time and money and are extremely profitable for Fastenal due to their low capital costs and minimal human resource requirements.
The most recent monthly updates from the company show that growth has been maintained, which makes me think they will once again post a great quarterly report in February.
A note on the company management:
I normally do not include this in my articles as I feel this is a subjective area to evaluate a company on. However, Fastenal for me has been one of the easiest companies to follow and research. It has a fabulous investor relations department and website. They actually post monthly updates as opposed to simply reporting their quarterly and annual SEC filings. They publish a letter to shareholders every year. From reading these for the past few years, as well as rummaging through their past few earnings call transcripts, I've determined that management is very shareholder friendly. They are a group of the most honest and straightforward leaders that I've come across in all my research of different companies. They report facts and don't embellish anything. And they are extremely optimistic towards the company's future while maintaining a grasp on the reality of the business they are in (the industrials market is still slow to improve).
Tremendous Past Growth Looks To Continue
Fastenal looks to continue its strong growth of the past few years. This will be a tough task as their growth really has been outstanding. Just look at some of the company's compounded annual growth rates over the past 4 years:
Sales - 17.5%
Net income/EPS - 31.8%
Book value - 9.5%
Analysts are calling for more of the same as they project sales to continue growing at 14.3% annually and EPS to grow at 16.8% annually - for the next 5 years. Management has been consistently positive during their recent earnings conference calls that they can do this successfully. They plan to have their store total up to 3500 in the next five years, an increase of 30% over the current amount. As the U.S. makes up about 90% of their operations right now they plan on partially achieving this by expanding their Canadian and Mexican operations.
Fundamentals
Fastenal has pretty solid fundamentals for a company that many would argue is still in its growth stage. Although the PE ratio (29), PEG (1.8), P/book (7.8) and P/sales (4.2) still reflect a company that's priced for growth, others highlight the company's profitability and healthy balance sheet (source: Zacks):
Current ratio - 5.54
Quick ratio - 2.62
Net Margin - 13.71%
Debt to capital - 0
ROE - 26.93%
ROA - 22.94%
FAST currently scores high for me in valuations, as I calculate their Forward Intrinsic Value to be in the range of $62-$78 using current financials combined with growth estimates. A couple safety checks I like to do as well - Altman Z and Piotroski scores - check out fine. *For more on what these scores mean and how I calculate intrinsic value see here.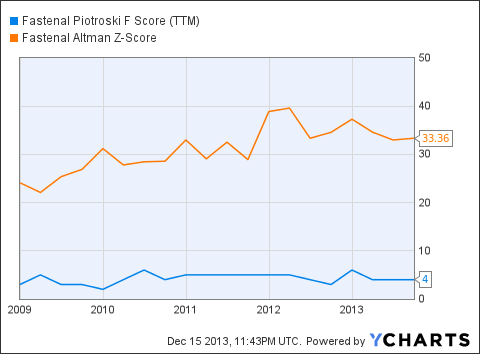 FAST Piotroski F Score (TTM) data by YCharts
The Dividend
Fastenal has grown their quarterly dividend substantially over the past few years - 58% in 2011, 13% in 2012, and 8.5% this year. Also in 2012 they paid a special dividend to shareholders of 50 cents/share in December. Now why would a company like Fastenal that is focused on growth right now be so adamant about growing their dividend as well? To me the answer to this question is a great sign of confidence to investors - management is keen on returning value to shareholders in a number of ways. Since instituting a dividend payment in 2004 the share price of FAST is up almost 300%, revenues are up over 200%, and the dividend has grown 800%. That's a testament to the multiple ways in which management is looking to return value to shareholders.
Speaking to my above point, Fastenal's CFO Daniel Florness recently had this to say during the 3rd quarter earnings call regarding the company's free cash flow:
"Year-to-date, for every earnings dollars we have generated, after paying for working capital needs, we have $0.90 left over. After paying for capital expenditures, which are significant this year and next year as we've discussed in the past because of our vending initiative, because of our distribution automation initiative, after paying for all that, we still had 50% of earnings year-to-date left over in free cash flow, very powerful reflection of the pathway to profit and where that positions our business for investing into the future."
Analyst Ratings
A total of 10 analysts currently cover Fastenal. They have it rated at an average of 2.60 (on a scale of 1-5) with 3 analysts rating the company a "strong buy", 6 rating it a "hold" and 1 rating it a "strong sell". Average target price is $49.20 - representing a 6.4% upside from current price. Most recently RW Baird noted the decline in share price presents investors with a great buying opportunity - reiterating their "outperform" rating on the stock and upping their price target to $59.
I think FAST is a "hold" right now, but will be a "buy" very soon. This really has nothing to do with the company itself but is more because I see the overall US markets declining for the next month or two. This may drive the price of FAST down to a great buying point leading up to the next earnings report which I think will be a beat and the price will respond positively.
Conclusion
As stated above, I believe the recent dip in Fastenal's share price over the past month is more due to the overall U.S. markets outlook and end-of-year tax selling than a reflection of investor sentiment in the company. I expect this to continue into the beginning of 2014, so investors are advised to be patient and watch for a buying signal before making a purchase. If the price of FAST gets below $44 it would make a great entry point for investors.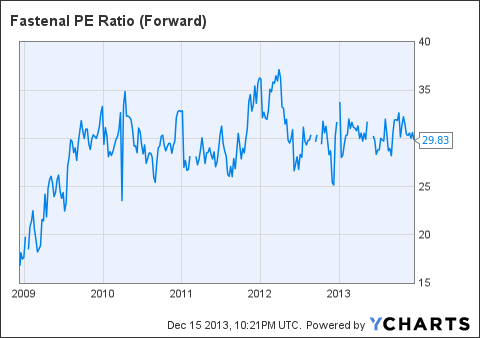 At that price you'd be getting shares of a growing and profitable company at a Price/forward earnings ratio of around 25 at that point, which is much lower than they have traded on average over the past 5 years - about 30. Only twice since 2010 has the forward P/E ratio of FAST dipped to 25. What inspires even more confidence in the company is the fact that they've been able to grow so well without taking on any debt. They remain debt free today and haven't issued any new shares of stock in over 5 years. Eventually FAST's growth will slow down - all companies reach this point. At that time I think investors will see - and management's words seem to back this up - Fastenal transition from a growth play into an income investment. I would expect to see a decrease in capital spending on growing the business replaced by an increase in rewarding shareholders by growing the dividend and repurchasing stock.
Disclosure: I have no positions in any stocks mentioned, and no plans to initiate any positions within the next 72 hours. I wrote this article myself, and it expresses my own opinions. I am not receiving compensation for it (other than from Seeking Alpha). I have no business relationship with any company whose stock is mentioned in this article.