Annaly Capital Management Inc. (NYSE:NLY) is one of the largest, if not the largest, mortgage REITs in the US. It tends to be slower moving than many of the others. However, it also weathers the economic storms better than many of the others. NLY has performed several times better than the S&P500 when you include both dividends and stock price appreciation. The Q3 2013 dividend of $0.35 per common share amounts to about 14% if annualized (using the December 13, 2013 closing stock price of $9.94 per share). This is far higher than the dividend of the S&P500 (about 2%). Further NLY is more diversified than many other REITs. This can confer more safety, just as diversification is thought to confer safety in a stock portfolio. Yet NLY has sold off substantially in recent months.
Has the real estate market crashed in the last year? No. Are interest rates skyrocketing? No. Yes, they are going up, but except for last summer's spike, the trend has been gradual. A company like Annaly Capital Management Inc., with a history of conservative, but good management, should be able to manage through the current situation. Yes, the Fed will eventually taper; but we saw the "shock effect" reaction to that taper threat last summer (2013). The rule of the stock market is usually "buy the rumor; sell the news." In this case that would be "sell the rumor; and buy the news." This is probably what savvy investors should be doing with Annaly Capital.
NLY has been de-leveraging in order to make itself safer. Its 6.2x leverage as of June 30, 2013 was down to 5.4x as of September 30, 2013. On top of this NLY increased its hedges to 74% from 56% of its assets. It reduced the underlying duration of its mortgage portfolio. This has left it with a very solid net capital ratio of 14.8%. Meanwhile its core earnings have ranged from $0.32 per common share to $0.28 per common share over the last five quarters. This is very stable; but it does indicate that NLY may have a further dividend cut as the most recent core earnings of $0.28 per common share are not enough to cover the Q3 dividend of $0.35 per common share. The company has not yet said this; but with a lower leverage ratio, it seems a small cut is likely. Still the increased safety of the company makes NLY more enticing even with a slightly lower dividend.
Goldman Sachs (NYSE:GS) issued a SELL rating on Annaly Capital Management Inc. on December 5, 2013. When you combine this with the ever more likely taper start and the likely decreasing dividend, you might be inclined to sell NLY as Goldman Sachs has suggested you do.
"Goldman Sachs analyst Eric Beardsley says GS expects value to fall as rates rise and MBS spreads widen post Fed tapering. It expects NLY to keep taking actions to reduce leverage and rotate into shorter duration assets. It expects NLY to increase its hedge portfolio. Due to these things GS expects earnings headwinds and dividend cuts of approximately 40%. It expects total economic returns of 2% over the next 12 months, which is relative underperformance compared to the overall mortgage REIT sector expectation of 10%. GS assumes book value declines of 14% from Q3 2013 levels to Q4 2014. It expects the stock to trade at 0.87x at that time for a price of $9.50 per share. It assumes dividends of $0.80, which implies a dividend yield of 8.0%."
Let's see just how much sense Goldman Sachs' SELL rating makes. NLY reported an increase in annualized Core Return on Average Equity year over year in Q3 2013 to 8.62% from 8.07%. It reported a year over year increase in Interest Rate Spread to 1.01% from 0.98% in Q3 2012. It reported a decrease in CPR (constant prepayment rate) from 20% to 13%. All of these seem positive, not negative. Further it is rational to expect the net interest rate spread to increase further as interest rates rise. Will NLY de-leverage a bit more? Possibly, but probably most of the de-leveraging is done. Any further de-leveraging is likely going to be to sell Agency RMBS in order to put the money into NLY's commercial real estate business. This should be beneficial to NLY. The table below shows the most recent yields on the commercial real estate items.

Click to enlarge
As investors can see the two applicable yields for commercial real estate investments were 9.70% and 14.13%. Most of NLY's money ($1.3B at Q3 2013 end) was in the 9.70% category; and this is the main category that NLY intends to add to ($2B total by December 31, 2013). It is unclear whether or not NLY will do more de-leveraging. However, it will probably sell some more Agency securities in order to put more money into commercial real estate investments. Such actions would not likely push the dividend rate toward 8.0%; rather they might keep it higher as the recent yield on the main commercial real estate investment category was 9.70%. Admittedly the debt to equity ratio of 5.4x as of September 30, 2013 was less than the 6.2x June 30, 2013; but it was closer to the 6.0x of June 30, 2012. It is not clear that NLY intends to cut the leverage further. The above might lead one to think that the $0.28 core earnings per share are sustainable (or nearly so). Remember the return on average equity increased in Q3 2013 over Q3 2012; and it may increase again in Q4 2013 and in 2014.
Yes, NLY will probably spend more on hedges. As of September 30, 2013, it had interest rate swaps with a notional amount of $52.2 billion and interest rate swaptions with a notional amount of $6.8B. These covered 74% of the company's Agency MBS and debentures compared to 56% coverage as of June 30, 2013. However, these also made NLY's vulnerability to interest rate increases much less. The following table shows how the interest rate increase vulnerability has diminished.

Click to enlarge
As you can see from the table, a +25 bps move upward in interest rates as of June 30, 2013 would have resulted in a -4.3% NAV loss to the portfolio. A 50 bps increase in interest rates would have incurred a -9.3% loss for the portfolio. With the increased hedging and the lower leverage level, the 25 bps and 50 bps increases in interest rates would incur only -1.8% and -4.1% losses in NAV.
BlackRock estimates that the 10 year US Treasury Note yield will end 2014 at 3.25% to 3.50%. The current rate is 2.84% as of this writing (December 15, 2013). The mean of BlackRock's estimate for the end of 2014 is 3.375%. This is only a 0.535% difference. If you divided this by the four quarters of next year, it only amounts to +0.134% per quarter. NLY should be able to manage through this. Plus the table indicates that it should only result in about a -1% decrease in NAV per quarter. If the dividend goes down to $0.25 per quarter, that will yield a $1.00 annual dividend. This would still be a 10.06% dividend using the closing stock price on December 13, 2013. If you subtracted the expected book value losses for this scenario of -4% for the year, NLY would still have a total economic return of about 6% for FY2014.
On top of this NLY expects to have about $2B in commercial real estate investments by the end of Q4 2013 (up from $1.3B at the end of Q3 2013). The $1.3B amounted to about 11% of stockholders' equity. By extension $2B should amount to about 17% of stockholders' equity; and the commercial real estate investments should not necessarily lose money at all in case of interest rate increases. Rather if interest rate increases were a sign of a healthier US economy, then the commercial real estate market should improve. These assets might increase in value (add to NLY's NAV). As of September 30, 2013 the weighted average loan to value of these assets was 74.45%. These assets have a lot of "discount" that they could regain in a positive market. This would tend to counter any NAV losses due to the RMBS investments. This might argue for a total economic return of 8% to 10% or more. This would hardly indicate investors should SELL NLY.
Further there is no guarantee that interest rates will go up in 2014. For instance, MacNeil Curry, Head of Global Technical Strategy at Bank of America Merrill Lynch, says equities may be in for a correction of -20% or more in 2014. If that happens, US Treasury yields may not rise as much (or at all). The fall in the stock market might induce a "flight to quality" (US Treasuries), which would tend to pressure stocks and US Treasury yields to the downside. Part of Goldman Sachs' prediction for 2014 is based on a +10% increase in equities during 2014. A -20% correction instead would probably make Goldman Sachs' SELL call on NLY a very bad one. In that case NLY could have little or no book value loss. It might even have a small book value gain. Plus it would probably pay a dividend close to 10%. This latter scenario makes NLY sound more like a buy than a sell, especially when other stocks may lose -20%+ of their value. NLY in contrast in this scenario might go down a bit with the market, but it would likely quickly rebound, since it is already trading at $9.94 as of December 13, 2013. This last is a -21.7% discount to NLY's book value on September 30, 2013 of $12.70 per share. What is likely to happen to NLY's stock price? Is it going to trade at a -40% discount to book value? That seems unlikely.
Some good news involving higher interest rates is that the average interest rate spread during Q3 2013 was 1.01%. This was up from 0.98% during Q2 2013. If the average interest rate spread can keep moving in this direction, that should help NLY deliver better core earnings even with lower leverage. Unfortunately the net interest rate spread may take a small hit in Q1 2013 and beyond for a new reason. The new Basel III capital requirements for banks, which go into effect January 1, 2014, are expected to add 5 bps to 15 bps to the repo costs. However, NLY's net interest rate spread should still continue to increase longer term as interest rates rise. In support of a positive net interest rate spread trend NLY's annualized return on average equity (on a core earnings basis) has been steadily increasing from 8.07% on September 30, 2012, to 8.24% on June 30, 2013, to 8.62% on September 30, 2013. NLY is adjusting positively to the rising interest rate environment.
The tables below contain some relevant information about NLY's Agency fixed rate portfolio and its Agency Adjustable rate portfolio.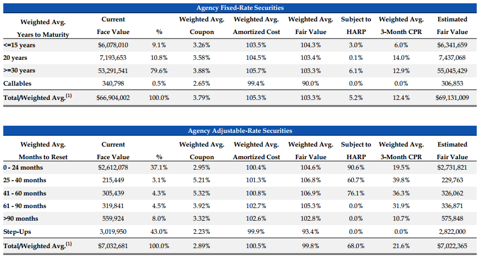 Click to enlarge
The weighted average coupon rate on the >= 30 year fixed rate Agency securities is 3.88%. This isn't bad; but as interest rates rise, NLY will probably want to move into higher coupon rate securities over time. This is part of the book value loss that GS is expecting. However, the numbers above generally indicate that NLY has been managing the extension risk reasonably. Investors should be able to expect more of the same. Further if interest rates rise, the book value losses due to losses in fair value of the Agency securities should be largely offset by gains in interest rate swaps and swaptions. The net effect should be about the effect shown in the "effects of interest rate moves" table above; and I don't believe this table is taking into account any potential NAV gains from the commercial real estate portfolio.
In sum NLY appears to be a medium to high hold or a low buy. I cannot see it as a sell in the current market, with its current circumstances. I am taking BlackRock's interest rate view as the base expectation, when I say this. Naturally if the future plays out in a much different fashion, investors may wish to take a different course of action. NLY could conceivably become a solid buy; or it could become a low hold to a sell. For now, investors probably want to hold it (or even buy it). If its re-organization into more commercial real estate investment proves out as I expect it to, it may become more firmly a buy. The Q4 2013 should provide some more positive evidence of this.
The long term chart of NLY below provides some technical direction for this trade.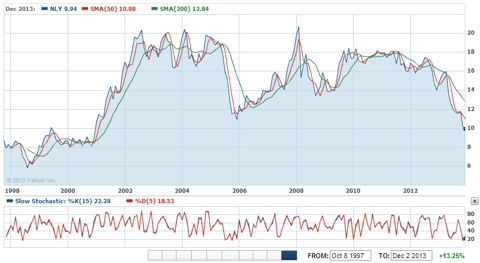 Click to enlarge
The slow stochastic sub chart shows that NLY is oversold. The main chart shows that it has been in a downtrend since mid-2012. This downtrend has now reached a point where NLY should pick up strong long term technical support. Since the fundamental data seem to provide support here too, NLY seems due for a bounce on both counts. For a trader it is probably a buy. For a long term investor it is probably a hold or a low buy. The CAPS community rates it three stars (a hold). Don't forget with a stock price of $9.94 (the close on December 13, 2013), NLY pays approximately a 14% dividend. Yes, the dividend could go down; and it probably will. However, a 10% dividend is still good to great. Plus the $2.76 stock price discount to the September 30, 2013 book value of $12.70 provides a huge hedge against book value losses by NLY. Remember mortgage REIT companies more typically trade at book value or a slight premium to book value. They will again.
NOTE: Some of the fundamental fiscal data above is from Yahoo Finance.
Good Luck Trading.
Disclosure: I have no positions in any stocks mentioned, but may initiate a long position in NLY over the next 72 hours. I wrote this article myself, and it expresses my own opinions. I am not receiving compensation for it (other than from Seeking Alpha). I have no business relationship with any company whose stock is mentioned in this article.