Southern Copper (NYSE:SCCO) actually piqued my interest as I was going through a list of large-cap commodity exploration companies that trade close to their 52 week Lows. Southern Copper is such a company: It currently trades at $26.19 and marked a 52 week Low at $24.78 on December 5, 2013.
Investment thesis
My approach to commodity-related equity investments generally can be described as anti-cyclical. I am usually on the lookout for commodity businesses that have access to in-demand and irreplaceable commodities and that trade at discounts to intrinsic value. The majority of companies that I hold in my long-term portfolio are true heavyweights in their respective sectors. For example, BHP Billiton (NYSE:BHP) or Rio Tinto (NYSE:RIO) are core, long-term holdings of mine. The construction boom and infrastructure upgrade in China wouldn't be possible if those companies didn't have access to deep pools of core commodities such as iron ore, nickel, zinc, copper as well as others.
The reason why I am particularly attracted to Southern Copper is because I believe the copper story is not going to be over for a long time. Demand for copper is predominantly driven by emerging markets: 65% of worldwide copper consumption takes place in China and the rest of Asia. In fact, China accounts for roughly 41% of copper consumption making it the most influential demand force in the world.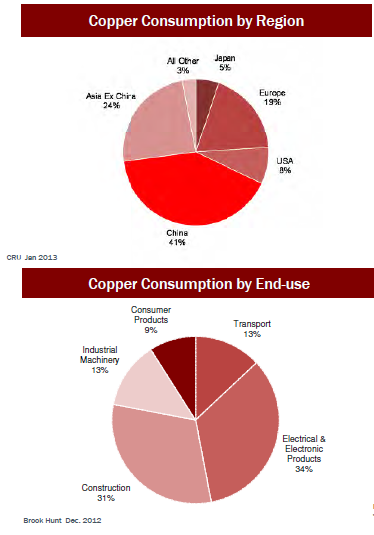 In addition, above-average population growth in Asia is likely to further increase copper demand in the coming decades. At the same time, copper supply is limited and new copper discoveries are rare. The Chinese construction sector might correct in the short-term but will regain its momentum in the long-term. The urbanization trend in China requires a constant stream of residential and commercial real estate which will benefit long-term construction activity and, in turn, copper demand.
Share performance
Southern Copper lost 31% over the last twelve month. The majority of share losses are attributable to worries about China's economic outlook. Ill-advised capital allocation policies have led to an overheating of China's property market with sizable excess supply of residential real estate.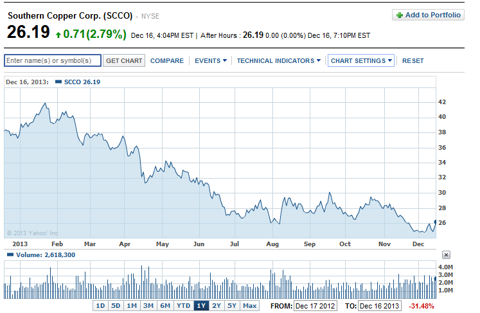 Southern Copper still has a lot of upside potential. The company has returned 75% over the last five years which is fairly mediocre considering the performance of Freeport-McMoRan (NYSE:FCX) as well as the overall performance of the S&P 500 or the DJIA. Barrick Gold (NYSE:ABX), which is still suffering from consolidating gold prices, lost 49% over the last five years making it the worst performer of all large-cap commodity players in the peer group. The company, however, might be an interesting BUY candidate for investors who also want to play long-term gold trends and who have the stomach for short-term volatility (Barrick Gold investment thesis here).
During the last five years BHP Billiton gained 55%, Rio Tinto 145% and Freeport-McMoRan 197%. It clearly paid off to purchase exploration companies at a time when the global economy well off a cliff and uncertainty peaked. Further evidence that an anti-cyclical, contrarian strategy can bear rich fruit.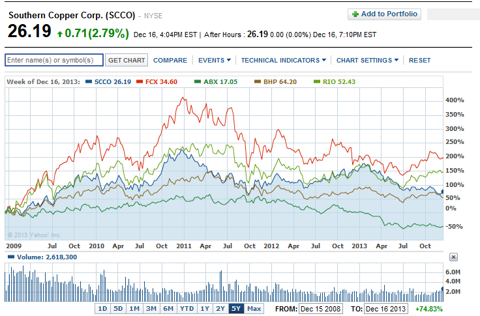 Market valuation
I have already argued that I hold a positive outlook on copper demand which will primarily be driven by emerging market copper consumption in Asia. Moreover, a rebounding economy in Europe and the US could boost incremental copper demand in the coming years which could lead to rising prices. In terms of business cycle, I believe we are still in the early expansion phase as many countries still need to clean their house out. The US will probably grow by 2-3% for a few years more, China has to come up with a solution with respect to its real estate speculation and Southern Europe is slowly digging its way back to daylight. As such, I am optimistic about future valuation growth for copper exploration companies and increases in valuation should come from both EPS growth and multiple expansion.
Southern Copper presently trades at 13.57 times forward earnings. Other companies in the commodities sector trade at lower multiples; Barrick Gold, for instance, trades at just 8.44x forward earnings which is mainly attributable to its recent equity offering and gold prices which have markedly corrected over the last two years. BHP and Rio Tinto still trade at relatively low earnings multiples of 12.66 and 9.69 respectively.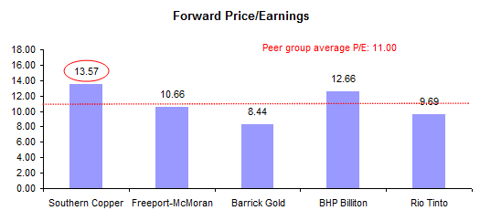 Southern Copper's dividend yield of around 2% should not be instrumental for deciding about a potential purchase. The majority of value generation is likely to come from capital gains. Since dividends are a form of shareholder remuneration nonetheless, I reproduce a dividend yield comparison for Southern Copper and its peers below.
The table below summarizes valuation- and dividend metrics for the core commodity peer group depicted above:

Conclusion
Southern Copper is a large-cap, well-run copper player. The company invests heavily in expansion projects and capital expenditures are expected to peak in 2014 at $2.3 billion. Future output increases and increasing copper prices in a better economic environment could be meaningful catalysts for higher share prices.
Southern Copper allows investors to get exposure to an irreplaceable core commodity that is needed for construction projects as well as for electronics products. At a multiple of 13.57 the company is not too expensive and gives investors a decent chance to profit from both EPS expansion and multiple growth. In addition, direct commodity investments such as Southern Copper can bring diversification benefits to an investment portfolio. Copper exposure also provides investors with a natural hedge against inflation which surely will be an issue over the next two or three decades. Long-term BUY.
Disclosure: I am long SCCO, BHP, RIO, ABX. I wrote this article myself, and it expresses my own opinions. I am not receiving compensation for it (other than from Seeking Alpha). I have no business relationship with any company whose stock is mentioned in this article.