Conclusion: Shareholders of The Adams Express Company (ADX) should vote Against Proxy Proposal 1: Election of the Board of Directors.
Reason for the Recommendation: The current Board of ADX has been ineffective in enhancing shareholders' value and may have contributed to its diminution through its inaction to proactively take steps to narrow what is its persistent and abnormally large discount.
More Concerned about Management's Compensation than Shareholders' Value? ADX's Board is recommending this year, for your voting pleasure, approval of Proposal 3: Re-Approval of its Executive Compensation Proposal. Conspicuously absent this year is a Proposal for action(s) to enhance shareholders' value. (Where are the customers' yachts?)
Specific Facts Supporting the Recommendation: For the sake of brevity and clarity, the following two previously published articles articulate in detail the facts supporting this recommendation.
1. ADX's Board Appears Entrenched, Compromised and Lacking Shareholder Commitment: Part I
2. Recommendations to Enhance Shareholders' Value at Adams Express: Part III
How to Vote against the Board: The proxy structure is biased in favor of the board and management. Inaction on the part of ADX shareholders has favorable results for ADX's Proposals. It also places hurdles for shareholders to overcome in order to effectively vote their shares.
A Non-Vote is a "YES" Vote: If your proxy card is tendered by your agent, i.e., broker, money manager, trust company, etc., on your behalf to proxy voting service, and "no specifications are made" (which is highly likely as third party agents typically vote with management by default) it is considered a vote FOR the election of directors. You snooze, you lose.
Make Your Vote Count: If you feel the Board could be doing more to enhance the value of your investment in ADX, you should contact your broker, money manager, trust company, etc., and tell them you want to vote your proxy and tell them how (see below). Secondly, if you do get your ADX proxy at home, don't just pile it up in the corner unopened. Open it up and vote.
The proxy material and share proxy voting card for The Adams Express Company can easily be found by clicking on the following website.[iii] Remember you can vote by telephone or on the internet. Or, just by filling out your proxy card and mailing it in.
Mechanics of Voting for Proposal 1: Below is an image of the portion of the proxy card as it relates to Election of Directors.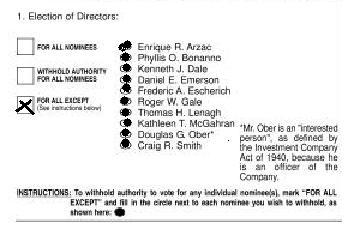 While it would appear that "Box 2" would reject the Board in its entirety, in order to send a clear and unambiguous message, my recommendation is to place an "X" in the final box, entitled, "For All Except" then "black-in" all circles preceding all the directors' names which would represent a rejection of all the directors individually.
Shareholders' Annual Meeting: The Adams Express Company Annual Meeting of the Shareholders is scheduled to be held Tuesday, March 23, 2010, at 9:00 a.m. at the InterContinental Harbor Court Hotel, 550 Light Street, Baltimore, MD 21202. So, there is approximately a month's time to educate the retail shareholders' who effectively control approximately the 80% of the voting shares.
Parting Comments: I am sure each of the board members is a smart, hard working, and ethical individual. However, as a group they have failed to focus on the interest of the shareholders over that of the management.
A sizable vote against the Board will send a clear message by ADX's shareholders that we're tired of being ignored; the shareholders want constructive change by its Board of its behalf. This is a simple idea and a simple and clear message.
Caveats: While I have confidence in the analyses and recommendation regarding ADX's Proposal 1, shareholders' proxy and related issues are a highly specialized, complex area for which my knowledge is admittedly shallow.
While I've made what I believe is a reasonable and good faith effort with respect to the mechanics of voting a shareholder proxy, an individual specializing in this field could conclude differently. I'm hoping in that case, such individual(s) would make a contribution regarding what is an appropriate process.
Recommendation regarding Proposals 3 and 4 are forthcoming in separate articles.
Disclosure: Long ADX and buying more