Where I came from
I've been using the dividend growth strategy for a little over a year, or so I say. I went in and out of certain stocks such as Caterpillar (NYSE:CAT), and Bank of Nova Scotia (NYSE:BNS). I believe I was confused and needed a transition period. At the time, I was reading the Seeking Alpha Income Investing Strategy articles which mostly encourage holding companies for the long-term, yet I was too used to trading in and out of stocks. I need to mentally separate core holdings from holdings meant for trading. That is, some companies are meant for holding to receive a growing dividend, while others are meant for shorter-term capital gains.
Why the "Whistler" Income Portfolio?
I decided to name my portfolio the Whistler Income Portfolio. The word "Whistler" has a double meaning. There's a mountain nearby where locals and tourists like to go ski and play other winter sports. Secondly, I'd also like this portfolio to be managed via common sense such that I'll be whistling carefreely as I'm managing my portfolio.
The General Plan
I plan to use the compounding effect of growing dividends to my advantage for the anticipated 30+ years until my retirement. Whenever possible, dividends are reinvested, and monthly contributions are made to the portfolio. Currently, the compounding effect hardly shows on the radar, as my portfolio is still in its infancy. However, I know it is doing its work, as I tally up the dividends I receive per quarter. Recently, I also started to take more notice of how taxes affect my returns.
Without further ado, I'm going to list what I have in my Whistler Income Portfolio thus far.
Current Sector Allocation for the Whistler Income Portfolio
| | | |
| --- | --- | --- |
| Sector | *Allocation by Current Price | Dividend |
| Energy | 16.7% | 16.2% |
| Materials | 6.1% | 3.6% |
| Industrials | 4.1% | 2.7% |
| Consumer Disc. | 15.4% | 9.5% |
| Consumer Staples | 6.9% | 6% |
| Healthcare | 1.5% | 1.4% |
| Financials | 22.4% | 33.7% |
| Information Technology | 14% | 11.4% |
| Telecommunication Services | 13% | 15.5% |
| Utilities | 0% | 0% |
* Price as of close of December 13, 2013
A Word on Sector Allocation
54.5% of the portfolio capital is allocated to the top 3 sectors of Financials, Energy, and Consumer Discretionary. The 3rd largest sector allocation is closely followed by Information Technology and Telecommunication Services. Low percentages are allocated in Consumer Staples and Healthcare. The poor Utilities sector has no capital allocated to it.
When I was building this portfolio, I didn't have allocation in mind. Instead, I looked at individual companies and whether they were good buys at that moment. I learned along the way that I was not supposed to have too much capital allocated in a sector, so that if there were factors affecting any one sector, my capital wouldn't be wiped out. Sector allocation is a type risk management. As such, I don't think I should have more than 25% of capital in any one sector. However, conservative investors might have more capital allocated in the more stable sectors of Energy, Consumer Discretionary, Consumer Staples, Healthcare, Telecommunication Services, and Utilities.
But then again, a biotechnology company is in the Healthcare sector, but a conservative investor most likely wouldn't buy it. Another example is that banks, and REITs are both in the Financial sector, but they are actually quite different. In terms of dividends, banks with a lower yield grow their dividends at a faster rate than REITS, while REITs start with fat yields, but grow the distributions slowly, if at all. (Speaking according to my observation in Canadian banks and REITs.)
Adding blue chip utilities to my portfolio would add to the current yield of my portfolio, but as a younger investor (in my 20s), I feel that I don't need to rush into buying utilities because they grow their dividends at a slower rate, maybe only slightly outpacing the inflation rate. This is similar to the fact I only have 2 REITs in my portfolio of which one, H&R REIT (OTCPK:HRUFF), makes up 1.7% of the portfolio. The other, Digital Realty (NYSE:DLR), makes up 5.7%.
A Word on the Dividend Allocation
My top 3 sectors that are spitting out most of the portfolio dividends are Financials, Energy, and Telecommunication Services. Other than the REITs, my Financial holdings include Royal Bank of Canada (NYSE:RY), and Bank of Nova Scotia. This sector makes up 1/3 of my portfolio income. That could be devastating if something happened to that sector, but looking back on the financial crisis, only H&R REIT cut its dividend. So, I'm still comfortable with my holdings.
My 2nd top sector is Energy, consisting of some big oil companies such as Chevron (NYSE:CVX), and BP (NYSE:BP). My other holdings are Suncor (NYSE:SU), Canadian Natural Resources (NYSE:CNQ), and the pipeline company (NYSE:ENB). Personally, I feel I shouldn't allocate more than 4% of capital to SU and CNQ because of their volatile earnings as shown in the FAST graphs below. The orange earnings line goes up and down like a roller coaster. As a result, the black price line shows volatility as well.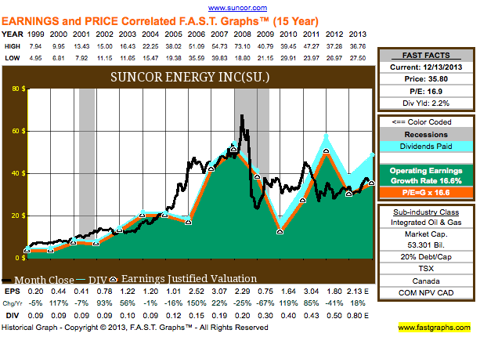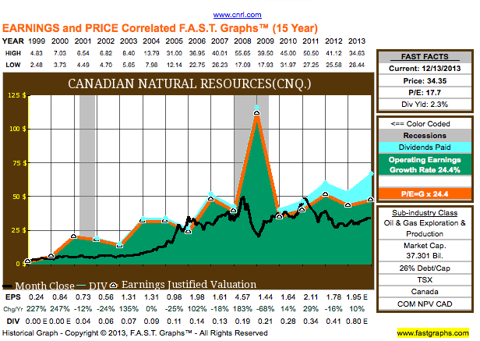 With the recent pullback in the Canadian banks, I have the intention to add Toronto Dominion Bank (NYSE:TD) to my holdings, as FAST graph shows, it as the more undervalued bank compared to the other banks in the Big 5. However, my dividend allocation shows I'm already getting 1/3 dividends from the financial sector. As such, if I'm going to buy some TD shares, I'll make sure to buy shares in a company of another sector to balance it out a little. At the end of the day though, if the companies that I buy are quality ones with steadily growing earnings, I should be fine.
Create a Business Plan for the Whistler Income Portfolio
Most importantly, I need to create a business plan for my Whistler Income Portfolio, so that I'll have the goals clearly stated, including what the portfolio is doing now, and the expected dividend growth. I haven't decided whether to track an individual company's earnings growth and dividend growth OR to track the portfolio's dividend growth. It'd be more complicated to track the portfolio dividend growth for sure, since a portfolio is made up of individual companies. Suffice it to say that tracking the health of individual companies, and doing maintenance that way, would imply tracking the health of the portfolio.
The business plan would describe the income portfolio as is. That includes identifying the core holdings, non-core holdings, and capital gain holdings. The core of the portfolio is still an income portfolio, though.
Without a plan, I wouldn't know where I'm heading with my portfolio. I wouldn't know whether I'm achieving my goals or not (because I didn't set specific, achievable goals to begin with). With the past year's learning and experience, I think it's time I start crafting this plan. Stay tuned.
In a future article, I will attempt the first version of my portfolio plan to reach my goals. (The idea is to continually to update the business plan as I learn more and gain more experience.)
Disclosure: I am long BNS, BP, CNQ, CVX, DLR, ENB, OTCPK:HRUFF, RY, SU, TD. I wrote this article myself, and it expresses my own opinions. I am not receiving compensation for it (other than from Seeking Alpha). I have no business relationship with any company whose stock is mentioned in this article.