People Have to Eat
As the only publically-traded foodservice distribution company, Sysco (NYSE:SYY) may belong on every investor's plate. Thanks to the recession, this high quality company has been trading at historically low valuations since 2008. Prior to that time this dividend paying stalwart had typically commanded a premium valuation spanning two decades. Therefore, prudent investors seeking quality, growth, and yield at attractive value should look closely.
Sysco, headquartered in Houston, Texas, has a market cap of over $17 billion dollars. Sysco currently offers investors an entry yield of approximately 3.4% and trades at a historically low PE ratio under 16 times earnings. A few slides from their Sysco Investor Day presentation on 12/14/2009 provide a good synopsis of this leading U.S. marketer of food and equipment to the food service industry and their businesses. Figure 1 provides a breakdown of their customer mix. (Click charts to enlarge)
Figure 1. Diversified Customer Mix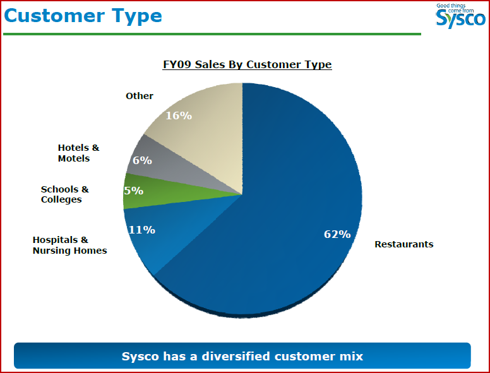 Figure 2. Diversified Product Mix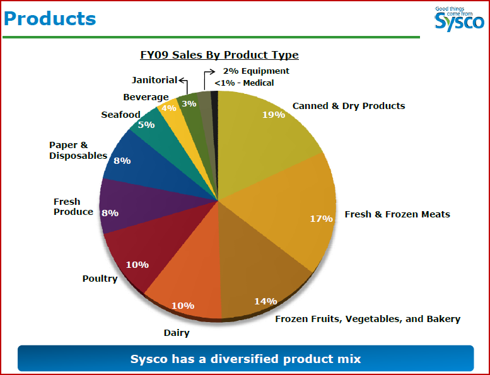 We believe the long-term trend of families eating outside the home remains intact. Therefore, Sysco's largest segment, restaurants, represent good prospects for growth. The other four segments are promising long-term markets for Sysco's product and services as well. Add the opportunity for market share gains and acquisitions and the growth story here is convincing.
Utilizing our EDMP, Inc. F.A.S.T. Graphs (Fundamentals Analyzer Software Tools), figure 3 shows Sysco's stock price correlated to earnings since 1991. Note how the black price line has always been above the green earnings line every year until, as mentioned above, 2008 (see yellow highlights). Also note that Sysco has consistently grown at a compound earnings growth rate of 12.2%. Also, from the graph you will discover that even their worst year, 2006 Fiscal year (see red arrow) was still a very profitable year.
Figure 3. 20yr EPS Growth correlated to Price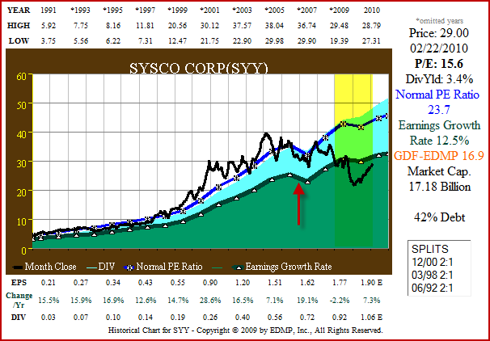 Figure 4 provides the performance associated with figure 3 to include a dividend cash flow table. Consistent earnings growth has generated a dividend increase every year. We call this growth yield, and it's an attribute we covet when analyzing dividend payors. Everyone likes a raise each year, and we like companies that provide one. Also note that even at current historically low valuations, Sysco has, on an appreciation basis (not including dividends), dramatically outperformed the S&P 500. Sysco shareholders earned 10.6% compounded versus only 6.5% compounded for the S&P 500 (excluding dividends).
Figure 4. 20yr Dividend and Price Performance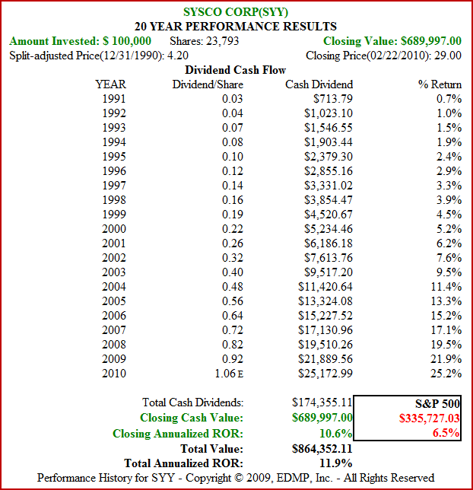 We conclude our historical review by looking at operating cash flows in figure 5 below and price to sales in figure 6 over the past decade. Note that operating cash flows per share (orange shaded area) correlated to earnings per share (green shaded area) are consistently higher. This speaks to the quality of Sysco's earnings, and perhaps explains the premium valuation the market has normally given them. Figure 6 shows that the current price to sales of 0.48 is at the low end of Sysco's historical norm, implying good value.
Figure 5. 12yr Operating Cash Flow and Earnings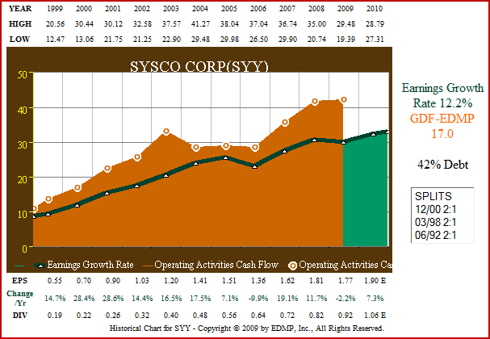 Figure 6. 12yr Price to sales




Thesis for Growth
Sysco's primary food service market is a $200 billion-dollar business where Sysco currently (2009) does about $37 billion of sales. Management contends that challenges like they have recently experienced have historically provided opportunities for Sysco to further differentiate themselves in the marketplace. Therefore, while most competitors are cutting back on spending, Sysco continues to invest in their business. Capital spending for 2010 is earmarked at $600 million to $650 million, a significant increase over 2009.
Sysco is investing in all aspects of its business: Marketing, Operations & Technology. In marketing it is implementing sophisticated pricing strategies, improving order management and leveraging their technology to strengthen customer partnerships. It is improving existing operating processes through standardizing and simplifying its warehouse systems. These include reducing miles driven and replacing equipment with more fuel efficient models. Technology initiatives include computerized load mapping and scanning orders on trailers, as well as GPS and RFID software to manage fuel and maintenance.
With only a 17% market share in this $200 billion-dollar industry we believe that Sysco is making all the right moves to grow. Also, Sysco has been focused on reducing operating expenses to improve profitability going forward. Although still below two years ago, volume trends are stabilizing and Sysco is poised to profit as they return to normal. Figure 7 below calculates the consensus 5-year earnings growth forecast of 15% by 11 analysts reporting to FirstCall.
Figure7. SYY 5yr Earnings Forecast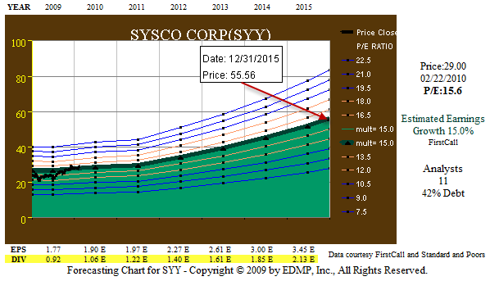 Based on historical precedent, figure 7 implies an attractive current valuation and a potential rising dividend as well. (See yellow shaded dividend and forecast dividend.)
Conclusion
Sysco is an extremely high-quality company which we believe has a bright long-term future. Thanks to the recession it can be purchased at a historically low valuation which offers investors a higher than normal dividend yield as well. Therefore, we believe this company offers the prudent long-term investor an excellent high-quality choice for growth and increasing income.
Disclosure: Long SYY at time of writing
The opinions in this document are for informational and educational purposes only and should not be construed as a recommendation to buy or sell the stocks mentioned or to solicit transactions or clients. Past performance of the companies discussed may not continue and the companies may not achieve the earnings growth as predicted. The information in this document is believed to be accurate, but under no circumstances should a person act upon the information contained within. We do not recommend that anyone act upon any investment information without first consulting an investment advisor as to the suitability of such investments for his specific situation.