Let's revisit the price performance of the major index ETFs for 2010 thus far. We're looking at the S&P 500 (NYSEARCA:SPY) in green, Dow Jones Industrial Average (NYSEARCA:DIA) in red, Nasdaq 100 (QQQQ) in yellow, and Russell 2000 (NYSEARCA:IWM) in blue.
You can see on the following chart that the Russell 2000 as of today's close has separated a bit from the pack. It is slightly up (basically even) for the calendar year thus far. The S&P 500 and DJIA are down a bit over 1%, while the Nasdaq 100 is bringing up the rear, down around 3.5%. This is a reversal from 2009, where the QQQQ had a much larger percentage gain for the year than the other 3 indices. (Click to enlarge)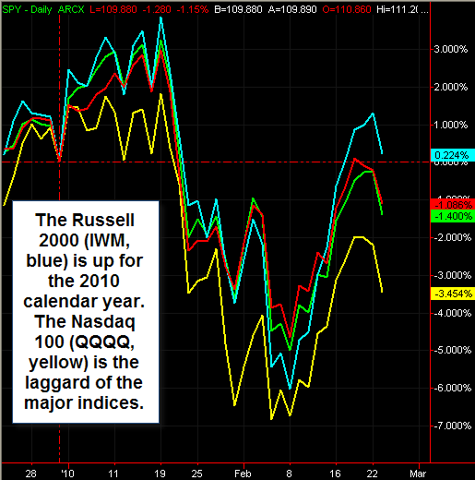 The Russell 2000 is designed to be a measure of small market capitalization stocks. If you look at the Top 10 Holdings below (as of 12/31/2009), you can see that it is a very diversified security, with only 3% of its assets in the Top 10 Stocks. There are some well-known companies among its largest holdings 3Com (COMS), E*Trade Financial (NASDAQ:ETFC), Human Genome Sciences (HGSI) and Tupperware Brands (NYSE:TUP), among others.
Why are the QQQQs lagging this year? Well, it comes down to the fact that 40% of its assets are basically in 4 stocks: Apple (NASDAQ:AAPL), Google (NASDAQ:GOOG), Microsoft (NASDAQ:MSFT) and Qualcomm (NASDAQ:QCOM).
What conclusion can one draw from this 2010 performance thus far? In general, strong performance by small-cap stocks (which tend to be considered "growth" stocks) bodes well for the markets as a whole. Government stimulus efforts toward "small business sized" companies may play a role in this, as well. Additionally, one should be aware that the "big 4" technology names above may NOT lead the market forward this year ... often times the previous leaders become laggards.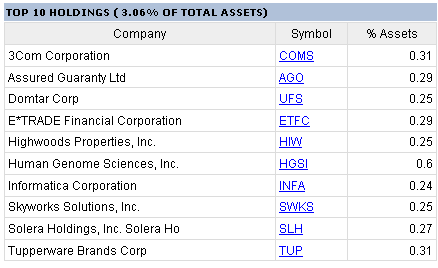 Disclosure: Index Options Timer clients currently hold short-term SPY Put position.