I am glad that General Growth Properties (NYSE:GGP) rejected Bill Ackman's demands to put itself up for sale because I believe that the company is making steady steps in order to improve its fund flows from operations. I was also pleased that Ackman was able to ensure that Brookfield Asset Management (NYSE:BAM) was unable to take over GGP without a deal that will enrich GGP's shareholders. Ackman ended up cashing out a portion of Pershing's stake in GGP by selling warrants to Brookfield at a $4.25/unit premium and secured an agreement that limited BAM's stake in GGP to 45%. At the same time, I wonder if GGP's operating performance will catch up to what its largest rival Simon Property Group (NYSE:SPG) is achieving. In addition, I was also surprised that the negative total return on GGP's shares was narrower than the negative total return on Simon Property Group's share.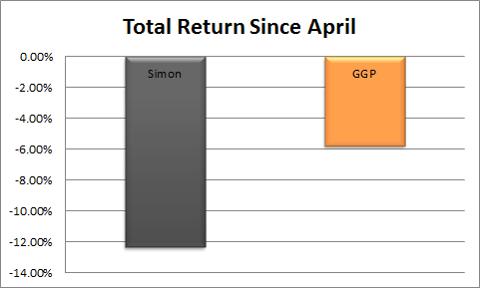 Click to enlarge
Source: Morningstar Direct
According to Ackman, he allegedly met with David Simon of Simon Property Group in October 2011 and Simon was still interested in buying GGP at .1765 Simon shares for each GGP share when GGP was trading at $12.75 and Simon was at $115.23. Brookfield was not supportive of that deal because it expressed an interest in acquiring GGP and was willing to sell 68 of GGP's malls to Simon. Simon rejected that deal because it objected to the malls that Brookfield offered as well as the price for the malls. Brookfield explained that it would seek to acquire GGP on its own and it would consider selling GGP's best 14 malls to Simon or other buyers.
If GGP had accepted Simon's offer of .1765 Simon shares for each GGP share back in October 2011, the deal would have given GGP an implied value of $21/share. GGP's price had reached $18.35 in August 2012 before Ackman issued his demands for a sale so I can see that GGP's efforts to turn itself around are helping to add value to GGP's shareholders and confirms my earlier thesis about GGP offers more sustainable value growth going forward as an independent company rather than selling out. One way I confirmed my thesis that GGP should not sell out to Simon was because GGP's share price reached a 52-week high of $23.33 in May 2013 before easing back to $20.20 as of December 16. One recent positive catalyst for GGP's shares was Standard & Poor's announced that GGP would join the S&P 500 Index. In addition, I was not optimistic that Simon was interested in buying out GGP especially because GGP's share price is trading at a slightly higher Price/TTM FFOs than Simon's share price..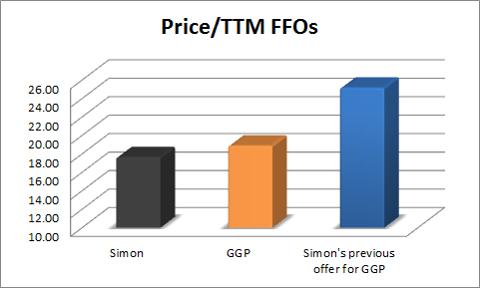 Click to enlarge
Source: MRQ reports for Simon and GGP and Pershing Square's Letter to GGP's Board
Although Bill Ackman sold nearly half of Pershing Square's stake in the company in Q3 2013, China Investment Corporation (33.65M shares or 3.69% of GGP's outstanding shares) and the Abu Dhabi Investment Authority (29.85M shares or 3.28% of GGP's outstanding shares) took a major stake in the company in November. Pershing Square still owns 35.68M shares (3.92% of GGP's outstanding shares as of Q3 2013). GGP spent $567M to repurchase 28.345M shares in Q3 2013 and 25M of the shares repurchased by GGP were tendered by Pershing Square capital, pursuant to my expectations.
Simon's P/B of 8.13X was higher than GGP's P/B of 2.41X but Simon's P/FFO of 17.64X was lower than GGP's P/FFO of 18.88X. I do not see David Simon willing to offer 25X GGP's FFOs especially when I consider the following items of note:
Simon's bid to acquire GGP has already been rejected once or twice depending on who you talk to.
Simon's sales per square foot in Q3 2013 were 3% higher than GGP's.
I was surprised that GGP's occupancy rate of 96.6% was higher than Simon's 95.5%.
I was not surprised that Simon's operating margin in YTD 2013 was 45.9% versus 32% for GGP
Simon's asset base is 25% higher than GGP's but its revenue is 100.5% higher than GGP's
Simon's Interest coverage ratio in Q1 2013 was 2.03X versus 1.11X for GGP
I was initially surprised that GGP's weighted average interest expense of 4.33% was lower than the 4.91% that Simon Property Group pays. After further review, I noted that GGP utilizes less leverage than Simon Property Group.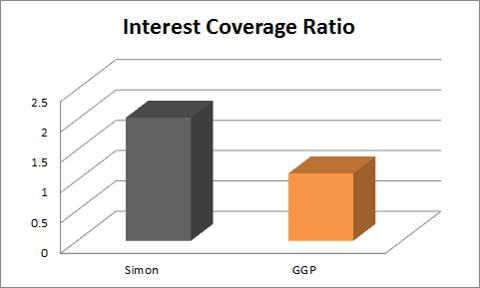 Click to enlarge
Source: Morningstar Direct
GGP and Simon both enjoyed healthy year-over-year growth in FFO/share for Q3 2013. Simon's FFO/share in Q1 2013 was $2.21, up 11.1% from $1.99 in Q3 2012. This was due to a 90bp increase in its occupancy rate, 3% increase in its sales per square foot and incremental operating leverage gains regarding to its operating costs. GGP's FFO/share in Q3 2013 was $0.29, up 25.8% from $0.23 in Q3 2012. GGP's FFO/share was attributed to a 110bp increase in its occupancy rate, 3.8% increase in its sales per square foot and reduced interest expenses associated with timely refinancing of certain loans that were maturing in FY 2013. GGP also purchased 46 million warrants that are issuable into 27 million shares of common stock, using net share settlement, for approximately $633 million.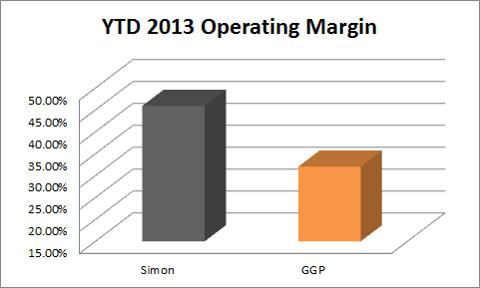 Click to enlarge
Source: Morningstar Direct
Although GGP has had more volatility (beta of 1.4 versus 0.88 for Simon Property), GGP has more potential upside than SPG and investors should take advantage of further dips in the market to average into a position in GGP and or SPG. GGP stakeholders should also consider the potential possibility of replacing GGP with SPG as SPG is within 10% of its 52-week low while GGP is within 10% of its 52-week highs. Furthermore, Simon Property Group's annualized Cash Flow Return on Invested Capital of 11.12% in the first nine months of 2013 is higher than GGP's 8.77% even though Simon Property Group relied on less proceeds from asset sales and distributions from unconsolidated affiliates ($595M) than GGP ($971.6M) during the period.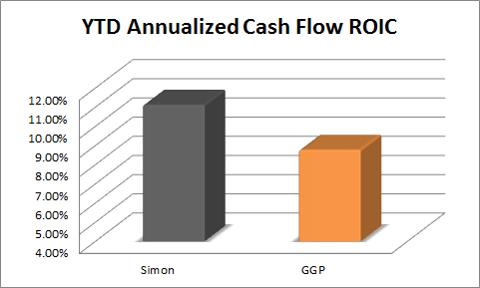 Click to enlarge
Source: Morningstar Direct
In conclusion, I'm glad that Brookfield and GGP has declined Bill Ackman's demands that GGP put itself up for sale. It was not the right time for GGP to sell itself to Simon Property Group and GGP has the potential to gain ground against SPG. Although GGP is making progress in improving its operations, GGP is most certainly not yet at the same level of Simon Property Group with regards to performance. GGP most certainly should not be trading at a higher FFO ratio than SPG and I think Bill Ackman was wrong to think otherwise. That probably explains why he sold nearly half of Pershing Square's stake in GGP during Q3 2013.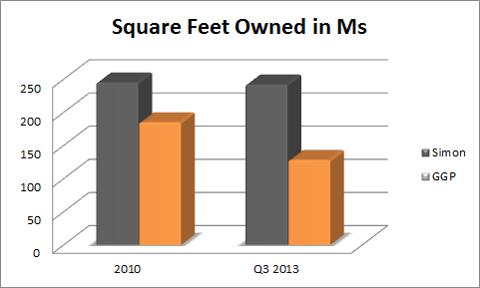 Click to enlarge
Source: Most Recent Quarterly Reports for Simon and GGP
Disclosure: I have no positions in any stocks mentioned, and no plans to initiate any positions within the next 72 hours. I wrote this article myself, and it expresses my own opinions. I am not receiving compensation for it (other than from Seeking Alpha). I have no business relationship with any company whose stock is mentioned in this article.