Stocks have enjoyed a stellar year with the overall market posting a ~25% gain so far in 2013. Unfortunately, most of this rise has been powered by multiple expansion and not by underlying earnings growth. Earnings are currently increasing in the mid-single digits year over year. The Federal Reserve obviously has been a factor in this phenomenon. This probably will not continue in 2014 as the Fed starts its "Taper".
Another factor in this rally is what I call the "Analyst Two Step". From the beginning of every quarter, analysts as well as company management talks down and lowers earnings expectations throughout the quarter. When companies start to report for the quarter, they magically tend to beat the revised estimates. The stocks go higher even if results are lower than what was expected at the beginning of the quarter.
This can be seen in the expectations trajectory of the ten stocks (by market capitalization) since the beginning of this quarter. Of the ten, seven have had their consensus earnings estimates revised down, one has remained stable and two actually have had their estimates raised. Two tech giants among these ten have had their expectations revised higher and are bucking this Analyst Two Step. Both look poised to go higher.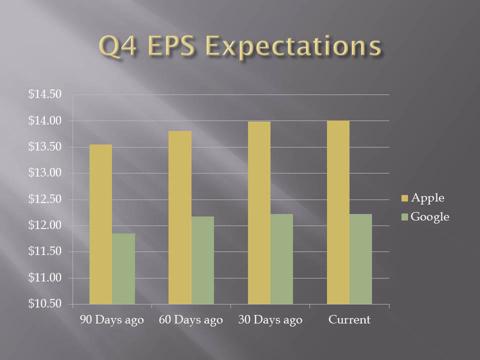 Click to enlarge
Google (NASDAQ:GOOG) has been in the headlines this week as it continues to buy up robotic firms which has invited some comical speculation on CNBC. However, what investors should be focused on is the increasing consensus earnings estimates both for the current quarter and FY2014.
Even after their upgraded estimates, GOOG is still priced at just over 20x forward earnings. However, revenue is on track to increase some 40% this fiscal year and analysts believe more than 15% growth in FY2014 is on tap. Earnings are also projected to grow ~18% year over year in the coming year.
In addition, the company has over $45B in net cash & marketable securities which makes its valuation more palatable. Finally, Google is downright cheap compared with some of the current social media stars that have come public recently such as Facebook (~48x forward earnings) and Twitter (Company is expected to ~breakeven in FY2014).
Apple (NASDAQ:AAPL) is the other stock in the "top ten" who has seen estimates increase over the quarter. In addition to quarterly earnings estimates being revised higher, over the past three months consensus earnings estimates for FY2014 have gone from $44.52 to $47.69 a share.
Apple has had a great run since its lows in late June, but the shares are still cheap at under 9x forward earnings once the company's over ~$140B cash hoard is subtracted from the equation. This is approximately 60% of the current overall market multiple. Talk about growth at a reasonable price.
In addition, the upcoming deal with the largest carrier in the world China Mobile (NYSE:CHL), and its over 700mm subscribers later this week should act as a positive catalyst. The shares provide a 2.3% dividend yield and Apple is returning ~$10B to shareholders a quarter via dividend payouts and stock repurchases.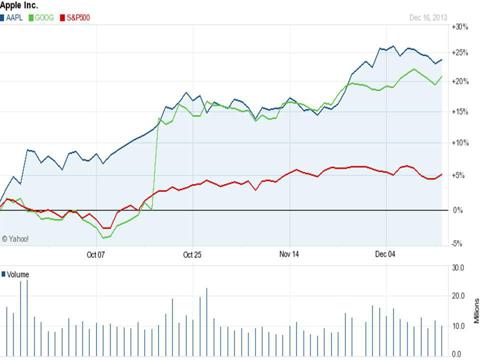 Click to enlarge
These two tech giants have substantially outperformed the market over the past three months as they have avoided the Analyst Two Step. I expect expectations to continue to increase for both companies and for their outperformance to continue into the New Year.
Disclosure: I am long AAPL. I wrote this article myself, and it expresses my own opinions. I am not receiving compensation for it (other than from Seeking Alpha). I have no business relationship with any company whose stock is mentioned in this article.