"Hey, why am I Mr. Pink?" - Steve Buscemi as Mr. Pink, Reservoir Dogs (1992)
A cult film is also referred to as a cult classic. The traits that qualify a film as a cult classic are obscurity, non-box office sensations, a little off the mainstream and most importantly, the attainment of a dedicated fan base.
One great example of a cult classic is the film Reservoir Dogs. An entire generation of Americans can rattle off the title if you stated the quote above. If you don't believe me, go to a bar and ask someone. I'd say most people would know the movie, the actor and the director.
When it comes to stocks, there are several mainstream choices that get all the glory. Historic examples of the last 20 years include Wal-Mart Stores Inc. (NYSE:WMT), The Coca-Cola Company (NYSE:KO), Altria (NYSE:MO), International Business Machines (NYSE:IBM) and Microsoft (NASDAQ:MSFT). In relation to films, these stocks would be the box office sensations.
Just like the movies however, there are several cult stocks as well. These stocks are not one-hit wonders either. They keep getting more and more attention, with interest multiplying like a tech stock in 1999. Investors should caution the investment in a cult stock for several reasons, namely capital safety.
Most Stocks Are Quiet By Nature
In the S&P Mid-Cap 400, there are 400 stocks that as of the end of the third quarter in 2013 ranged from $500 million to $11.35 billion in market capitalization. One of the top 10 constituents currently is Cimarex Energy Co. (NYSE:XEC), a $8.4 billion Denver-based oil and gas E&P company that is up 67.8% over the past 52 weeks on major holdings in the Permian Basin.
Have you ever heard of XEC? Bret Jensen has, in fact he wrote a focus article on Cimarex Energy on February 22, 2013, stating "growth investors should put the company on their radar" while listing several reasons that the stock is "solid buy for growth investors at $69 a share."
Today XEC trades at over $97 per share on over $100 million in average daily money volume (based on the current share price). Investors who took Jensen up on his recommendation at $69 in February are up over 40% in less than 10 months.
In retrospect, Jensen has mentioned several stocks that I've never heard of this year. Chances are that most readers, while knowledgeable investors, haven't heard of them all either, least to mention XEC. Of course most investors aren't familiar with every company in the S&P 500 either, let alone the S&P Mid-Cap 400 that hosts XEC.
It's perfectly okay that most investors have not heard of several billion dollar, publicly-traded U.S. corporations. As a professional financial journalist, like Herb Greenberg and Jim Cramer, Jensen is paid to look into the entire market. These are the people who we trust to seek out and guide us to companies that we have never heard of.
In the past 52 weeks there have been three focus pieces on Seeking Alpha regarding XEC. Three, that's it. The $69 buy recommendation in February from Jensen, a neutral position in June 2013 at $72 and one strong buy recommendation by an author who was long last December at $56 (way to go Michael!).
The Blockbuster Stocks Versus The Cult Stocks
There are plenty of S&P 500 and S&P Mid-Cap 400 companies that don't get investor or media love like Apple Inc. (NASDAQ:AAPL), Facebook, Inc. (NASDAQ:FB) and Google Inc. (NASDAQ:GOOG). These are a few of our current blockbuster companies, akin to the Harry Potter, Spiderman and Iron Man films that have dominated the box office over the past five years.
QUALCOMM Incorporated (NASDAQ:QCOM), eBay Inc. (NASDAQ:EBAY) and Cisco Systems, Inc. (NASDAQ:CSCO), as darlings of the tech-boom, used to get blockbuster attention but have waned over the last decade. These stocks are what Jurassic Park, Forrest Gump, Titanic and Avitar were for the box office. They were huge hits that were all sensations for a time period and will be considered great classics for some time to come.
So what about the cult stocks? Unlike the excellent, yet virtually unheard of and barely mentioned Cimarex Energy, there are several smaller, non-blockbuster stocks that investors are currently going bananas for. One great example is Tesla Motors, Inc. (NASDAQ:TSLA).
In the past three months, Seeking Alpha has published 101 focus articles on Tesla. That is over one article per day. The company is valued at $18 billion and investors trade nearly 12 million shares per day on average. Regarding heavy media coverage and retail investor interest, TSLA easily qualifies as a cult stock.
Caution To Investors In Cult Stocks - Wild Price Gyrations
To compare stocks of quiet corporations to those that could be labeled cult stocks would require an analysis of similar companies in identical sectors and very similar industries. When this research is done with Tesla, it is clear that the company experiences heightened volatility leading to violent swings on the upside as well as the downside.
In viewing the 6-month performance chart between Tesla and Toyota Motor Corporation (NYSE:TM), General Motors Company (NYSE:GM) and Ford Motor Co. (NYSE:F), one may easily note the erratic moves TSLA has made while the other auto peers were fairly stable.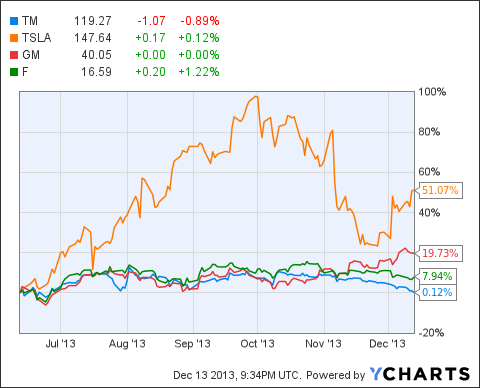 On November 1, 2013, I wrote an article suggesting that income investors may benefit from investing in healthy, feel-good companies that make a positive difference in society. I also warned investors about Tesla Motors however, stating:
S&P rates TSLA a sell and... (as) overvalued. With over-hyped players in the field... the income investor must be careful when looking to invest in green-oriented businesses.
Investors who bought Tesla Motors on the next trading day lost over 30% in a matter of days. While the stock has recovered to a current loss just over 15%, this short-term time frame outlines the heightened risk of cult stocks.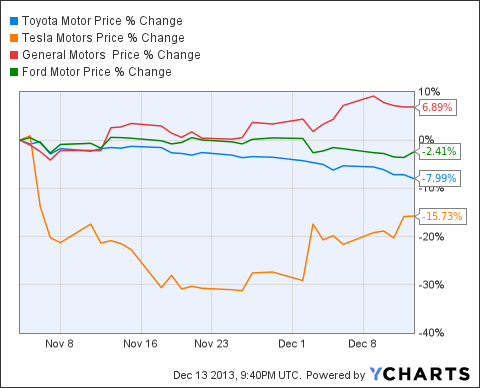 As noted by Tesla Motors, cult stocks swing wildly versus their peers. The abnormally high media coverage and investor interest also translates into more work needed to make a wise investment decision. As such, the intelligent investor looking at cult stocks must sift through an abundance of research to make qualified investment decisions.
In the real estate investment trust (REIT) sector, there is another company that is a great example of a cult stock. Realty Income Corp. (NYSE:O) is a $7.3 billion net-lease retail REIT and is complimented by 47 Seeking Alpha focus articles in the past year.
Realty Income is well-known for offering monthly dividends, which have grown each year for nearly 20 years. The company has a diversified base of tenants and is also well-diversified across the entire nation. Historically speaking, Realty Income has been well-managed and has been seen as the leader in the net-lease retail space.
This year O swung for the fences in May but was left only to disappoint and underperform the domestic REIT market, as measured by the Vanguard REIT Index ETF (NYSEARCA:VNQ), over the past year. In my analysis at the start of the week, I wrote that the normal fair value of O was $38.23 as of December 6, 2013. Currently the company sits at $38.25 and yields 5.71%.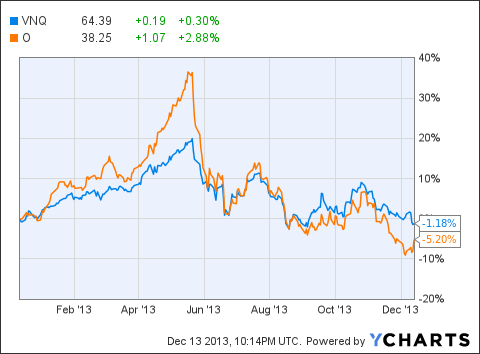 Realty Income has likely earned its abnormally strong following through excellent historical performance and its leadership position in the net-lease retail space. Please review The Monthly Dividend Company: Q4 2013 Valuation Update to read my full analysis.
Conclusion
Historically speaking the long-term returns on cult stocks can be excellent, however additional research is required to buy and maintain positions due to exuberant investor interest. As extra caution is warranted, investors must continue to remain cognizant of fundamentals and valuation to make intelligent investment decisions.
Disclosure: I have no positions in any stocks mentioned, and no plans to initiate any positions within the next 72 hours. I wrote this article myself, and it expresses my own opinions. I am not receiving compensation for it (other than from Seeking Alpha). I have no business relationship with any company whose stock is mentioned in this article.
Additional disclosure: The term cult stock refers to a company that is smaller in size yet receives an abnormal amount of attention in the media and/or with retail investors. As such, the relationship is a take on "cult classics" term that the film industry uses and as such, the word "cult" does not imply, in any function, a relation to any religious sect or related beliefs.