Let's forget everything having to do with Tesla's (NASDAQ:TSLA) valuation and its current stock price. This isn't going to be yet another article prattling on and on about whether Tesla is over or under-valued. Everyone's got their opinion on that, as anyone following the stock on this site knows.
The purpose here is going to be looking at Tesla from a "birds eye" perspective - what will the next two years be like? Five years? Ten? Regardless of P/E, is this going to be a good long-term vehicle (get it?) for investing your money? I contend that Tesla continues to remain an outstanding buy for the long term.
Two more signs of recent activity with Tesla point to the fact that it is going to be taking a page out of Apple's playbook. The first is Tesla's expansion into China, and the second is the coming release of the Model E and the new, sexy looking Model X.
Everything is starting to line up for Tesla in China, as they start to take orders in one of the largest car markets in the world. I recently wrote about how important it is for Apple (NASDAQ:AAPL) to push its way into China with the luxurious iPhone 5S - now, Tesla is offering the same type of luxury with vehicles to the same populace. The Chinese market wants to use their high end, flashy luxury phones while driving their high end, luxury electric vehicles. A bit of hyperbole, but basically the truth.
So, Tesla is pulling an Apple in two facets - it's starting to infiltrate the Chinese market, and it's planning on introducing an economy model in the next year or two. Tesla is likely to have success with both of these, as Apple really isn't finding too much success from their "economy" phone.
What does infiltration into China mean for Tesla? Analysts are all over the place, with some of the bullish ones suggesting that Tesla could be constantly selling 10,000+ cars in China yearly. In addition to branching out into China, it's a convenient time to start to tout the Models E and X, due out in 2015 and 2014 respectively, according to the company.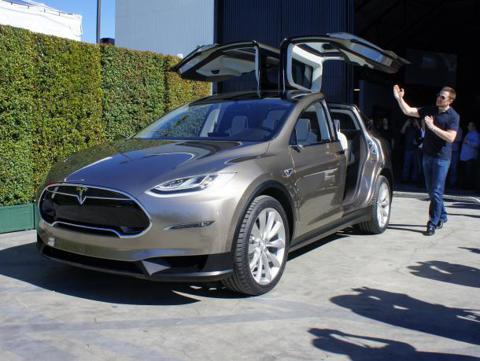 Click to enlarge
(Click to enlarge)
MotorTrend.com reports on the Model X:
Consumers have just warmed up to the Tesla Model S, but the automaker is prepping its next wave of T-badged electric cars, including the Model X crossover, and the entry-level Model E. It's been a while since we first previewed and rode in the Model X at an event early last year, but fast forward to present day, and Tesla chief designer Franz von Holzhausen told German car magazine, Auto Bild, that the Model X is nearly ready. According to the report, all that's left to do is to put subtle finishing touches on the crossover. Production of the Model X expected to start in late 2014, almost a year longer than originally planned. As previously reported, Tesla delayed Model X production to focus on and keep up with the influx of Model S orders. The prototype we checked out last year featured plenty of details that'll undoubtedly change, such as the side mirror-replacing video cameras and perhaps the falcon-wing doors. However, we expect to see several Model S cues such as its magnificent 17-inch hi-res, multi-touch display. Also from the Model S will be the under-floor battery packs (60 or 85 kW-hrs). The Model S is one of the quickest American four-doors ever built, as proven by the sport-tuned Model S with the 85 kW-hrs battery that accelerated from 0-60 mph in 4.2 seconds in MT testing.
The Model X will quench the thirst of the SUV enthusiasts, and the mass market Model E - which is seemingly supposed to cost half the price of the Model S - is also due out at the 2015 Detroit Auto Show.
It is my prediction that by that point, the Chinese market will just be getting saturated with the Model S, and the U.S. market could be super-saturated with Model S and ready and waiting for the "economy" version of Tesla's luxury vehicle. The timing could work out brilliantly.
If you absolutely insist on tickling your short-term fancy with outlook on Tesla, I wrote in my last article that I think they're going to beat guidance for the upcoming quarter. I went back and listened, re-listened, and then re-read the transcript to Elon Musk's recent interview on CNBC.com - available at the link here.
ANCHOR: He's made no comments regarding the NHTSA investigation. Remember, the Model-S, at current production, at last report, of 550 vehicles per week, and said a few minutes ago that the production rate coming in at about 600. Here's what he had to say.

MUSK: So we're at around 600 a week, and our projections were about 400 a week. So the main supplier for the battery cells was able to ramp up by 50%, but it's going to take them a little longer to improve production beyond that.
As I pointed out in my last article, 600 a week, Tesla would be exceeding the guidance that they had offered by roughly 10%.
But, again, this is a long-term oriented article.
Aside from China, and the upcoming models, why would I continue to be long-term bullish on Tesla? Let's look at things from a macro perspective, which I haven't really done with Tesla yet - and it becomes very simple.
Tesla has delivered on every single goal they've set out for themselves so far, and have almost delivered on every extremely forward looking goal the market has set out for them. In the private sector, to make the progress that Tesla has made over the last three years would be excruciatingly fast - lightning fast, almost to the point of unheard of. What we forget is that the public markets demand results, and they demand them now - it's not a forum for companies that require patience to show results. In the face of that, Tesla has delivered - moving at breakneck speeds, and they arguably deserve their extremely aggressive valuation.
But, back to the bird's eye perspective on things. It's becoming clearer and clearer that Tesla is a company poised for long-term success. The bigger they get, the more equity the company has, the more of a juggernaut they become. Cash is easily accessible, their product is a slam dunk that's in global demand, and the company's CEO has got the brains and the moxie to deliver - as long as he stays committed to the company.
The Chinese markets and Tesla's new models are going to make the company's long-term prospects come into focus a lot clearer over the coming two years.
Right now, Tesla looks like one of the most appealing long-term investments available. Forget today's valuation - because at $80 or $180, there's going to be money to make in the next five to ten years with Tesla.
Best of luck to all investors.
Disclosure: I have no positions in any stocks mentioned, and no plans to initiate any positions within the next 72 hours. I wrote this article myself, and it expresses my own opinions. I am not receiving compensation for it (other than from Seeking Alpha). I have no business relationship with any company whose stock is mentioned in this article.