Even as another batch of winter storms early in the week dampened prospects for President's Day sales, pent-up demand drove shoppers back to the stores this past week. Sales trends continue to improve, aided by easy comparisons from a year ago and a consumer who is being somewhat less cautious with their spending.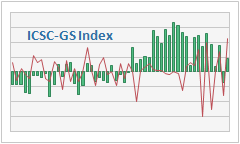 The International Council of Shopping Centers (ICSC) reported that chain store sales rebounded 2.3% from the prior week and rose 0.9% from the year-ago period, following a 0.7% YoY decline last week leading up to Valentine's and President's Day,
"Sales posted a solid post-storm catch-up after last weeks severe blizzard in the East and a snowstorm in the South," said Michael Niemira, ICSC director of research and chief economist. "Sales volatility has been amplified by the impact of snowfall on sales these past two weeks," Niemira added. ICSC Research expects comparable store sales to increase about 2% in February after a 3% gain in January.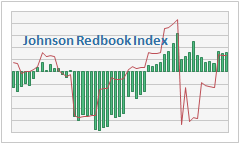 Redbook Research reported that same-store sales rose 1.9% for the week ending Feb 20th following a 1.8% gain the prior week, while month-over-month sales increased 1.6% relative to January.
While President's Day sales at the beginning of the week offered retailers additional opportunities to clear remaining winter inventories, they "did not appear to contribute much additional sales momentum." according to Redbook analyst Catlin Levis.
She added:
Most schools, banks and offices were closed on Monday but winter storms in many parts of the country, particularly along the Northeast and parts of the Midwest disrupted business and kept customers away from stores. Diversified retailers saw firm business in consumer basics such as food and household supplies.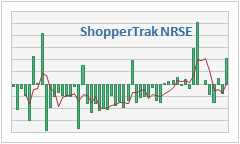 ShopperTrak reported that sales at U.S retailers increased 6.2% for the week ending Feb 20th compared to a year ago, while sales rose 4.4% on a week-over-week basis.
The company said sales reached a seasonal peak as consumers dug out from snowstorms to hit the stores and spend, and President's and Valentine's Day spending spurred shoppers early in the week.
Bill Martin, co-founder of ShopperTrak, said:
The two holidays added to the fact that the majority of the folks impacted by snowstorms were finally able to leave their homes created some unexpectedly strong spending levels last week. Looking ahead, we expect GAFO retail sales will return to slower, more seasonal levels until the annual uptick seen around Easter in early April.
This week brings a flurry of 4th quarter and year-end earnings reports from major retailers, and so far results have been encouraging. Most retailers were able to limit markdowns on better inventory management, leading to improving margins, and cost-cutting measures helped to boost earnings. However, we are still cautious as top-line growth will need to pick up in order to sustain bottom-line momentum.
Disclosure: No Positions