The latest National Association of Home Builders (NAHB)/Wells Fargo Housing Market Index (HMI) surged to 58 from 54. The NAHB pointed to pent-up housing demand from the government shutdown as a primary driver for the increase. This suggests that whatever impact that shutdown had on housing market activity has mostly passed through the system. This is a positive sign and hopefully another encouraging indicator of the economy's overall resilience.
All three components of the HMI also rose sharply, maintaining them each at or near post-recession highs. As I discussed last month, these components are highly correlated to each other and singly do not provide much additional information. Instead, it would be interesting if any of the components ever deviates from the underlying trend. I also pointed out that the HMI has strong trending features. So, today's increase bodes well for 2014 and my expectation that the current churn in homebuilder stocks represents a consolidation phase before a breakout and fresh rally.
The chart below shows the current consolidation in iShares US Home Construction (NYSEARCA:ITB).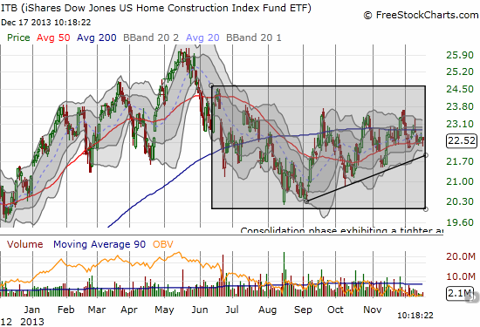 Click to enlarge
(Click to enlarge)
ITB's consolidation phase may be nearing a breakout point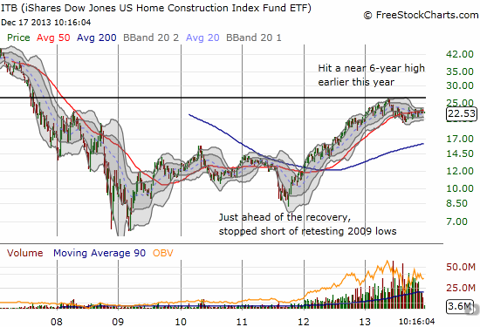 Click to enlarge
(Click to enlarge)
A rapid turn of events for ITB: from a near retest of major lows to multi-year highs
Source: FreeStockCharts.com
Of course, the caution is that if ITB breaks down instead of up, it could precede a large sell-off. Such a downturn is not my expectation unless the economy runs into a major shock next year.
Be careful out there!
Disclosure: I have no positions in any stocks mentioned, and no plans to initiate any positions within the next 72 hours. I wrote this article myself, and it expresses my own opinions. I am not receiving compensation for it (other than from Seeking Alpha). I have no business relationship with any company whose stock is mentioned in this article. I am long several housing-related stocks including TPH.