Citrix Systems' (NASDAQ:CTXS) third-quarter results were consistent with management's Oct. 9 revenue warning; total revenue increased 11% to $713M. As a result of the disappointing quarter, the share price has languished at about $58 since the last report. With that factored into my valuation, I'm maintaining my bullish disposition toward Citrix and reiterating my intrinsic value of $69 per share.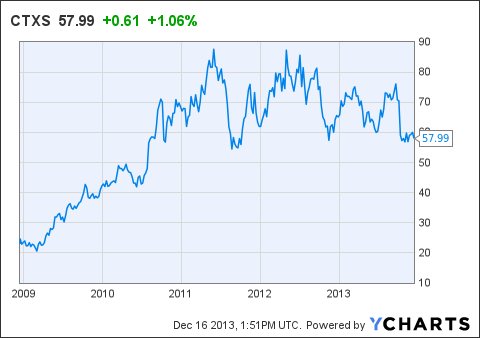 While in my experience doing this is uncommon, I have a preference for estimating the wealth creation of the company during the year. For calendar 2013, I estimate that Citrix has an equity charge of $1.57 per share. Management is expected to create wealth for investors during this calendar year, but the increase is about 3% of the current share price.
The relatively low level of wealth creation stems from weakness in the sales of Citrix's two key product offerings, XenDesktop and XenApp. But sales of NetScaler and XenMobile are picking up. Microsoft Corporation (NASDAQ:MSFT) and VMware, Inc. (NYSE:VMW) should continue to adversely impact sales of XenDesktop and XenApp in calendar 2014, but I expect continued uptake of the NetScaler and XenMobile solutions.
Fundamentals
Citrix has a core objective of allowing the individual to be productive on any device, any network, and from any location. To reach that objective, the company provides tools that enable IT, and networking solutions that enhance the delivery. So, think of the key areas as desktop, app and device, networking, collaboration, and CloudPlatform.
XenMobile enables and simplifies the utilization of mobile devices for increasingly complex work-related endeavors while maintaining the security of the devices, data, and applications. The server side mobile device manager is a recent addition to the Citrix product portfolio. XenMobile posses the potential to be a future driver of total revenue enlargement; it could be a $600M to $1B or more opportunity. Additionally, Gartner positioned Citrix in the Mobile Device Management "Leaders" quadrant.
NetScaler decomposes into four offerings: ADC, Gateway, Branch Repeater, and App Firewall. ADC enhances application performance and is recommended by Cisco. Gateway provides administrators granular application- and data-level control. I think of NetScaler as a growth area.
XenApp and XenDesktop are the product offerings with which the reader may be more familiar. These offerings deliver virtual apps and desktops to users. This is an area of relative weakness, according to management. So, growth is slower than it was in the recent past.
In terms of competition, F5 Networks, Inc. (NASDAQ:FFIV) offers ADC. VMware provides solutions for desktop and application virtualization. IBM provides MDM solutions. Microsoft is also a key competitor.
Citrix's profitability has deteriorated recently. The deterioration is because of an increase in cost of revenues and research and development expenditure. This a trend that could continue. But Citrix can improve profitability by decreasing sales, general and administrative expenditures; we could see an operating margin close to 40% of revenues.
Valuation
For now, I'm continuing to use the historic multiplier model valuations on Citrix. After re-examining the valuation, I am maintaining my intrinsic value estimate of $69 per share, which is 19% above the current share price. I may change models if I deem that another model is more appropriate. That said, Citrix is undervalued and in my accumulation zone.
The share price is in a bear market of primary- and intermediate-term degree. This has helped the share price enter my buy zone, which is below $61 per share. With the bear market having begun in 2011, I expect Citrix's next primary degree bull market to begin at any moment. Also, the tactical perspective of the situation looks more favorable than it did a few months ago.
Additionally, there is scope for a prolonged bear market, but I'm not sure of the catalyst. It may be higher interest rates. Or it could be competition. Such a bear market would mean that the share price would deviate from the intrinsic value for longer than I would like, or I may have to decrease the intrinsic value estimate.
I consider VMware and F5 Networks to be comparable assets. Using the price/book value metric, Citrix is fairly valued when incorporating profitability and risk into the analysis. Relative to its own value, Citrix is undervalued, but relative to comparable assets, Citrix is fairly valued.
Disclosure: I have no positions in any stocks mentioned, and no plans to initiate any positions within the next 72 hours. I wrote this article myself, and it expresses my own opinions. I am not receiving compensation for it (other than from Seeking Alpha). I have no business relationship with any company whose stock is mentioned in this article.