If we look at what happened to Nova Measuring Instruments Ltd. (Nasdaq:NVMI; TASE:NVMI), a small Israeli company in the chip equipment sector, in the past year, we can understand why analyst opinions are not united regarding what will happen in the sector over the upcoming year. We can also understand why there is so much restlessness in the share price of the industry's small companies.
At this time last year, Nova shares traded at $0.34, that is to say, at a market cap of only $7 million. Two weeks ago, it succeeded in raising a net $15 million, which will apparently rise to $17 million with the underwriters' options. At the beginning of January this year, Nova's market value hit a record of $130 million.
I am sure that a year ago, Nova CEO Gabi Seligsohn did not even dream about such an amazing turnaround in less than a year. Chip industry elders certainly don't remember a move so fast and sharp from a deep trough to prosperity.
Nova ended 2009 with sales of nearly $40 million, and guided toward 2010 sales of around $60 million, with net profit in the wide range of 10-14%.
After the offering, Nova has $36 million in cash, with no debt, and its value is around $120 million.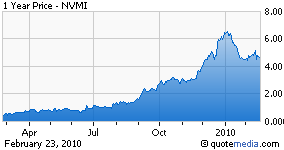 Last week, the share experienced a sharp sell-off after its results, as it turns out investors did not love management's conservatism in its guidance. Even after analysts persistently pressed during a conference call in an attempt to find out the basis for such conservatism, in light of $17.5 million in new orders that were placed during the fourth quarter, the CEO refused to confirm that first quarter revenue will be much greater than that of the fourth quarter of 2009. (Conference Call Transcript)
In light of what happened at the beginning of 2009, I understand the conservatism of Nova's management, primarily in view of Seligsohn's explanations that visibility is still somewhat unclear regarding the second half of the year.
On the other hand, it is known in the market that tremendous budgets for building new facilities are being discussed precisely now such as the new Micron-Intel facility in Singapore, and a fifth factory for Toshiba-SanDisk Corporation (Nasdaq:SNDK) in Japan.
In addition, many chip facilities are increasing investment at this time with the goal of improving productivity by reducing geometries of production, and in this field, Nova, with its metrology systems, has much to offer, primarily for TSM in Taiwan and for memory producers.
Therefore, I am nearly certain that Seligsohn's conservatism at the post-results call will quickly turn into great optimism, for the second half of the year as well.
Orbotech in China?
Chinese consumers are only at the beginning of the process of replacing old and heavy CRT television sets with LCDs. Analysts expect sales of around 37 million units there, out of 171 million expected sales worldwide, and that by next year already it will become the world's largest market. We were given a hint about plans by Orbotech Ltd. (Nasdaq: ORBK) in that market last week, when US company Ultra Clean Holdings (Nasdaq: UCTT) reported a deal with Orbotech.
Under the agreement, Ultra Clean will significantly expand its contacts with Orbotech, and will provide assembly services in one of its two Shanghai facilities for Orbotech's inspection systems.
It turns out that Ultra Clean was the assembly contractor for the inspection systems of Photon Dynamics, before the latter was bought by Orbotech. After checking for about a year, Orbotech decided to move, through Ultra Clean, part of its assembly to the China facility. This may have been partly due to costs, but is also in line with the strategy that says it pays to be near the biggest LCD market in the world.
Disclosure: Author holds shares as part of his portfolio tracked by "Globes".
Published by Globes [online], Israel business news - www.globes-online.com - on November 17, 2009; Reprinted on Seeking Alpha with permission
© Copyright of Globes Publisher Itonut (1983) Ltd. 2009