A series of events has led to the share price of Turquoise Hill (NYSE:TRQ) getting hammered, even though it sits on one of the largest, mostly undeveloped, gold and copper mines in the world.
Much of this was triggered by the government of Mongolia, which continues to raise the stakes in the game by adding conditions that weren't part of the original agreement regarding the project.
Mongolian lawmakers have attempted to make the adjustments because of the rising costs associated with Oyu Tolgoi, which it believes may have been done intentionally by the miner, as higher costs would result in lower-than-expected payments to the government as production at the mine ramps up.
Negotiations, which are reported to be advancing, continue on.
source: StockCharts.com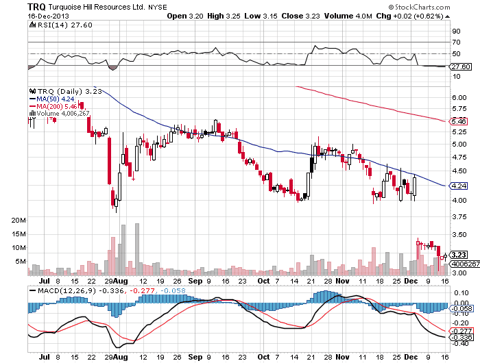 Development Costs
At issue is the approximate $2 billion in overrun costs in the first phase of the project, which Turquoise Hill must get paid before the Mongolian gets its share of the revenue.
With the costs of the expansion of the underground mine projected to run over $5 billion, the Mongolian government wanted approval from parliament for the financing of the next phase of the project.
Mongolia is demanding assurances from Turquoise that the overruns won't happen again, but that's really an impossible promise to make in light of the time it takes to build out a mine, and the rise in price in materials and other associated costs which occur during the construction process.
To make a promise that can't be met at this stage would be worse than not making a promise at all, as a failure to meet Mongolia's terms could bring the project to a complete halt for an extended period of time. This is assuredly why it is taking time to work out a deal that isn't setting up Turquoise and Rio Tinto (NYSE:RIO), which owns over 50% of Turquoise, for failure.
Expectations are the issues should be resolved in the early part of 2014.
Rights Offering
Turquoise Hill recently initiated a rights offering, as it needs to pay back what it owes to Rio Tinto, including $1.8 billion in interim funding and a $600 million bridge funding facility.
The miner is looking to raise $2.4 billion. If it has any capital left over after paying back the loans, it will use that toward expanding the project.
Pricing of the shares are $2.40; if any shares are left over, they will be acquired by Rio Tinto.
Extended Financing Commitments
With the expansion delay, banks that were financing the mine agreed with Rio Tinto to extend its commitments to March 31, 2014. That buys some time for the two companies to work the problems out with the Mongolian government, and also may point to the probability it should be done in the first quarter of 2014.
With a feasibility study still on pace concerning the underground expansion of Oyu Tolgoi in the first half of 2014, it also seems to reinforce the theory that matters should be resolved by that time.
Assuming they are, it will give a big boost to the share price of Turquoise Hill.
Production at the mine is projected to bring in 150,000 to 175,000 tons of copper in concentrates, and 700,000 to 750,000 ounces of gold in concentrates in 2014.
Over the life of the mine, it is estimated it will produce more than 1.2 billion pounds of copper, 650,000 ounces of gold, and 3 million ounces of silver on an annual basis. Even with the current challenges, this is why I'm so bullish on Turquoise Hill, which owns two-thirds of the project.
Rio Tinto's Commitment
Since Rio Tinto is counting on Oyu Tolgoi for its primary future growth, it's doubtful it will in any way let this project go unless it is taken away from it by the Mongolian government.
Rio has to diversify its mineral base in order to produce more consistent results in face of an ongoing difficult iron ore environment.
That suggests there is no way Oyu Tolgoi will slip out of its hands unless the project is nationalized.
Government Takeover?
About the only real long-term risk to Turquoise Hill is a government takeover of the mine. A secondary risk is a successful move by the government to secure a better deal with Turquoise than it already has. That could result in a lower percentage of revenue and earnings for the company.
While both of these are outside possibilities, it is doubtful either of them would happen. I think the more likely scenario is the Mongolian government will secure some limited agreement on project costs, although one that would give Turquoise Hill some wiggle room in case of unforeseeable circumstances that could add to the costs, such has already happened.
The fact that Turquoise Hill surpassed projected first-phase costs by about $2 billion, shows something unexpected happened, or those working on the estimate didn't do an accurate survey of the overall costs. Either way, that is what has brought the company to where it is at today.
Conclusion
Unless there is some very surprising decision by the Mongolian government, I don't think Turquoise Hill is in danger of losing this project. While it remains frustrating to investors and shareholders, I believe this will ultimately push Turquoise Hill into world-class status in the mining industry, and make a lot of money for shareholders.
I've been bullish on Turquoise Hill for some time, and remain so.
With Rio Tinto securing an extension from banks financing the second phase of the project through March 31, 2014, it appears this points to the high probability the company believes an agreement with the disputed points with the government of Mongolia are close to being resolved.
Finally, it is costing more to push the project forward, so in that case Turquoise Hill will take longer to make a great profit because of the higher production costs.
Once production is in full swing most people and institutions will forget about this as the huge production numbers come in, which will drive the share price of Turquoise Hill up.
Disclosure: I am long TRQ. I wrote this article myself, and it expresses my own opinions. I am not receiving compensation for it (other than from Seeking Alpha). I have no business relationship with any company whose stock is mentioned in this article.