Google Inc. (NASDAQ:GOOG) is a global technology leader focused on improving the ways people connect with information. Today, anyone who uses the internet visits Google at least once per day. Apart from that, ever since introducing its Android operating software that runs on most smartphones and acquiring the video streaming service YouTube, this digital company is poised for success. All of this success has resulted in Google's stock value increasing by $350 in a year! That reflects a more than 50% increase since the starting value of $700 last December!
Google has benefited from the shift towards more and more online advertising transactions. This is due to the fact that the digital economy is growing and we usually underestimate its potential. This has contributed to Google's rapid growth and resulted in increased revenues. It is expected that the trend will continue even though Google has seen its revenue growth rate decline. This could be explained by the increasing competition and Google shifting its product mix as it experiments with new products, businesses, and technologies. Further pressure is also being built due to the increasing variety of online advertising platforms. With the knowledge of these events let us now look at what strategies Google is considering to sustain or increase its revenue edge.
Revenue
Increasing demand brought Google more sales as revenues increased 12% from the figure of a year ago to nearly $15 billion.
Google operates in two segments: Google and Motorola.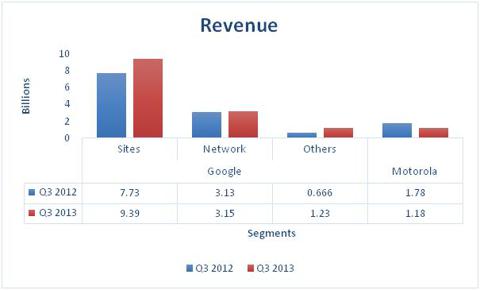 The Google segment, that makes up 92% of total revenues rose over 19% this quarter on a yearly basis. The majority of this segment's sales (68%) came from Google's core search engine advertising. Google Sites' revenue jumped 22% to $9.4 billion this quarter on a yearly basis. The advertising policy change that Google implemented this year negatively impacted its network revenue but this only a short term change. Hence, the network revenue was flat year-over-year at $3.1 billion in the latest quarter and was down 1% quarter-over-quarter.
Finally, Google's other revenues that consist of selling apps and content through the Play Store grew by 85% year-over-year to $1.2 billion and was up 18% quarter-over-quarter. Motorola revenues fell by 33% to 8% of consolidated revenue from 13% in 2012 this quarter.

Source: Presentation
Before we move on to how Google is going to sustain its revenue let us examine the company's earnings that rose in both GAAP and Non-GAAP terms. Non-GAAP EPS was $10.74 during the third quarter of 2013 compared to $8.87 in the third quarter of 2012. GAAP EPS increased by 34% to $8.75in the third quarter of 2013 compared to $6.53 in the third quarter of 2012.
How can Google Sustain its Future Revenues?

Source: Presentation
We will now examine the future of Google's revenue beginning with the Motorola acquisition that has transformed the cellular company and its quality. Google began by disposing of Motorola's TV Top Box business that cost nearly $2.35 billion last year. The potential Motorola holds will add further revenues to Google in the near future.
Even though sales were falling on a yearly basis this quarter, the release of Motorola's first product after the acquisition 3 months ago, the Moto X, will help to build Google's portfolio as it carries the solid backing of Google's Android software and the expertise employed by the company. Currently, Google is working on building marketing and distribution strategies for Motorola and as soon as Motorola is fully operational and up to Google's standards we can expect Motorola to gain a momentum in sales.
Chromecast Offers Google an Integration advantage that was Previously held by Apple
Google is applying an integration approach along with making the digital experience as portable and affordable as possible. The widely successful Chromecast is an integration tool that allows users to stream media between portable devices and televisions. Also, Google is putting more importance on investing in emerging non-ad businesses and is also accelerating new business ventures such as hardware, digital content and enterprise. The company recently introduced its lightweight HP Chromebook 11" priced at $280 that received a favourable response and has proven to be a success. Its success continues to grow as Google updates it with new features every month.
Chromebooks are now available in over 8,000 locations around the world and are being used in more than 20% of school districts in the United States. Google is rolling out its unified Google experience in more than 750 Best Buy stores to showcase Chromebooks, Chromecast and its newest Nexus devices under one Google branded design. The strategy is similar to Apple's marketing strategies which include its easily recognizable logo.
In terms of revenue generated from its mobile operations, new features continue to boost ads. Almost 40% of YouTube's traffic now comes from mobile devices which is an increase from 6% two years ago. In August, Google updated the YouTube app for Android and iOS and it now allow users to leave a video playing at the bottom of screen while they explore other content. This further increased the popularity of YouTube as it continues to be the preferred choice for sharing video content worldwide.
Entertainment clients are increasing their online presence at a rapid pace. Spending by CPG clients on displays on YouTube's online interface has grown over 75% over the past two years. For example, the global YouTube campaign for Dove's Camera Shy ran in more than 20 countries and delivered over 62 million views for Unilever. This successful strategy is driving more and more businesses to use YouTube as their advertising platform. This has been very effective because Google provides ads that are similar to user interest and increases the probability of users coming into contact with these ads.
Video ads, which include TrueView now form a significant part of YouTube and brand advertising and they're growing 75% year-over-year. YouTube offers brands engaged audiences, a wide-reaching audience and captivating content. This is being proven as brands love their engagement with YouTube.
Paid Click Costs Have Been Falling
Paid clicks are expected to continue growing too. The growth was strong this quarter, up 26% year-over-year and 8% quarter-over-quarter. The aggregate Cost-Per-Click has gone down by 8% year-over-year and 4% quarter-over-quarter. Add to this the increasing mobile usage which is driving higher online conversions and we have a successful transformation in progress.
According to recently conducted research, mobile ads are driving 16% more conversions than was initially thought. As a result, Google is now investing more to drive more sales through mobile computing. On a side note, mobile advertising is also driving more phone calls. On average there are more than 40 million calls driven by Google Ads every month. This is twice as much as it was a year ago.
Conclusion
These increasing trends continue to deliver strong prospects for Google. E-commerce and financial services like Google Wallet add to Google's goal of providing complete internet solutions to the world. Despite making significant investments, the free cash flow was $2.8 billion this quarter. Strong operating results and cash to fund strategic growth puts more faith in Google's ability to make use of present opportunities and increase share value while becoming more profitable in the future.
Disclosure: I have no positions in any stocks mentioned, and no plans to initiate any positions within the next 72 hours. I wrote this article myself, and it expresses my own opinions. I am not receiving compensation for it (other than from Seeking Alpha). I have no business relationship with any company whose stock is mentioned in this article.