The purpose of this article is to discuss why eBay (NASDAQ:EBAY) appears as a good investment option right now. To do so, I will review the company's past performance and fundamentals, and analyze how they fit within the industry to determine where the stock might be headed from here.
First, a little about the company. eBay is a global technology company that enables commerce through three main segments: Marketplaces (52% of total revenue), Payments (40% of total revenue), and Enterprise (8% of total revenue). The company provides online platforms, tools and services to help individuals and merchants around the globe engage in online commerce and payment transactions. eBay also generates revenue through marketing services, classifieds, and advertising.
Let's start the analysis by examining eBay's performance over the past three years.
eBay: Three-Year Graph

Source: Google Finance.
As can be seen in the graph, eBay had a remarkable year in 2012 (71.2% gain). However, the stock has had a rather disappointing 2013 (1.7% loss YTD). The following table helps visualize some of the drivers behind EBAY's performance.
eBay: Three-Year EPS and Revenue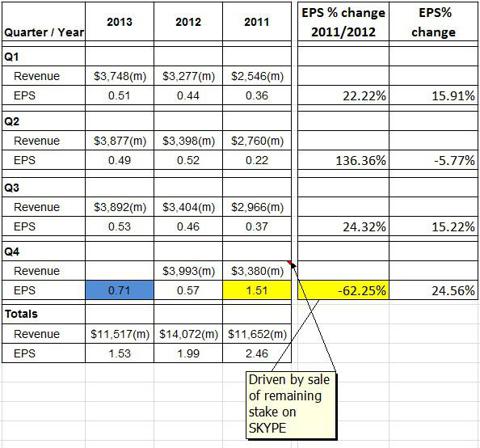 Source: Nasdaq.com.
In 2012, eBay experienced a 61% increase in earnings over the previous year (Q4 excluded due to extraordinary event, Skype sale). This was the main driver for the 71.2% price gain in 2012. From an earnings per share (EPS) perspective, one can say that the stock got 10% ahead of itself during 2012.
For 2013, the story is different. Assuming that Q4 earnings will come close to the Nasdaq consensus EPS of $0.71, eBay would have gained 12.5% in earnings for 2013 over the previous year. Also, keep in mind that eBay is about 2% down YTD. The previous analysis leads me to the following conclusion: eBay got 10% ahead of itself during 2012, and it will recover about 12.5% by the end of 2013. This correction leaves eBay undervalued by 2.5%. Finally, when taking into account the 2% that the stock has lost throughout 2013, eBay appears to be approximately 4.5% undervalued.
Last quarter, eBay reported an increase in revenue of 14%. Also, PayPal and eBay Marketplace saw double-digit growth in new users. Furthermore, eBay continues to lead in mobile, one of the fastest growing segments in the industry. These results lead me to believe that the growth outlook for eBay is positive. Moreover, technology continues to change how consumers shop and online shopping keeps gaining traction as a result. I believe eBay has the scale and experience, and the platforms and technology, to continue to grow at a good pace.
Based on the previous results and growth prospects, I will discuss why eBay appears to be undervalued based on its price/earnings ratio (P/E ratio). eBay's current P/E ratio is 24.55. In general, a high P/E suggests that investors are expecting higher earnings growth in the future compared to companies with a lower P/E. However, the P/E ratio is not a meaningful measure on its own. It is usually more useful to compare a P/E ratio against companies in the same industry and the industry itself. The following graph highlights the P/E ratios of well-known technology companies as well as an industry average.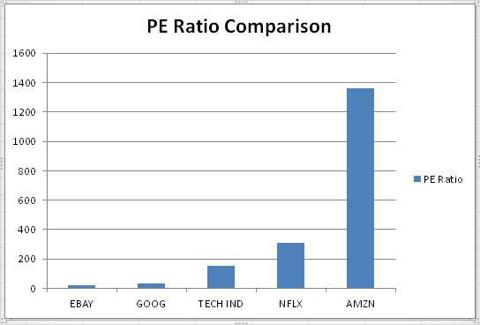 Source: Nasdaq.com.
As the graph highlights, eBay's P/E ratio is below the industry average and far below from Amazon's (NASDAQ:AMZN), one of its top competitors. So, has AMZN grown faster than eBay? Yes. Does it have higher growth prospects? Perhaps. But is AMZN really going to grow 55 times faster than eBay? I don't think so. In my opinion, the spread is caused because AMZN is overvalued and eBay is undervalued. Thus, this is another reason why I recommend a long position on eBay at its current price.
Finally, it is important to keep in mind that the first part of this analysis could be undermined if eBay failed to meet earnings estimates for Q4 2013. However, I believe such a scenario is unlikely. The latest retail sales report offered good news for eBay in more than one way. First, it showed that the economy is gaining momentum, as highlighted by the overall sales growth. Second, it indicated that online sales continue to grow steadily. Finally, it also pointed out that the American consumer remains frugal, but overall is more comfortable with spending.
Disclosure: I have no positions in any stocks mentioned, but may initiate a long position in EBAY over the next 72 hours. I wrote this article myself, and it expresses my own opinions. I am not receiving compensation for it (other than from Seeking Alpha). I have no business relationship with any company whose stock is mentioned in this article.