Adobe Systems (NASDAQ:ADBE) is on track with its transition to cloud services. Subscription based services are nice because they offer recurring revenue. Selling individual software licenses has lost its effectiveness over the past five-years.
The transition to the cloud will benefit major software players like Microsoft (NASDAQ:MSFT), SAP, and etc. On the downside, the potential from SaaS isn't very well understood, because it generates below average earnings performance over the near term. Given enough time, the subscription revenue should be able to drive meaningful performance on the bottom line. Which is why I think investors will be able to outperform the broader market by investing into Adobe Systems.
What is SaaS? What makes the new model revolutionary?
In the past, software code was written for specific platforms. Disks would carry data that could only be compatible to a specific product ecosystem like Mac, Windows, or Linux. Linux was primarily used in server applications, so you never really saw a whole lot of Linux boxes.
Starting from around 2008 we hit what I sort of like to call the "device revolution." Computing could be literally taken anywhere and in any form factor. Pretty soon consumer preference started to change, some wanted to go Android for smart phone, iOS for tablet, and Windows for desktop. We saw this continue to emerge as a trend. Consumers wanted different operating systems for different form factors. At the same time, consumers wanted applications to be seamlessly integrated with all the different devices that were sold by all the different ecosystems.
To address this change, technology companies started to move software to the cloud. Hence, we call it software as a service. Sounds pretty rhetorical, but trust me it's a "revolutionary business model" because it was the first time the OEMs kind of got together with the software developers and realized that the business model for software would have to transition to something else. So instead, applications are now meant to work across all computers and sold on a subscription that can earn marginally higher profit.
By selling software on a subscription and giving consumers access to the software via the internet, software companies can tackle the challenge of keeping consumers up to date on the latest features, monetize them to the hilt, and offer them a seamless software experience across all form factors. This in a nut shell is why the SaaS market is expected to grow at a significant pace.
What is Adobe's upside potential?
Below is a graphic illustration of the various cloud categories set to explode over the next five years. The forecast is likely to be a little conservative, and while there may be more upside potential than what is illustrated in the below graphic, I haven't come up with a quantitative method that could offer better guidance than what analytics firms currently offer on the subject.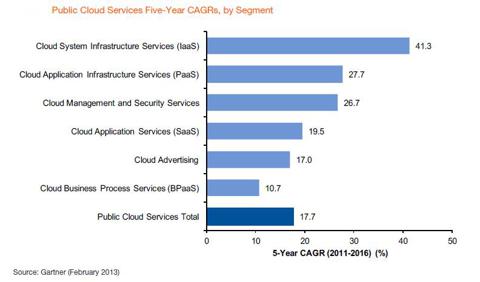 Source: Gartner
Currently, cloud application services (NASDAQ:SAAS) is set to grow at a 19.5% CAGR between 2011 and 2016.This seems to be a pretty reasonable growth rate.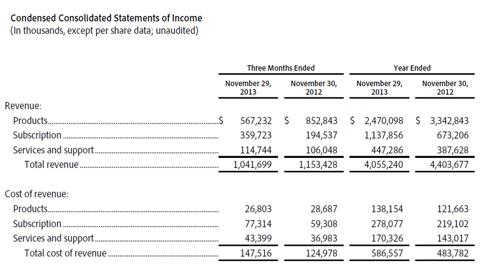 Source: Adobe Systems
Looking specifically at subscription revenue, the value has increased from $194 million to $359 million year-over-year in the November 29, 2013 quarter. The cloud subscription business has been able to grow by around 85% year-over-year. For the time being, subscription growth did not generate year-over-year revenue growth on a consolidated basis for the full fiscal year. Year end results declined by around $350 million for total revenue, and cost of revenue has gone up year-over-year as well, by an additional $100 million. On a consolidated basis the non-GAAP earnings declined from $2.35 in 2012 to $1.34 in 2013 for the full year.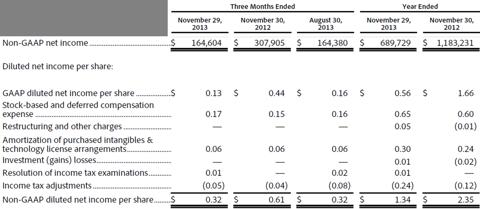 Source: Adobe Systems
I'm going to focus on the non-GAAP earnings of the business. The diluted net income per share figure falls short of representing the true impact from earnings because there are certain technicalities in GAAP that make it difficult for technology business to accurately represent accounting data. Stock based compensation isn't a real expense that affects cash flow (Adobe factors back in stock compensation as a non-expense); as such the same could be said for the amortization of previously acquired patents. The company factors back in the amortization because it doesn't believe that the intangibles should be written off as an expense quite yet as previously acquired license arrangements may have more value than what is being quantified with GAAP accounting.
Also since we're already on the discussion of GAAP accounting I want to include some discussion on the subscription aspect of Adobe's business. GAAP does not recognize income until it is earned. The downside with subscriptions is that previous earnings from non-subscription revenues were immediately realized upon the sale of the license whereas subscription revenue has to be gradually realized on the income statement. So as more consumers who have software licenses migrate to subscription based licenses it would take at least a year or two before the net revenue from subscriptions become greater than a software license. Part of the reason subscriptions are popular is that they're an initial loss-leader, as they're priced cheaper than a full license by around two years. But following a two-year period, subscription costs add up to more than the cost of an individual software license that may be updated in three to six year cycles.
This is why Adobe System's management has pretty compelling guidance going further out. The guidance was based on non-GAAP earnings. Hence, I discussed the accounting reconciliations for Non-GAAP earnings.
Currently, Adobe Systems earns $1.34 in Non-GAAP earnings per share. Adobe' most recent guidance indicates that the company will generate $1.10 EPS (Non-GAAP) for 2014, $2.00 EPS (Non-GAAP) for 2015, and $3.00 EPS (Non-GAAP) for 2016. The compound annual earnings growth between fiscal year 2014 and 2016 is estimated to be around 39.71% (based on corporate guidance).
For calendar year 2014, I offer a $76.01 price target at 69.1 P/E (high valuations are likely to persist). My 2015 price target is $89.18 at 44.59 P/E, and my 2016 price target is $133.69 at 44.59 P/E. The stock has 120% upside from its current price of $60.89.
Conclusion
The software aspect of the cloud should not be underestimated. Adobe expects significant expansion of bottom line going forward. The same type of variable costing should apply to other companies that are transitioning their software business to the cloud. Adobe's recent earnings report is indicative of further earnings potential for other SaaS players like Microsoft and Salesforce.com.
I believe that there's a great risk to reward here with Adobe Systems. It's clearly apparent that the bottom line will expand significantly as subscriptions generate higher margins further out into the future. Adobe Systems is a high growth name still trading at attractive valuations. Therefore, I believe that Adobe System merits a buy from long-term investors.
Disclosure: I have no positions in any stocks mentioned, and no plans to initiate any positions within the next 72 hours. I wrote this article myself, and it expresses my own opinions. I am not receiving compensation for it (other than from Seeking Alpha). I have no business relationship with any company whose stock is mentioned in this article.