The S&P 500 has destroyed Kodiak Oil & Gas Corp. (NYSE:KOG) in the past 52 weeks. Kodiak has posted a -10.48% loss against the S&P's 24.12% gain. This being said I have been slowly cutting back on my KOG long position since its high of about $13.50. My latest KOG options position was posted as an Instablog here. Including options, I am net short Kodiak (stock+options). With a price to book ratio of 2.43 I find Kodiak to be very unstable at even its current price per share of $10.38. In the coming months I am looking to capitalize on a drop in Kodiak's price towards its book value (expecting to see a P/B ratio much closer to 1.50). In the past year Kodiak has been weighed down heavily by its $2.19B in total debt. It is running into capital issues in terms of paying off this debt. A price to sales ratio of 3.61 also demonstrates Kodiak's overvalued price per share. Sales and revenue increased exponentially in Q3 of 2013 yet it still sits on its large sum of debt. From a technical stand point, Kodiak's 200 day moving average is $9.08. The difference between its current price per share and its 200 day MA is too large to maintain given its fundamentals. In the long run Kodiak should retract back to its 200 day MA as a result of a decline in P/B and P/S ratios. My thesis is that due to its overvalued price per share, Kodiak will be unable to maintain its current levels allowing its sell off to continue.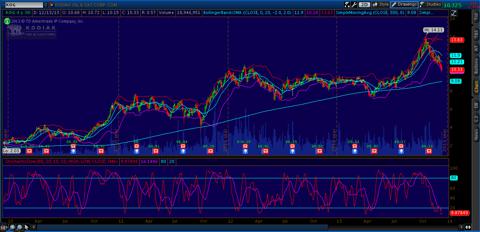 Click to enlarge
(Click to enlarge)
Emerald Oil, Inc. (NYSEMKT:EOX), formerly Voyager Oil & Gas, is in a similar situation although only being less than a fourth the market capitalization of Kodiak at $447.94mm. Emerald is currently losing money given its current margins. A profit margin of -125.98% and a return on equity of -30.23% are two of a number of factors why I am net short EOX (stock+options). Yes, it may look nice to not be sitting on any total debt and have $69.53mm in cash on hand, but Emerald is going to need to use that cash or issue new debt in the long run if they ever plan on increasing its margins. In addition to this, Emerald has a forward P/E ratio of 29.72. Ever since its 7:1 reverse split Emerald has been unstable and for the first time in a while I am leaning net short until it releases further guidance in terms of any issuance of debt or significant change in capital expenditure. Lastly, a price to sales ratio of 9.67 would be a miracle to maintain considering its margins.
Abraxas Petroleum Corp. (NASDAQ:AXAS) is a company that I have been net long for nearly a year. It has posted incredible returns since then and I stand by my original thesis with the exception of its increased price to book ratio of 5.06. Although this ratio is rather high within the sector and industry, for a company with a market capitalization of only $306.61mm this is vaguely maintainable at its current levels in the long run. Granted due to this there will be short term fluctuations, but that is where it becomes beneficial to hedge a long position with options spreads in the short run. A total debt of nearly $110mm is not necessarily a negative factor for Abraxas. Due to this issued debt their margins have increased Y/Y for the past few quarters, slowly turning it into a more profitable company. Finally, a diminishing short float of 7.00% tells us that its current price per share of $3.30 is not the top just yet.
Disclosure: I am long KOG, AXAS. I wrote this article myself, and it expresses my own opinions. I am not receiving compensation for it (other than from Seeking Alpha). I have no business relationship with any company whose stock is mentioned in this article. I am currently net short KOG: small stock position offset by a large options position. I am currently net short EOX: no stock position, monthly options positions. I am currently net long AXAS: long stock and options positions.