Good news is hard to find around the halls of Vical Incorporated (NASDAQ:VICL) these days given the failure of the company's Phase 3 trial of Allovectin to meet its efficacy endpoints last August. Today, however, Vical announced the long-awaited initiation of its Phase 1/2 trial of the company's Vaxfectin-formulated therapeutic vaccine for herpes simplex virus type 2 (HSV-2). This is the virus responsible for genital herpes.
I provided a detailed update on the company's work in this area last September. The trial initiated today is a randomized, double-blind, placebo-controlled study that will involve approximately 156 patients. It is intended to evaluate safety, tolerability and efficacy in adults aged 18-50 years of age who are HSV-2-infected but otherwise healthy.
According the today's press release, the "… trial is designed to demonstrate reductions in the rate of HSV-2 that is shed from individuals with symptomatic genital herpes." Details of the trail, which will be conducted at six U.S. clinical sites, should soon be posted to Vical's page on the FDA's ClinicalTrials.gov Web site.
Genital herpes is a sexually transmitted disease. According to the Centers for Disease Control and Prevention, one out of six people, 14 to 49 years of age, is infected with genital herpes. Current estimates suggest that a therapeutic HSV-2 vaccine could generate as much as a billion dollars in annual sales at its peak.
Technical Analysis
The daily chart for Vical, courtesy StockChart.com, shows the stock hovering just above $1. The stock is near an oversold condition, with the MACD neutral. Recent heavy selling suggests the stock may be weak until end-of-year selling exhausts itself. Resistance lies in the area of $1.20.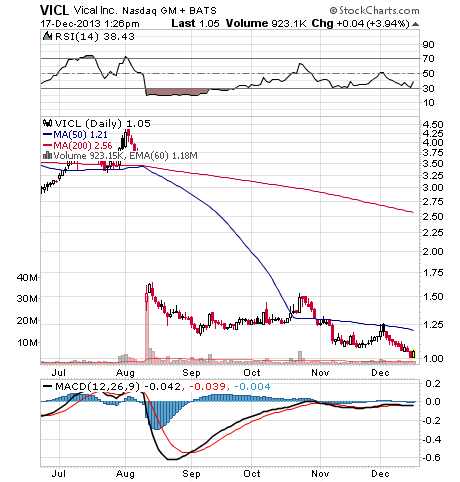 The weekly chart for Vical shows the stock to be oversold, though the MACD has turned positive.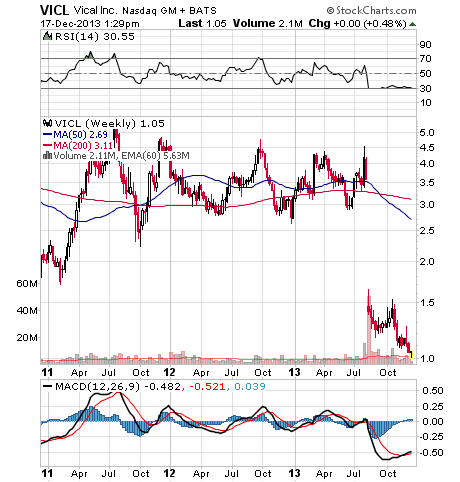 Disclosure: I am long VICL. I wrote this article myself, and it expresses my own opinions. I am not receiving compensation for it (other than from Seeking Alpha). I have no business relationship with any company whose stock is mentioned in this article.
Additional disclosure: I am long VICL. I am not a registered investment advisor and do not provide specific investment advice. The information contained herein is for informational purposes only. Nothing in this article should be taken as a solicitation to purchase or sell securities. Before buying or selling any stock you should do your own research and reach your own conclusion. It is up to investors to make the correct decision after necessary research. Investing includes risks, including loss of principal.