With recent events highlighting the ever growing permanence of Facebook's (NASDAQ:FB) importance, recently confirmed by its inclusion in the S&P 500 index, the most coveted index in the equities world, it seems appropriate to re-engage their value proposition in light of fresh news, especially as Hedge Funds have jumped on the investment opportunity for the first time since its IPO in a meaningful way. Facebook, as the leading global social network with more than 1 billion users, possesses a large and growing network of users and their information to deliver ads with improved targeting and recall rates. Studies have confirmed that it captures nearly 75% of consumer time spent on social destinations. Now that Facebook launched a "donate" button today, it may nearly even drive more traffic of a totally different business segment, transforming philanthropy with a social twist. As such, we think it's appropriate to utilize the "social" angle on Facebook, and in turn, look at the Hedge funds that own it today to garner conviction in the investment thesis.
Hedge Funds that Own Facebook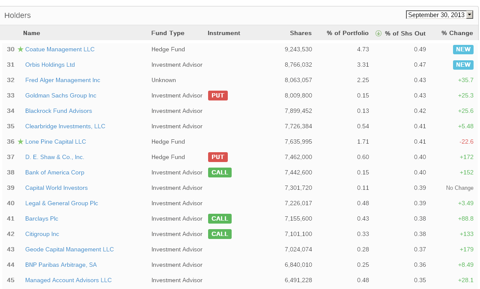 Upon a quick look-up on www.hedgemony.us, we can find who the smart players are that entered into Facebook as a new position in September 2013. Coatue Capital, a highly esteemed L/S fund run by Philippe Laffont, established a 5% position in Facebook for the first time this past quarter. They own ~10mm shares. Other new entrants who own FB include Discovery (6mm shares) a very successful global macro fund run by the astute Rob Citrone, SRS (5mm shares, 15% position), and Viking (4mm shares) - both highly successful Tiger cubs. This is a roster of the smartest long short funds in the industry. In addition, Lone Pine Capital owns 7mm shares. Lone Pine is run by Steve Mandel, a 1997 Tiger Cub that returned about 25% during the past 11 years.
3Q results recap
Facebook achieved 66% year over year growth in total ad revenue, with mobile accounting for about $880mm ($225mm increase since previous quarter), effectively half of all ad revenue. The 3Q results confirmed the rapid acceptance of the native news feed ad format among advertisers as mobile ad revenue surpassed investor expectations. Further, management guided a lower increase in expenses, suggesting that Facebook is now at the right stage to leverage current investments towards profitability.
Drivers of Growth - Graph Search and Video Ads
Worldwide mobile ads may jump 60% to almost 25bn in 2014 according to eMarketer.com. Monetization concerns eased after Facebook attributed 50% of 3Q ad revenue to the mobile business, while Twitter generated a remarkable 70% (!) ad sales. US mobile ads may top $12bn next year, of which social ads may reach to be $11bn of that pie.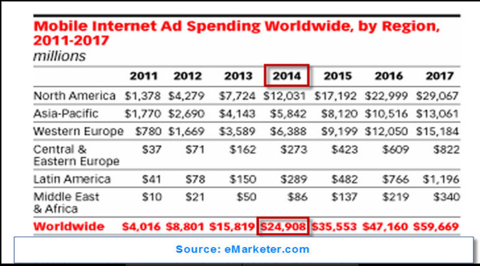 Facebook has become an increasingly important source of traffic to global entertainment and e-commerce businesses (like Bonobos, Gilt, Birchbox, etc).
Facebook's developer platform allows apps and publishers to leverage the "Social Graph" to provide instant personalization to users and better ad targeting for brands. Part of Facebook's lead comes from their robust data asset which includes user specified interests and browsing behavioral data. Facebook is already achieving strong profitability, and will likely not be a cash taxpayer until late 2015/early 2016.
Over the past 12 months, ~60% of small businesses have indicated using some form of advertising with Facebook across both restaurants and services. This compares positively to Google's capture of 50%, Yelp's capture of 45%. In a differentiated view, the relative ease and low cost of creating a Facebook business page, the modern day yellow page equivalent, makes Facebook an easy-entry point to online advertising. It is our belief that most small businesses default to Facebook for their entry choice for targeted advertising solely based on ease of gauging utility. This is even more pronounced in restaurant businesses as 70% of respondents indicated some form of advertising through Facebook (versus Yelp at 50%). As of 3Q 2013, management has indicated that they have 20mm small businesses who have some kind of pages with Facebook. As of 2Q, Facebook had only 1 million active advertisers.
Graph Search in detail
Facebook's Nearby Places tool show a map of local businesses with a social component that in many ways reflect Foursquare and Google's strategy to incorporate geo-targeting. These socially enhanced places are generally ranked more highly than locations with no social context. Much like Yelp, Facebook Nearby allows users to refine searches but have not added the ability for clients to incorporate sponsored ads. We view this as a logical and organic step towards achieving double digit growth. The risk is, again, embedded in consumer behavior. So far from a limited sample study, it appears most people use the graph search for discovering people, places and photos, but not to locate specific businesses. Given Facebook's priority to utilize video ads, we don't necessarily see Graph Search as a priority for the time being with meaningful synergy. It is definitely something to keep an eye of interest.
Opportunities for Improvements
Facebook can boost monetization meaningfully over time via higher-value social ads. They also have a first mover advantage in understanding mobile engagement towards revenue translation. Video and Graph Search remain opportunistic developments. Ad pricing is below industry peers - the risk that the company may not be able to achieve double-digit pricing leverage across trillions of annual ad impressions over multiple years is a real concern. Premium display properties and search engines continue to dominate the bulk of revenue stream, which is dominated by Google. The multi-screen ad market remains untested - while Facebook appears to be leading the market in mobile ad engagement, brand transition to mobile is likely to take some time. Facebook still needs to find the right balance of information sharing that will enable it to deliver favorable ad targeting without upsetting users who demand a greater sense of privacy. Then there is the ultimate concern of investor perception of user fatigue / demographic splintering. In fact, 3Q confirmed that teen usage was stable but younger users declined somewhat. While we believe that younger users may not be using Facebook as much as previous generations, this is a function of options and not because young users choose to ignore the utility. The fact that total North America engagement increased to 72% is a new high for the company, and we believe these are more important metrics to follow. As such, there is continued concern of difficulty in monetizing users in developing countries and we acknowledge the importance of sound execution that may be a fundamentally different strategy than those of web-savvy users.
Solid Valuation amidst weak Technicals

Assuming 25-35% CAGRs for 3 years, we estimate a fair price target of $55, which is 45x EPS and FCF, or 10x revenue. It is not unforeseeable that new ad formats boost effective CPMs by more than 20% per year, and combing such improvement with EBITDA margin of 60% from improvements to analytic capabilities, a bullish target of $70 is not out of reach at 55x EPS ($1.3 estimate). However, near-term investments make quarterly forecasting difficult and ultimately will cause stock prices to follow valuations beyond traditional metrics of operating cashflow. From a technical perspective it appears to be approaching an overbought territory based on both RSI, MACD and Bollinger bands. We would suggest an entry point of $48 for those that are leaning conservative.
Disclosure: I have no positions in any stocks mentioned, and no plans to initiate any positions within the next 72 hours. I wrote this article myself, and it expresses my own opinions. I am not receiving compensation for it (other than from Seeking Alpha). I have no business relationship with any company whose stock is mentioned in this article.