By David Russell
At least one trader is positioning for a correction now that Estee Lauder (NYSE:EL) has set a new all-time high just below $60.
optionMONSTER's Depth Charge tracking system detected the purchase of about 3,500 April 60 puts for $3.11 and the sale of 7,000 April 55 puts for $1.09. Volume was more than six times open interest in both strikes.
EL declined 0.73 percent to $58.66 yesterday but is up 21 percent so far this year. The cosmetics company has been rallying on strong earnings and raised its estimates at least three times since August.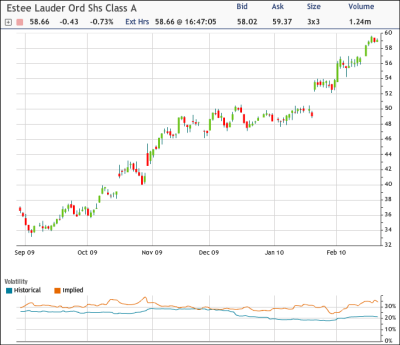 Earlier this year the shares broke above their 1999 peak of $56.50 and climbed as high as $59.65 last week. Since then they have been drifting lower and failed to hold early gains yesterday, which some traders may consider a warning that the uptrend is fading.
Yesterday's option trade, known as a bearish ratio spread, is designed to leverage a modest correction. By selling more puts than were purchased, the trader generated income to finance the downside bet.
The strategy allowed the trader to own the April 60 puts for just $0.93 per contract and will generate a maximum profit of about 438 percent if EL closes at $55 on expiration. The gains will erode below that level and turn to losses below $50.
The trade provides greater leverage than a simple vertical spread, which would earn a maximum profit of 148 percent on the same move in the shares. Given the downside risk, the trade may have been implemented as a hedge by a shareholder who's willing to be assigned more stock at $55. (See our Education section)
Overall options activity in the name was eight times greater than average in the session. Puts accounted for 99 percent of the activity, according to our Depth Charge.
(Chart courtesy of tradeMONSTER)