Editors' Note: This article covers a stock trading at less than $1 per share and/or with less than a $100 million market cap. Please be aware of the risks associated with these stocks.
Noble Roman's (OTCQB:NROM) sells and services franchises and licenses for non-traditional food service operations under the trade names "Noble Roman's Pizza," "Noble Roman's Take-N-Bake" and "Tuscano's Italian Style Subs." The company's non-traditional franchises are most often sold into pre-existing facilities such as convenience stores, travel plazas, military bases, hospitals, and entertainment centers of all types as a service and revenue enhancer for the underlying business. The company has built a stable franchising business that is characterized by predictable revenues, low capital requirements, and 40%+ operating margins. Though shares have more than doubled this year following the company's successful launch of a new "Take-N- Bake" concept, I believe the shares have actually become more undervalued following the ascent. How can this be? Operating leverage.
Business Overview
Noble Romans' history dates back to 1972 when the company was founded in Bloomington, Indiana. The company's early focus was on operating and franchising full-service restaurants, which were labor and capital intensive. During those years, the company was constantly hampered by inadequate capital and relied too heavily on debt financing. Although individual units had very high average sales per unit, profit margins were inadequate because of the reliance on debt financing and extensive labor requirements.
In the late 1990s, the company pursued an acquisition of a 187-unit pizza chain that ultimately did not happen after significant investment of time and money. This, combined with the over-reliance on debt financing, required the company to restructure itself by converting debt to equity, obtaining private equity financing, and selling many of the full service restaurants to franchisees and closing others. These actions were taken with an overall plan of committing to growth by franchising going forward.
The refocus on growth through franchising resulted in considerable operating improvements. Those improvements, however, were again jeopardized by adding a co-brand franchise (Noble Roman's Pizza and Tuscano's Italian Style Subs) in the 2006-2008 period for traditional locations. This expansion effort was based on selling areas of the country to area developers who, in turn, would sell franchises to individual franchisees for the co-branded concept. The area developer would retain a portion of the initial franchise fee and a portion of the ongoing royalties. A lack of rigor in the franchisee selection process left the company with inexperienced operators, some of whom failed once the downturn arrived, while others closed to pursue litigation against the company with the hope of obtaining a quick return.
The litigation by a group of former franchisees claimed that Noble Roman's committed fraud by making false claims and selling a concept that was untested. This lawsuit plagued the company for several years with huge legal expenses and drained management's time. Noble Roman's emerged victorious from these legal issues as ultimately the court ruled that the fraud charges were without merit and dismissed all charges against the company - a decision that has been upheld by the Indiana Court of Appeals and by the Indiana Supreme Court. The court has awarded the company damages against the former franchisees but the amount is yet to be determined.
The business in its current form consists of three main segments:
Non-Traditional
Noble Roman's offers a simple operating system for a food service provider inside a host business. Examples of the non-traditional site include convenience stores, travel plazas, military bases, hospitals and entertainment facilities of all types. The value proposition is very attractive - for a capital investment of around $30K - 40K, the franchisee acquires an additional revenue source with gross margins of approximately 65-70%.
Noble Roman's has contracts with different manufacturers to manufacture all the ingredients per Noble Roman's recipes and specifications. Those manufacturers sell the ingredients to contracted distributors to deliver all the required ingredients for Noble Roman's pizzas in a ready-to-use format - all the franchisee has to do is assemble the products by a color-coded chart and bake in a specially designed oven that bakes the pizzas in 3½ minutes. This allows the operators to operate these non-traditional locations with very minimal labor.
At the end of the third quarter, the company had just over 750 non-traditional franchises with each location averaging approximately $6,000/year in royalties to the company. Notably though, the types of locations the company is currently focusing on have been contributing approximately $18,000 per year in royalties to the company.
Grocery Take-N-Bake
In October 2009, the company began marketing licenses to grocery stores to serve take-home and bake versions of its pizzas. Take-home and bake refers to fully assembled, uncooked pizzas that shoppers purchase and bake in their own home at their convenience so it can be eaten hot and delicious right out of the oven.
The company began this effort by targeting smaller and mid-sized grocery chains to assemble and sell its pizzas and has been signing licenses with grocery stores at a rapid clip - at the end of Q3, they had approximately 1,200 grocery stores operating and had licenses with approximately another 450 to be opened in the future. These offerings command no initial franchise fee and contribute a much smaller amount to company, typically about $1,200/store in royalties annually.
Stand-Alone Take-n-Bake
On the heels of the company's successful launch of the grocery take-n-bake program, the company decided to launch a stand-alone take-n-bake model. This decision put Noble Roman's in head-to-head competition with Papa Murphy's, the national leader in this segment with 1,400 stores across the country.
Having opened the first store only a year ago, this segment has exceeded all expectations. The company now has agreements, based on their announcement on November 7, 2013, for 46 units with 16 opened so far on that date. Most important of all, these franchises are highly lucrative, commanding approximately $18K in upfront fees and are expected to net $40-60K to the company annually through ongoing royalties and fees (Source: Noble Roman's 2013 LD Micro Conference presentation). With its rapid growth potential and high relative royalty contribution, this segment will be the largest growth segment for Noble Roman's revenue expansion going forward.
Financials
Even with the financial crisis and the fallout that ensued from the company's ill-fated co-branded franchise program, the business has proven very resilient: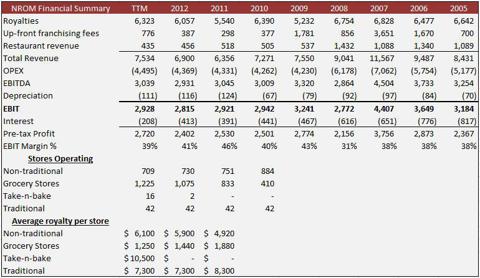 Note: Due to limited operating history, the above take-n-bake figure is presented on a quarterly basis. The corresponding annualized figure is $42,000 / yr.
Royalty revenues took a hit with the financial crisis that bankrupted many of their convenience store franchisees, but have since returned to a growth trajectory driven by the company's new offerings. Regarding some concerning store unit trends, the number of non-traditional locations have stabilized and will increase at year end, but the reason for the decline in grocery store unit contribution remains unclear. The company has kept operating expenses low and EBIT margins have stayed well above 30% across all sorts of business climates. Turning to the balance sheet, the company has a nominal cash balance and ~$3.8MM in low-interest debt that will be paid down over the next 4 years.
The franchising business is a very attractive business that can generate extraordinary operating margins and returns on capital. The company runs a lean staff with the CEO/CFO and its President/COO performing all sorts of functions ranging from financial, site selection, sales, product research and development, and marketing. Each new franchisee is served by one of the company's distributors who are already under contract with the company for servicing non-traditional franchises. The company has no financial involvement in the manufacture, distribution, or equipping of the restaurants.
While the non-traditional and grocery store segments have driven steady double-digit revenue growth over the last few years, the true growth driver lies in the stand-alone take-home and bake franchises. This success can be attributed to some key competitive advantages inherent in Noble Roman's model. The company has designed the units to be as simple as possible with an initial investment of $80-150K, roughly half the cost of a Papa Murphy's, and to operate in about 1,000 square foot space with minimal labor and consistent product quality. Here is a snapshot of the set-up: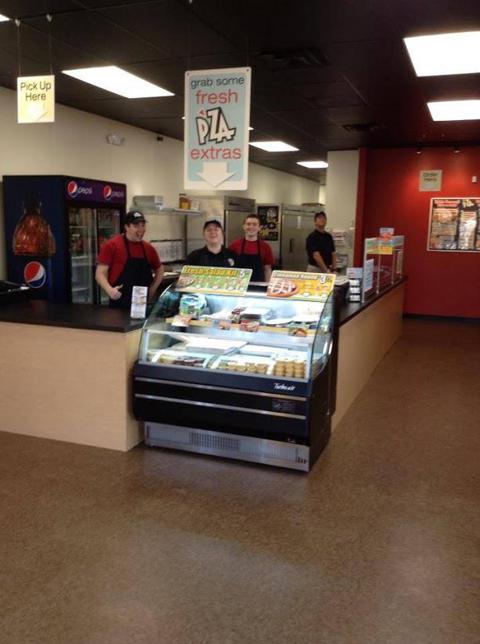 (See this video for an introduction to the model)
With a payback period under 2 years on average per location, Noble Roman's has a very powerful value proposition to offer its prospective franchisees. Additionally, the take-n-bake model possesses a little-known competitive advantage over other food locations in that they can accept food stamps because the food is not prepared on premise. This advantage should not be underestimated - food stamp sales make up approximately 22% of both Papa Murphy's and Noble Roman's take-n-bake revenues. In fact, one out of every 6.5 people in the U.S. now receives food stamps.
While the market has correctly responded to the company's rapid pace of adding franchisees - from 11 to 46 in less than 7 months this year - I believe the market has dramatically underestimated the impact these franchises will have on the bottom line. To see why, let's consider a sensitivity analysis of how the company's growth may play out in the financials over the next few years.
Sensitivity Analysis
Before considering the take-n-bake stores, we need a conservative basis for how the legacy business will perform over the next few years. For non-traditional, I will assume the count grows modestly with 20 added and 10 discontinued each year. This scenario adds a small amount of one-time franchising fees and nets the company around $6,000/store annually. The company also has 42 traditional stores still in operation - I will assume this number stays the same and nets the company $300K/year.
For the grocery stores, I will assume no new stores are signed up and the company merely works through their existing backlog by 2016. I will also assume each grocery store provides $1200/store annually. Putting it all together, here is how the legacy business will look under these conservative assumptions: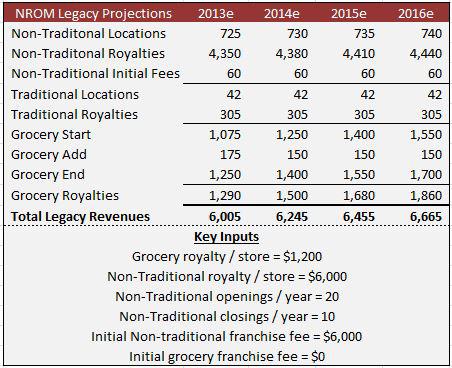 For the take-n-bake rollout, the two key variables in the analysis are:
1) The number of stores opened per year
2) Average amount of royalties each store provides
Noble Roman's will end 2013 with a backlog of 25 or more franchises signed but not yet open, and in each scenario I will assume they can open this backlog in 2014. I will also assume the legacy business holds steady in each scenario. Here are the three scenarios:
Bear - The take-n-bake roll-out disappoints and the company is only able to open the rest of their signed stores over the next few years. Only a nominal amount of new agreements are signed and the stores that do open underperform, providing only $30K/store annually in royalties.
Base - The take-n-bake rollout continues its steady progression and the company is able to maintain its pace of opening 25 stores/year. Each store delivers the $40K/year in royalties that the initial stores have been averaging.
Bull - Demand for the concept heats up and management manages to open 40 stores per year. The company selects strong franchise operators who cause performance to surprise to the upside, delivering the company $50K/year in royalties.
Now observe the power of Noble Roman's operating structure in each scenario: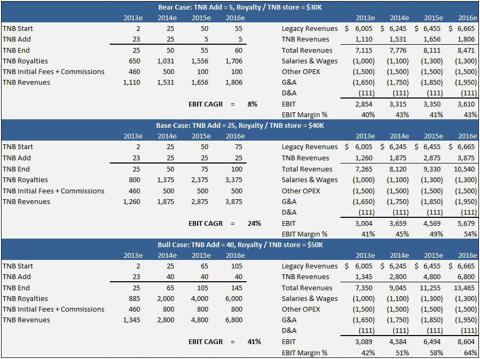 Regarding SG&A, I have allowed salary expense to step up $300K as the company will likely have some staff additions to support the roll-out - perhaps a few sales people or a CFO. Other than the increased salary expense and uptick in G&A, operating expenses stay largely fixed which allows for rapid margin expansion.
The results are dramatic: in the base case, operating margins exceed 50% in 2016 and EBIT grows at a healthy 24% clip. If things go well and the bull case is realized, investors could be looking at a business growing earnings 40%+ over the next few years.
So are these assumptions reasonable? I feel the base case is actually quite conservative because it assumes:
Only 10 non-traditional locations added per year, though management has netted 35 additions through 2013 and expects this pace to continue.
No additional grocery stores signed, though the company has averaged about 300 additions per year since its launch.
A 25 store/yr TNB add rate, though management believes opening 75 stores next year is achievable.
No ramp up of TNB performance to the $50K/yr royalty rate management is targeting.
SG&A escalation of 15% though management feels they can execute the roll-out with their existing infrastructure.
It is always possible management's expectations may be on the optimistic side so I feel comfortable moving forward with these projections for a conservative valuation basis.
Valuation
With three scenarios mapped out, the last factor for consideration is how these earnings will be valued at the end of 2016. In all cases, investors will be looking at a growing company with high margins and predictable revenues. These desirable qualities are typically valued very highly in the market and I'd argue an EV/EBIT multiple in the 10X-15X range would serve as a conservative basis. To support this, we can turn to a peer comparison and see even a 20X multiple is not out of the question:

Here is a range of valuation scenarios with the results discounted back to today at a 10% rate: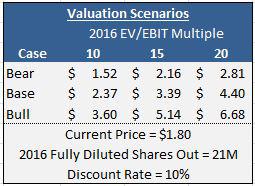 Note: The impact of cash build is significant and is included in the valuation. For simplicity, I have ignored the value of net operating losses. These NOLs have considerable value as the company won't pay taxes on the next $25MM of pre-tax earnings.
Against a current price of $1.80, I see a ~15% downside against a potential 100-200% upside. As favorable as this risk/reward ratio is, I think there is even more upside potential if management can execute on their aggressive growth plans and the market awards the stock the lofty multiples that often accompany restaurant roll-out stories. Just look at the last time the market was convinced Noble Roman's was on a high growth trajectory - in 2007, the stock traded north of $7.50, or 25X their operating earnings at the time.
As a sanity check, we can simply take the legacy business 3-yr average EBIT of ~$3MM at, say, 10X and see we are essentially getting the take-n-bake roll-out for free. Plenty can go wrong with the assumptions I have outlined and the investment still works out.
Risks
The company's business has been, and will continue to be, highly dependent upon the efforts and abilities of its executive staff, but particularly dependent upon Paul Mobley, Chairman, CEO and CFO, and A. Scott Mobley, President and COO. The loss of either of their services could have a material adverse effect on the company.
With the take-n-bake segment growing 5X as fast as the overall pizza market, it would be naive to assume competition wouldn't increase in this space. While the major pizza chains likely won't enter this market and cannibalize their delivery business, I would certainly expect pressure from both Papa Murphy's and new independent entrants. Such competition could compress margins and tighten the market for quality franchisees as the field grows more crowded.
Lastly, significant risk lies in the selection of quality franchisees to run the stores. Since Noble Roman's is not putting up the capital, there can be a misalignment of incentives in that the company could relax selection standards to drive store growth and pursue lucrative up-front fees. Management has done a good job of this so far, but if standards are compromised to drive rapid growth, investors could experience a scenario similar to that, which occurred in 2007.
Conclusion
Noble Roman's is at the inflection point of growth with their low investment take-n-bake model gaining significant traction in this fast growing segment of the pizza market. Investors are afforded downside protection through the company's stable legacy business while potentially gaining triple-digit upside through both margin and multiple expansion as the take-n-bake roll-out progresses. Competition and management execution pose threats to the roll-out, but I believe the stock will likely trade considerably higher once the company's expanding base of stand-alone franchises begins driving bottom-line growth.
Disclosure: I am long OTCQB:NROM. I wrote this article myself, and it expresses my own opinions. I am not receiving compensation for it. I have no business relationship with any company whose stock is mentioned in this article.