Google (NASDAQ:GOOG) has long been concerned that in Android's battle with Apple's (NASDAQ:AAPL) iOS, Samsung (OTC:SSNLF) has become so dominant that it is beginning to encroach on Google's ability to drive traffic to the Google Play store. A new hybrid device from Asus, however, may have the potential to be a disruptive force in both Samsung's dominance and Apple's overall market. While initial reviews of the Asus PadFone Infinity are underwhelming, the addition of another OEM is good for Google, particularly giving the unique offering that the product represents. This is just the latest reason why Google continues to look attractive as it stretches for $1,100 per share, and why it still belongs in your portfolio.
The Asus PadFone
At a time when so-called phablets are seeming to gain in popularity, Asus has introduced a device that offers the benefits of both a smartphone and a tablet without the need to sacrifice some of the critical features of each. Where a phablet asks you to choose a phone that is uncomfortably big or a tablet that is uncomfortably small, the PadFone combines both by giving you a smartphone that can be docked directly into a tablet form factor, thus providing the benefits of each device. The hybrid concept tries to deliver the 2-in-1 idea, much like the Microsoft (NASDAQ:MSFT) Surface tried to bridge the gap between a tablet and a PC.
The issue with the PadFone - which comes in both a 5-in smartphone/ 10-in tablet combination and a mini 4.3-in smartphone/ 7-in tablet combination - is exactly what you would expect. The execution, according to reviews, leaves something to be desired. By needing to pull double duty, the device ends up being fairly heavy relative to other options in the Android tablet family. The docketing feature is easy to use, but the resulting tablet does not lie flat, meaning that typing is more of a chore than is pleasant. Finally, complaints about screen resolution mean that the PadFone does require real sacrifices. On the positive side, because the tablet relies on the smartphone for all of its real functionality, there is no need for more than one data plan.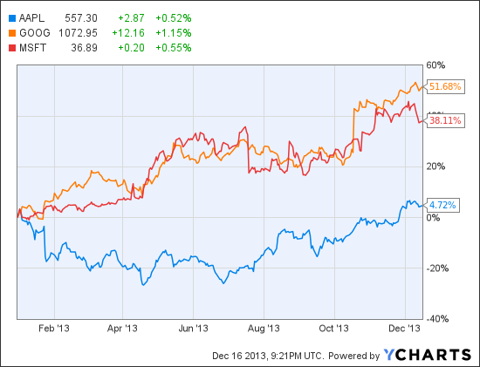 The Google Angle
So, aside from being an interesting device - according to what CEO Jerry Shen told Engadet in a recent interview, it is expected to come to the U.S. in the near future - the PadFone represents a real positive for Google. In the most basic sense, adding another potentially dominant OEM to compete with Samsung may help to return more control over Android to its parent. With Samsung selling roughly two-thirds of the Android devices being purchased, Sammie is flexing its control muscles, largely with the expansion of its own app store and ecosystem. A strong entry into the U.S. for Asus could stem the tide and bolster Google's overall position.
Where the Microsoft Surface had very little impact on iPad sales, there is the chance that this type of product could actually make a dent in Apple sales. While Apple need not fear the PadFone as an iPad killer, there is a sizeable contingent of iPad buyers that carry Android smartphones. To the extent that the two devices can be integrated, this could impact Apple sales, and gives Google Android a new frontier on which to compete. The shift to this type of hybrid is more subtle that the jump to a Windows based tablet, so Google shareholders should see how well the PadFone sells.
Ultimately, even as Google shares flirt with $1,100 and a P/E or 29, the company continues to quietly innovate and perform. While I do not see the PadFone as a game changer, it may shore up control over Android and allow Google to continue expanding on a global basis. With all of Google's initiatives considered jointly, the stock still looks attractive here.
Disclosure: I have no positions in any stocks mentioned, and no plans to initiate any positions within the next 72 hours. I wrote this article myself, and it expresses my own opinions. I am not receiving compensation for it (other than from Seeking Alpha). I have no business relationship with any company whose stock is mentioned in this article.