It began with the Thanksgiving Day surprise by Dubai World — a wealth arm for the emirate of Dubai. Specifically, investors began to question whether or not a sovereign nation might default on its debt obligations.
Shortly thereafter, we began to hear the "PIIGS" acronym. The letters represent 5 countries with hideous balance sheets, including Portugal, Ireland, Italy, Greece and Spain.
Greece has been the first to get the stink-eye from both the general investing public and its European Union partners. Yet stock investors have wasted little time on reallocating assets, pulling out of Spain (NYSEARCA:EWP) and Italy (NYSEARCA:EWI) faster than a Mercedes racing along the Audubon.
"Contagion" has spread throughout European equity markets. Not only has the decline in the euro caused investors to reevaluate the currency risk of European holdings. But, investors are comparing GDP projections for developed markets in Europe against developed markets of Canada, Australia, the United States and Japan. Bluntly stated, Europe isn't keeping up with any of the developed country alternatives.
3 Month Returns For 5 Popular European ETFs (11/23-2/22)
% (3 months)
iShares MSCI Spain (EWP)
-20.9%
iShares MSCI Italy (EWI)
-15.7%
iShares MSCI Austria (NYSEARCA:EWO)
-13.2%
iShares MSCI Germany (NYSEARCA:EWG)
-11.5%
iShares MSCI France (NYSEARCA:EWQ)
-10.6%
S&P 500 SPDR Trust (NYSEARCA:SPY)
0.5%
Can a case be made for Euro ETFs? In truth, it's hard for me to make a case for Spain. The economic rain just keeps falling, from extreme unemployment (19.8%) to continued GDP contraction projected for the duration of 2010.
That said, a contrarian might view the pessimism as being "priced in." And as bad as the economy is, the projections are for improvement, not economic depression. (I'm not going here… I'm just saying.)
As for Italy (EWI), unemployment isn't as harsh (7.8%) and its economy is expected to show GDP expansion that is slightly below that of the more potent forces of Germany, Norway and France. If the world begins to like the handling of Greece and/or turns its attention to U.S. debt issues, a stronger euro may propel Italian companies in the iShares MSCI Italy Fund (EWI).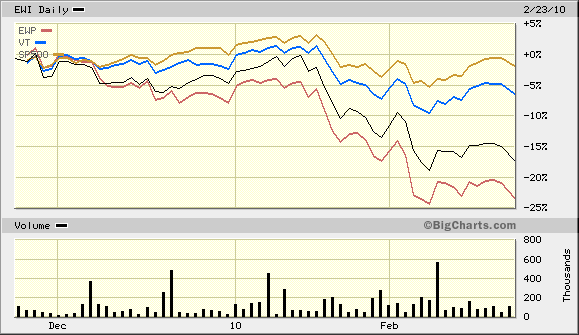 I do not have exposure here, except through all-world funds like iShares All World (NASDAQ:ACWI) and Vanguard All-World (NYSEARCA:VT). I also have one client with a smidge of Austria (EWO). Yet for the most part, I endeavor to keep the risks of ETF investing low.
Nevertheless, for those of you with riskier constitutions... for those of you with regret about not buying during the worst of the U.S. credit crunch… for those of you who believe that European pessimism may be "priced in" already… well, then, a "siren" calls.
Disclosure Statement: Gary Gordon, MS, CFP is the president of Pacific Park Financial, Inc., a Registered Investment Adviser with the SEC. The company and/or its clients may hold positions in the ETFs, mutual funds and/or index funds mentioned above. The company does not receive compensation from any of the fund providers covered in this feature. Moreover, the commentary does not constitute individualized investment advice. The opinions offered herein are not personalized recommendations to buy, sell or hold securities.